A study in contrasts: Low-turnout runoffs vs. Alaska's top-four, all-mail primary
https://twitter.com/davidmeyers?lang=en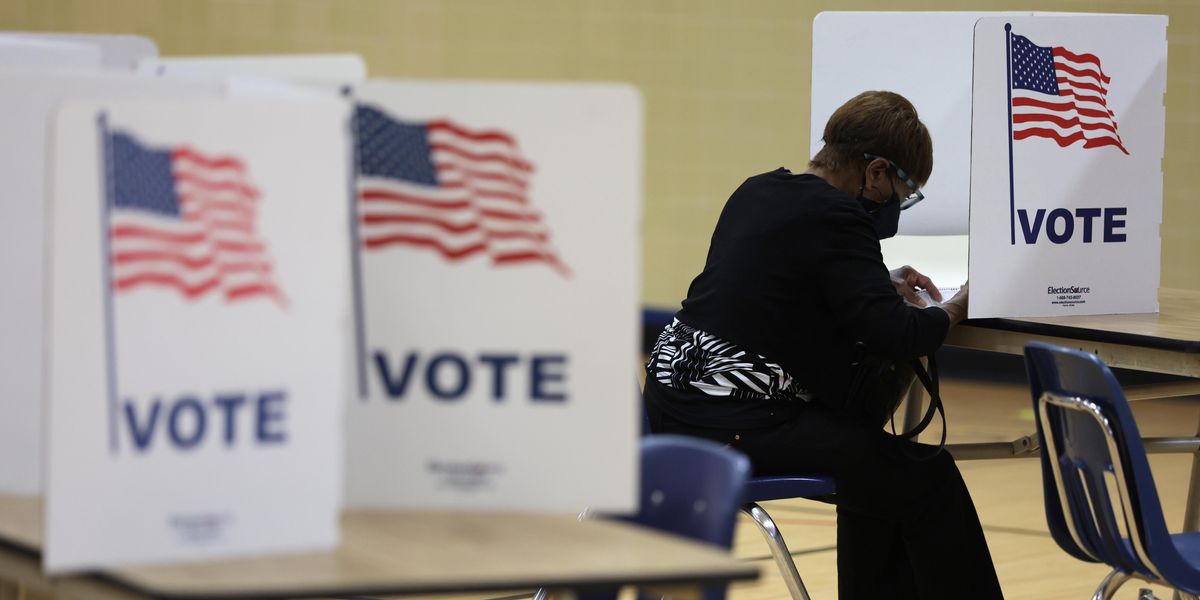 Alex Wong/Getty Images
Editor's note: This article was updated to correct a year in a quote from Jason Grenn.
Voters cast ballots in three runoffs and a primary on Tuesday. Well some voters. Turnout in Alabama, Arkansas, Georgia and Virginia was down considerably compared to previous elections. But in Alaska, a special election drew huge turnout numbers.

What made Alaska different? It held a nonpartisan, all-mail primary, whereas voters in Alabama, Arkansas and Georgia were asked to return to the polls for the second time in a matter of weeks. And in Virginia, party officials limited the opportunity to vote to just a handful of races.
Advocates for alternative voting systems see the results as a further sign that change is needed.
---
"With delayed runoff elections, states like Alabama and Georgia spend millions of dollars for fewer voters' voices to be heard," said Rob Richie, president and CEO of FairVote, which advocates for electoral reforms.
FairVote's primary focus is ranked-choice, or instant runoff, voting. In an RCV election, voters may rank multiple candidates on one ballot. If one candidate gets a majority of first-place voters, they win. But when no one gets a majority, the person with the fewest top selection is eliminated and those ballots are redistributed to voters' second choices.
Sign up for The Fulcrum newsletter
The process continues until someone has a majority. With RCV, which is used in Maine, Alaska, New York City and dozens of other cities, there's no need to pay for an additional round of balloting.
In most states, the person with the most votes wins the primary, even without a majority. But Alabama, Arkansas and Georgia all require primary candidates to get at least 50 percent of the vote in order to advance to November's general election. In each of those states, when no candidate reaches that threshold, the top two vote-getters advance to a runoff.
All three states held their primaries on May 24, and each had a number of races that required a runoff June 21. Voters were a lot less inclined to participate a second time.
Just 13 percent of Alabama's registered voters cast a ballot in the runoff, which included races for the Republican nomination for Senate and secretary of state, as well as the Democratic nomination for governor. That was the third-lowest turnout rate in 35 years of runoffs. Turnout was down more than 10 percentage points from the initial primary. Alabama secretary of state John Merrill told AL.com that the runoff costs the state $5.5 million.
In Arkansas, a meager 4 percent of voters participated in the runoffs, although there were no statewide contests on the ballot – just 10 competitions for state legislative nominations. The cost of this contest was not available, but previous runoffs have cost the state at least $3 million.
Likewise, 4 percent of registered voters participated in Georgia's runoffs on Tuesday, even with four statewide offices, including the Democratic nominations for lieutenant governor and secretary of state, and six congressional races on the ballot. The Georgia secretary of state's office could not be reached regarding the cost of the primary.
"Runoffs in primaries are designed to ensure nominees with broad party support, but often fall short," Richie said.
"In Alabama, Katie Britt this week won the Republican U.S. Senate runoff with 35,000 fewer votes than in May. Bee Nguyen won Georgia's Democratic secretary of state runoff with 108,000 fewer votes than in May," he explained. "Yet Alabama and Georgia are among six Southern states that already enable their military and overseas voters to cast ranked choice ballots in runoffs, with about 90 percent of these voters typically having their votes count in both rounds of voting, compared to barely 60 percent for everyone else. Extending the power of a ranked-choice ballot to all voters would enable 'instant runoffs' that are a faster, cheaper, and better way to hold elections."
While election reform advocates often agree that plurality voting and traditional runoffs need to be replaced, they don't all agree on the solution.
While RCV has been growing in popularity, advocates for approval voting believe their solution – in which voters tick the names of as many candidates as they want, without ranking them – is better.
"The runoffs that we see appear to be an obsession with chasing a majority that voting methods simply cannot guarantee. If a party wants a good nominee, then it needs to field good candidates and have a good voting method to determine that nominee. Reducing the field to two, whether by an explicit runoff or simulating a runoff using rankings, only manufactures a majority," said Aaron Hamlin, executive director of the Center for Election Science. "This process can also knock out the best candidate. Look to the 1991 Louisiana gubernatorial election which knocked out a moderate incumbent in favor of a runoff between an openly corrupt politician and a Klansman if you want an infamous example."
The situation in Virginia was quite different. The political parties are permitted to decide, on a race-by-race basis whether to hold an open primary or select nominees at private conventions. Further, most state and local elections in Virginia are held in odd years.
Because many of the congressional races were decided privately or were uncontested, there were only a handful of races on the ballot, resulting in about 3 percent of registered voters participating in the primary.
But the story was very different in Alaska, which just completed its first primary election using a new, nonpartisan voting system. In 2020, Alaskans voted to institute a "top four" election system, in which all candidates – regardless of party – appear on one primary ballot, with the people receiving the top four vote totals advancing to a general election that utilizes ranked-choice voting. This was also the state's first election conducted by mail.
Nearly 28 percent of registered voters participated in the primary, making it the highest-turnout primary in the state since 2014 and the sixth-highest in two decades, according to Alaska Public Media.
Jason Grenn, executive director of Alaskans for Better Elections, explained why Alaskans changed the system.
"For the past 20 years we've had a semi-closed system and it came to a head in 2020," he said. "We saw in a closed Republican primary six or seven incumbents lost due to extreme candidates running to the right of them."
The Capitol ended up populated with people unwilling to work across the aisle and who preferred gridlock, according to Grenn. So voters approved a new system and put it to work this spring.
After Rep. Don Young died in March, necessitating a special election that attracted 48 candidates, including one-time Republican vice presidential candidate Sarah Palin, Democratic political scion Nick Begich III, former independent Senate candidate Al Gross and even Santa Claus.
With a large number of candidates from multiple parties (or no party), a race takes on very different characteristics.
"You have to run against people in your own party, the other party, not in a party. You have to show your appeal to a more diverse group than your base," Grenn explained. "Candidates have to reach out and engage with voters even more than they have done before."
While Hamlin finds merit in Alaska's new system, he would prefer to see the state use approval voting as part of the process.
"Alaska's top-4 runoff avoided the oddity of having a runoff during the primary, but it still limited voters to choosing one candidate," he said. "As we know, limiting voters to one candidate causes vote splitting and gives us little information about the candidates themselves. And Alaska chose to do this because RCV does not have a good multi-nomination process to send folks to the next round; otherwise, they would have used RCV in the primary instead."