Georgia legislators exploring ranked-choice voting
https://twitter.com/davidmeyers?lang=en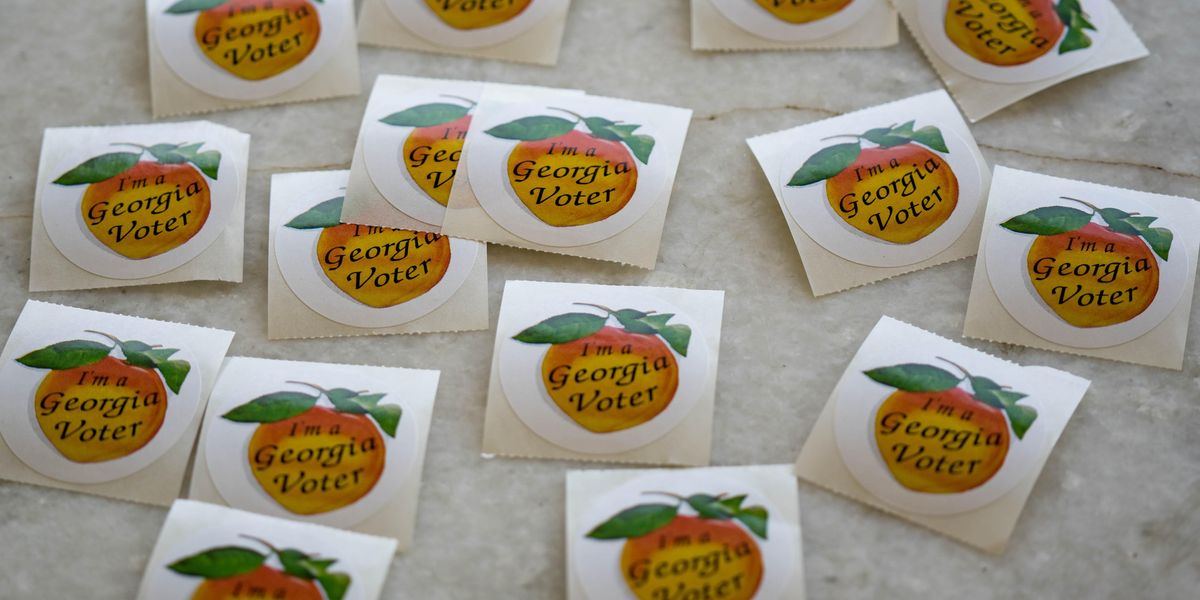 Megan Varner/Getty Images
The next state to dip a toe into alternative voting methods may be Georgia, where lawmakers are considering a bipartisan proposal far different from recent election changes that drew national criticism from voting rights advocates.

Members of the Georgia General Assembly have introduced legislation that would allow the use of instant runoff, or ranked-choice, for local elections, potentially creating significant savings in a state that often has to hold an additional round of voting after Election Day.
---
Versions of the legislation have been introduced in both chambers, and with both Republican and Democratic sponsors. While these bills would only impact municipal elections, successful implementation could lead to changes for federal and state elections. Last year, Georgia approved ranked-choice voting for military and overseas voters.
Georgia holds runoff elections when no candidate in a race earns a majority of the vote. In November 2020, when Georgia had two Senate races, both contests had to go to a runoff. Election administrators in Fulton, the state's most populous county, had to spend another $6.1 million on the January 2021 elections, on top of the $38 million spent in 2020.
And last year, approximately 30 municipalities required runoffs, including Atlanta, according to Thomas Gehl, director of governmental relations of the Georgia Municipal Association
Sign up for The Fulcrum newsletter
"We're getting positive comments from legislators about it," said Gehl, whose organization supports the proposal because it's optional and could create cost savings.
Both Gehl and Bill Bozarth, treasurer of the RCV-backing group Better Ballot Georgia, believe it is too early to say whether this bill would lead to broader use of instant runoffs in the state. But Bozarth said success at the local level could create some momentum.
"We think that the sponsors of this bill have acted wisely in putting something forward that the General Assembly could be comfortable with," he said. "If successful I would fully expect us to pivot to working with some municipalities to start experimenting."
In an RCV system, voters rank their preferred candidates on one ballot. If a candidate received a majority of first-choice votes, the election is complete. But if no one receives a majority, the candidate with the fewest appearances in the top spot is eliminated and their support is automatically redistributed to voters' second choice. This continues until someone has a majority.
Use of ranked-choice voting has been expanding around the country, with New York City using it for the first time last year and Alaska adopting it for statewide elections. More than 50 jurisdictions may use RCV in the next few years, according to the RCV advocates at FairVote.
Voters in Memphis had approved the use of RCV but the Tennessee General Assembly recently passed a bill prohibiting it.
The 2021 law that permitted RCV for overseas voters was more widely known for tightening the voting rules. The changes included new voter ID requirements, limits on ballot drop boxes, new deadlines for absentee voting, and restrictions on handing out food or water to people waiting in line. The Republican-driven changes followed Joe Biden's narrow victory in the state, the first time a Democrat won Georgia since 1992.
Democrats, voting rights groups and some corporations were highly critical of the law, and Major League Baseball pulled its 2021 All Star Game out of the state.