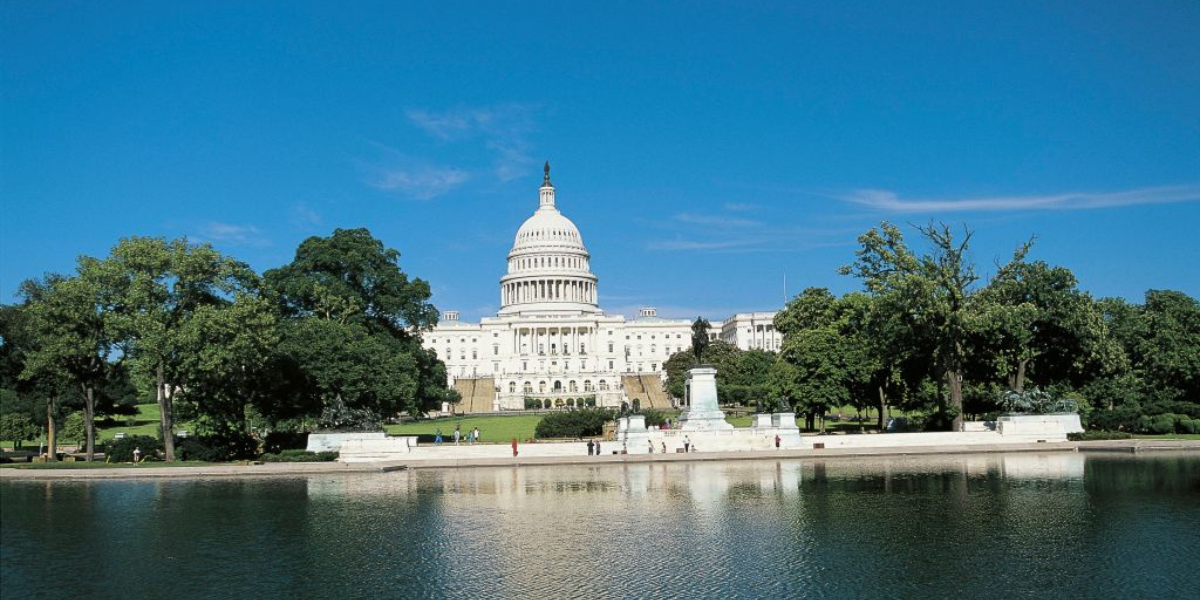 Getty Images
Bradford Fitch is the President and CEO of the Congressional Management Foundation, and a former congressional staffer.
It's easy to see why Americans have such a dim view of our Congress. The national media bombards us with negative news about our national legislature, and generally eschews any story that demonstrates our government at work. Which is why the Congressional Management Foundation's Democracy Awards is such a valuable counter-narrative. The awards program, launched in 2018 with our founding partner the Bridge Alliance, is one of the only examples of a nonpartisan organization recognizing excellence in Congress.
The vision and goals for the Democracy Awards are simple and based on the success CMF has seen in our 47-year history of working with Congress. First, we wanted to recognize legislators and their staffs, identifying best practices in congressional offices. Second, the Democracy Awards seeks to provide examples of best practices to other Members of Congress, offering them roadmaps to improving their operations and services to constituents. Finally, we hope the Democracy Awards will increase public understanding of the Congress. CMF hopes that we can shine a light on those Members and offices, if only for a brief moment, then perhaps we can chip away at the wall of cynicism in our nation.
Sign up for The Fulcrum newsletter
This year's winners, which were announced in August, provide Americans with examples of excellence in our democracy: a group of dedicated public servants working with their staffs to improve the lives of their constituents.
In the Constituent Services category, the Republican winner was Rep. Dusty Johnson (R-SD). One of the creative methods Johnson uses to engage constituents are called "Drive-Thru Dusty Town Halls." During the pandemic, when social distancing was required, Johnson addressed constituents on the back of a pick-up truck, answering questions with a blow horn. The Democratic winner is Rep. Lauren Underwood (D-IL). In less than four years in office Underwood has worked with federal agencies and closed nearly 5,000 constituent cases, recovering millions of dollars on behalf of constituents. Underwood also hosted almost 20 virtual workshops on solving problems in working with executive branch agencies.
In the Constituent Accountability and Accessibility category, Rep. John Curtis (R-UT) was recognized for holding more than 300 constituent service or town hall-style events since coming to Congress in 2017. The Democratic winner, Rep. Mark DeSaulnier (D-CA) has an unusual policy of never leaving a town hall meeting until the last constituent attending has had an opportunity to ask a question.
The "Life in Congress" Workplace Environment category recognizes excellence in running a congressional office operation, which leads to lower staff turnover, better employee engagement, translating into better services for constituents. In the office of Democratic winner Rep. Ro Khanna (D-CA) staff receive 30 days of total paid leave per year - 15 days of vacation plus 15 days of sick leave which can be used for Mental Health Days at any point during the year. Staff also are continually invited to offer their ideas for everything from the Member's policy positions to how to best connect our district's needs to the DC office's work. Republican winner Rep. Barry Moore (R-AL) created a telework policy that empowers staff to coordinate schedules so that the office always remains staffed, and every staffer can periodically work from home. Sworn in as a freshman lawmaker in 2021 at the height of the pandemic, the office immediately provided lightweight laptops, iPads and iPhones, so every staffer could easily continue working outside of the office, whether from home or other locations.
The Innovation and Modernization category winners were easy to identify – the Chair and Vice Chair of the Select Committee on Modernization, Rep. Derek Kilmer (D-WA) and Rep. William Timmons (R-SC). From 2019 to 2023 the Committee not only passed recommendations to improve the Congress, the bipartisan committee operated unlike other committees, demonstrating a degree of effectiveness and comity unprecedented in recent congressional history. The Committee passed 202 recommendations affecting congressional staff pay, information technology, and reforming the congressionally-directed spending, formerly called earmarks.
The winners of the Democracy Awards shine in sharp contrast to other forces in our nation which are chipping away at some of the fundamental principles this nation was founded upon. Whether it be election workers leaving their jobs because of constant harassment, or a staff assistant in a congressional office fielding yet another death threat. The radical fringes are in the shadows no more, they are attacking some of our basic constitutional principles, and are even sanctioned by some who swore to defend that same Constitution. This means that for those of us who believe in the Congress cannot be passive observers. We must all be stewards of the Democracy Awards just as we must all be stewards of American democracy.
The examples above of outstanding public service are evidence of where our democracy is working. And it's working because of the dedicated, hardworking Members and staff who serve in Congress and strive to implement our common democratic values and practices. Perhaps the best way we can combat those who attack our democracy is to prove to them it actually works. The winners of the Congressional Management Foundation's Democracy Awards are examples of democracy working in the best spirit of our founders' vision for our nation. And when you encounter a naysayer who believes all of government is broken, who are losing hope in American democracy - tell them a different story. Tell them you know examples of excellence, of patriots serving under a dome – the winners of the Democracy Awards.