Pete Marovich/Getty Images
The hits just keep on coming. For the fifth consecutive year, the United States was rated a "flawed democracy" by the Economist Intelligence Unit, reflecting a year of political division and mistrust.

American democracy has trended downward since the EIU, part of the The Economist publishing group, started its global index in 2006. In the latest report, covering 2020, the United States received its lowest score yet (7.92 out of 10), ranking 25th out of 167 countries analyzed. Much of the blame was assigned to former President Donald Trump and his followers.
The EIU's annual report, released this week, measured the countries on five subject areas: electoral process and pluralism, the functioning of government, political participation, democratic political culture and civil liberties. This follows on the heels of other studies showing bad news for fans of democracy.
While the United States did see increased political participation with record voter turnout and movements to address racial injustice, "public trust in the democratic process was dealt a blow by the refusal of Donald Trump and many of his supporters to accept the election result," according to the report.
Other factors that negatively impacted the nation's score include "extremely low levels of trust in institutions and political parties, deep dysfunction in the functioning of government, increasing threats to freedom of expression and a degree of societal polarization that makes consensus almost impossible to achieve," per the report.
Sign up for The Fulcrum newsletter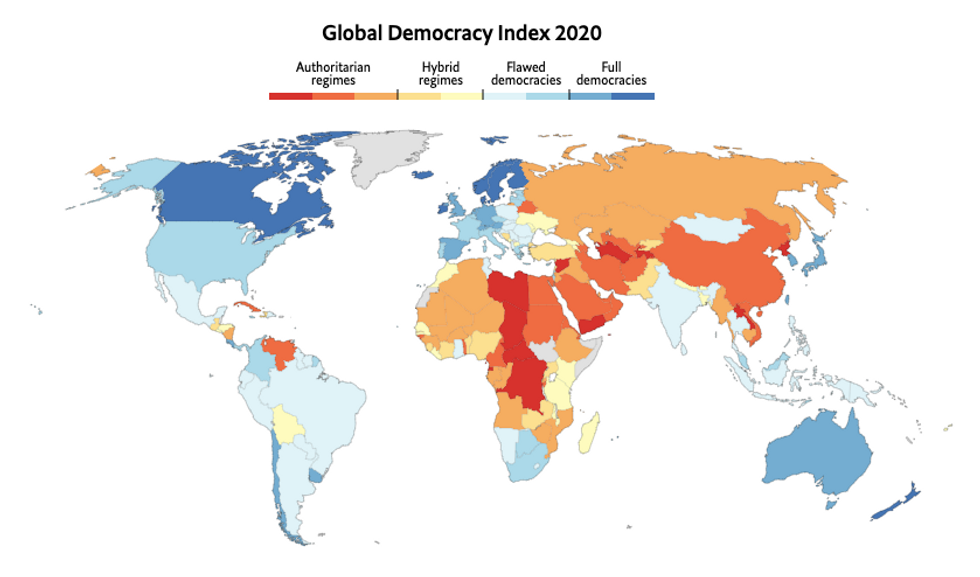 The Economist Intelligence Unit
Just 23 countries, representing 8 percent of the world's population, were considered full democracies by the EIU's index, with Norway taking the top spot. Most of the world's population (41 percent) lives in one of the 52 countries categorized as a flawed democracy.
Another 35 countries, representing 15 percent of the world's population, were labeled hybrid regimes, meaning "corruption tends to be widespread and rule of law is weak," the report says. And 57 countries, with 36 percent of the world's population, were marked as authoritarian regimes, with North Korea coming in last.
Keep reading...
Show less
wildpixel/Getty Images
At the end of what has been the most tumultuous campaign season in recent history, a national good governance group is launching a new effort to tackle what appears to be the impossible:

Bridging the enormous partisan divide that has set neighbor against neighbor and made governing the country so difficult.
FixUs, an initiative to help Americans better understand our differences, announced Thursday the results of a national survey outlining these differences — and some areas of agreement — that will serve as a springboard to the program called "A National Dialogue on Common Values, Goals and Aspirations."
The poll vividly captures the divide between Republicans and Democrats on what the priorities for the country should be.

Democrats ranked as their top policy goals: health care affordability (64 percent) and improving racial justice (51 percent).
Republicans said their top goals were a strong and growing economy (68 percent) and putting America first (54 percent).
Areas where the parties differ by a wide margin include Democrats' focus on reducing income and wealth inequality (46 percent to just 15 percent for Republicans), and addressing climate change (43 percent to just 16 percent for Republicans.)
Republicans prioritize personal freedom (46 percent to 24 percent for Democrats).
Sign up for The Fulcrum newsletter
Members of the two parties also have widely divergent views of where the county stands, with Republicans much more positive than Democrats.
For example, 81 percent of Republicans said the American economy was strong and growing while only 37 percent of Democrats said that. Also 65 percent of Republicans believe the country ensures racial justice while only 22 percent of Democrats believe that.
There is strong agreement, and perhaps the meeting ground for productive dialogue, on national and individual values and goals, the survey found. Lopsided majorities of both parties described these national values as extremely or very important:
Free speech: 81 percent
Equal justice under law: 80 percent
Ensuring everyone has the opportunity to succeed: 80 percent
Individual freedom: 78 percent
Individual values where there is strong bipartisan agreement include being honest, hard-working and independent. Conversely, only a fourth of respondents listed being wealthy as extremely or very important.
The common areas on which most agree are a starting point for the dialogue FixUS hopes to create.
"Americans feel divided and alienated from one another and from the political process," said Maya MacGuineas, the founder of FixUs, a project of the Committee for a Responsible Federal Budget that has also has been acting as an informal coordinator of disparate players in the world of democracy reform. "It is important that no matter the outcome of the election, we remain focused on what will be the long and difficult work of reuniting the country."
The next step is for people to participate in small group discussions and focus groups to better understand the differences and similarities and attempt to find ways forward.
The Ipsos poll of 1,005 adults was conducted Sept. 2-3 and has a 3.5 percentage point margin of sampling error.
Keep reading...
Show less
Dorann Weber/Getty Images
Molineaux is president of the Bridge Alliance, a coalition of more than 100 civic engagement and democracy reform groups. (Disclosure: The Bridge Alliance Education Fund is a funder of The Fulcrum.)
In this dark year, I am carrying hope for our nation.

While many of my friends — across the political spectrum and in varying corners of our current politics — agitate, calculate, dominate and become irate, I claim kinship with them all. I see our broken hearts, our disappointment, our pain and suffering. I see our pride, our gumption and innovation. I share our collective feeling of anxiety mixed with dread for what may be next. And still, I carry hope.
We are a raucous American family. While we talk about divorce in terms of civil unrest and civil war, like a good marriage counselor I am asking: What are we fighting for? And what are we protecting against?
I carry the hope for our nation by advocating in favor of so many of our democratic values. That we citizens are bound to one another. And that no one is above the law. That our elected officials are public servants. And that the public should be protected by a system of checks and balances that prevents the unmitigated pursuit of power for its own sake. That power in the United States government must always be in service to the people. And that goes for all the people, not a privileged few. Finally, our bond grows stronger as a nation when we trust one another and share mutual association.
Sign up for The Fulcrum newsletter
I carry the hope for our nation along with all those others working to protect against the forces of division — and to protect against the intolerance of those who wish to memorialize their power and advantage over others. I work to protect against rigidity of thought that obstructs, and against advancement so rapid we lose our tradition and sense of American identity. (These are the failures globally that did not allow us to prevent the Second World War.)
The Constitution was a reaction to the tyranny of and absolute power granted to a single man. The framers wanted power for themselves, separate from King George III. This is fact, as is their dismissal of non-white people and women as subservient — and enslaved to the framers' expression of liberty. They were the underdogs in a power-hungry world. The David against the Goliath of English colonization.
Despots hold absolute power. It is a term reserved for those who exercise their power in a cruel or oppressive way. Today we face the possibility of a despotic ruler in the United States for the first time in our lives and perhaps the first time in American history.
For a nation that has promised "life, liberty and the pursuit of happiness," we have fallen short and that is the source of our agitation, cogitation and irritation. It is also the source of our broken hearts, ruptured relationships and disappointment in our chance at a better life.
Freedom is the promise of our now-amended Constitution to every person. And freedom is now experienced by more people around the world than at any time in history. As humans, we long for freedom but freedom comes with a price tag. We have to protect it, tolerate others and compromise to avoid the sort of despotic rule that provides privilege to some while punishing others.
If we look to a leader in the United States to punish others, we have already lost freedom. And as history proves, despots will grab the power -- without any intention of its return to the people. If you have given your support to a leader who states that opponents are enemies and should be punished, you have given your power away by no longer supporting democratic values. You have chosen a leader who prioritizes power over democracy.
I carry the hope for our nation by remaining a free person, open-hearted and open-minded about our collective future. Will you join me?
Keep reading...
Show less