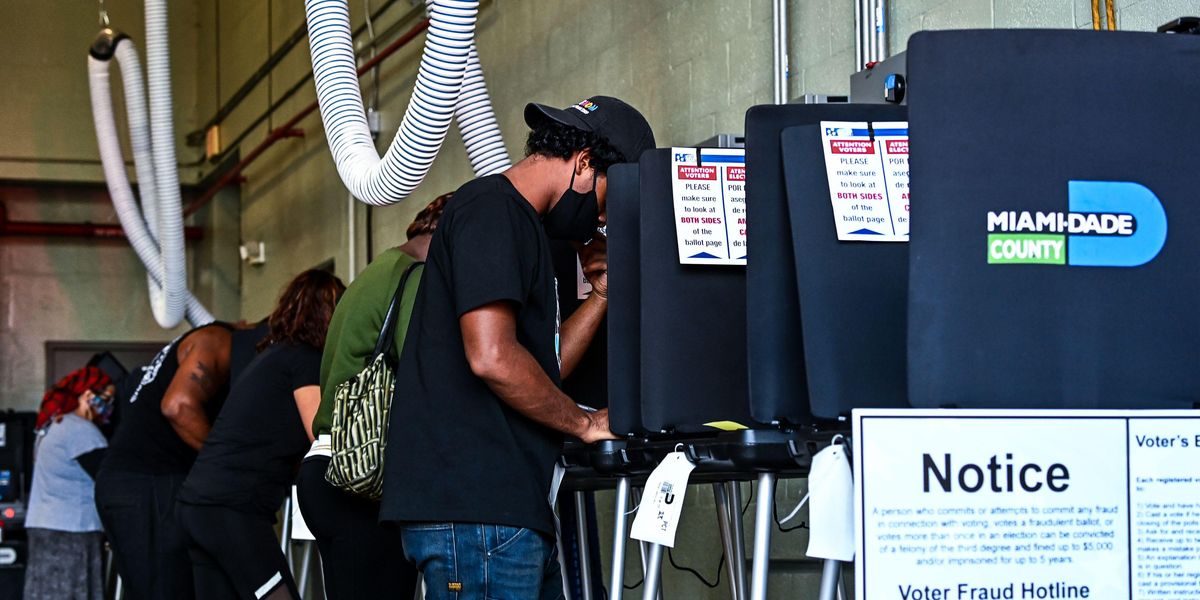 Chandan KhannaAFP via Getty Images
Originally published by The 19th.
The League of Women Voters of Florida was among the voting rights groups that celebrated last month when a federal judge struck down parts of the state's 2021 voting law. The League, as one of the plaintiffs in the case, had argued those provisions — which included new restrictions on drop boxes and aiding people in line to vote — were unconstitutional, and a judge agreed.
Now another battle looms: State lawmakers on Tuesday are kicking off a dayslong special session designed to approve a map that will set congressional district lines for the next decade. Cecile Scoon, president of the League of Women Voters of Florida since last summer, plans to be there at the state Capitol in Tallahassee.
The League, along with other organizations, has already been reaching out to voters to alert them about the special session. Several organizations are expected to keep up pressure with public testimony at the state Capitol. They're asking members to contact their elected officials and urge them to vote against the map.
The special session is the result of infighting between the state GOP. Republican Gov. Ron DeSantis vetoed earlier versions of a 28-district congressional map passed by the legislature, arguing the maps kept intact districts with large minority representation in a way that made them unconstitutional.
Sign up for The Fulcrum newsletter
DeSantis has since released his own map that would create 20 Republican-leaning districts in a state that went for former President Donald Trump by just three points in the 2020 presidential election. Republican lawmakers have indicated they plan to support DeSantis' map.
It's not just the partisan lean that worries Scoon — it's also that so many districts are designed to be uncompetitive. (The fight over fair redistricting has been playing out around the country, and the number of competitive House races has greatly decreased as in many states, the major parties have locked in more safe seats for themselves.) Florida voters approved a constitutional amendment in 2010 aimed at limiting political gerrymandering. While the League of Women Voters of Florida is a nonpartisan organization that presents multiple sides on issues such as ballot initiatives, the organization is clear in its support for voting rights and access to the ballot box. Scoon spoke with The 19th about this week's special session and the realities of breaking a key barrier of representation while also dismantling assumptions about an organization made up primarily of White women.
This interview has been edited for length and clarity.
Barbara Rodriguez: You are the first Black woman to serve as president of the League of Women Voters of Florida. What are some of your priorities and how's it going?
Cecile Scoon: The very first thing that I said in my acceptance speech was that I wanted to continue and enlarge our efforts to diversity, equity and inclusion, and we should take advantage of my long-term memberships in very well-established African-American organizations.
I'm a lifetime member of my county's NAACP branch, and I've been very involved over the years. I'm also a member of one of the oldest African-American sororities, Alpha Kappa Alpha Sorority, Inc. Through me, I'm wearing all these hats. But because I've been involved, and just my work as a civil rights lawyer, I'm bringing a whole lot of connections and relationships in areas that the League is very interested in.
Who is a member of the League? Is there a way to understand the scope of membership?
We have 29 chapters — or Leagues — in the state of Florida, starting from Pensacola going all the way down to Key West. The sizes of the Leagues vary dramatically, from I think the smallest one might be 30 or 40, up to 500 or 600. The average League member demographically is probably an older White woman. I say older — mid 70s. Well-educated, committed, focused. And we are endeavoring to encourage people with different backgrounds to join us.
Part of the whole dynamic here, according to voting rights groups like the League, is that Black voters' political voices might be diluted with the new congressional map. How do you view what's at stake?
We're reaching out to everybody to let them know what's going on. Because we truly believe when the legislators make these efforts to essentially have safe districts — there is no competition. I mean, why should somebody vote if they feel like it's preordained? I think it can be a discouragement to voting and it makes it more difficult to hold that representative or senator accountable. It's very damaging to the state and to the citizens. So certainly African Americans are being targeted and would suffer the first initial brunt and a great harm if Gov. DeSantis has his way. But it also has — that very creation of packed districts — its negative impact on every citizen.
We've had meetings where African American — mostly ladies — have joined the League on the spot after hearing something on redistricting. I think I represent clearly that the League has made some significant strides in addressing that earlier exclusion of Black women — Ida B. Wells, Harriet Tubman and different people who endured that exclusion.
The League is known for talking to groups and organizations about the redistricting process. How did that come about?
We've established ourselves as being truth givers, to explain things. For example, we have a voter guide that we utilize and we explain the pros and cons of citizens initiatives or amendments or things that people have to vote on. And many groups in the community rely on that heavily. So we're building off of years of being that source. … I think our leadership on Amendment 4, which is the restoration of voting rights of persons with felony convictions, was something that established us also as a leader that's concerned about issues that have a heavier impact on Black folks. So I think all of these things over time have put us in a position where a lot of Black community leaders — Black churches, Black fraternities and sororities, other community organizations that tend to be Black-led — have been asking the League, in particular, this last year for a lot of briefings on redistricting.
A federal judge at the end of March ruled that parts of Florida's voting law that passed in 2021 — one of several voting restrictions passed last year — are unconstitutional. The judge also placed the state under "preclearance" for the next 10 years, essentially requiring federal approval to make some future changes around voting. What is the significance of that ruling?
I'm a civil rights lawyer. How these different federal courts handle discrimination claims of any kind is indicative of their attitude about voting rights. And I can tell you, that this case that Judge [Mark E.] Walker penned, if it stands, and I'm hopeful that it will, will be one of the most pivotal voting cases in the last 20 years in terms of what happened. The judge looked at all of the evidence that was presented to him, and he literally said he has found over 20 years of intentional discrimination by the legislators against African-American voters in the state of Florida. And that's pretty damning. That's pretty clear. That never happens. 20 years? That's amazing.
The League was one of the plaintiffs in the case. So were you as an individual. How did you feel about that?
It's a little nerve-wracking when you are going to speak for a large group. But I felt very proud, and proud of the League. And when you tell people why you do things and how you do things and the different procedures, it's very reinforcing of your sense that you're making a difference, your sense that the League and that myself, we are people and entities with standards of behavior, of analysis of research, of education. We don't just get upset and then throw something out there. We talk, we debate, we think about it and we really work hard to present that non-biased point of view. So being able to share that publicly in the trial was very empowering. Speaking up against the kinds of limitations on voting was also very invigorating, and we ended up winning on many of the things that we asked for.
With the special session, what are you expecting? Is there a way to better explain theoretically what happens next? Let's say they go forward with a map that Gov. DeSantis wants.
Well, certainly the pattern for litigation is well established. And it's clear, it's in the record, that what the Senate and House are talking about doing is completely opposite to what they did during the actual session. And they made great efforts to not allow the governor to tell them what to do and I was at hearings when they rebuffed the governor and his advocates who would come before them.
You asked me earlier about the impact of my race. And it definitely is having an impact and the timing and the specific actions of the governor and his desire to limit the voice of African Americans is definitely turning up the heat. And so there's more and more interest as people feel the pressure, there's more and more requests for information from the League. There are many lawyers watching carefully to see what goes on. And there are a lot of evaluations of what are the next steps. And nobody is willing to commit to litigating until they see what's really going on. But I would say that all of these options are being looked at very carefully.