Meet the reformer: Bonnie Miller, still fighting an Arkansas gerrymander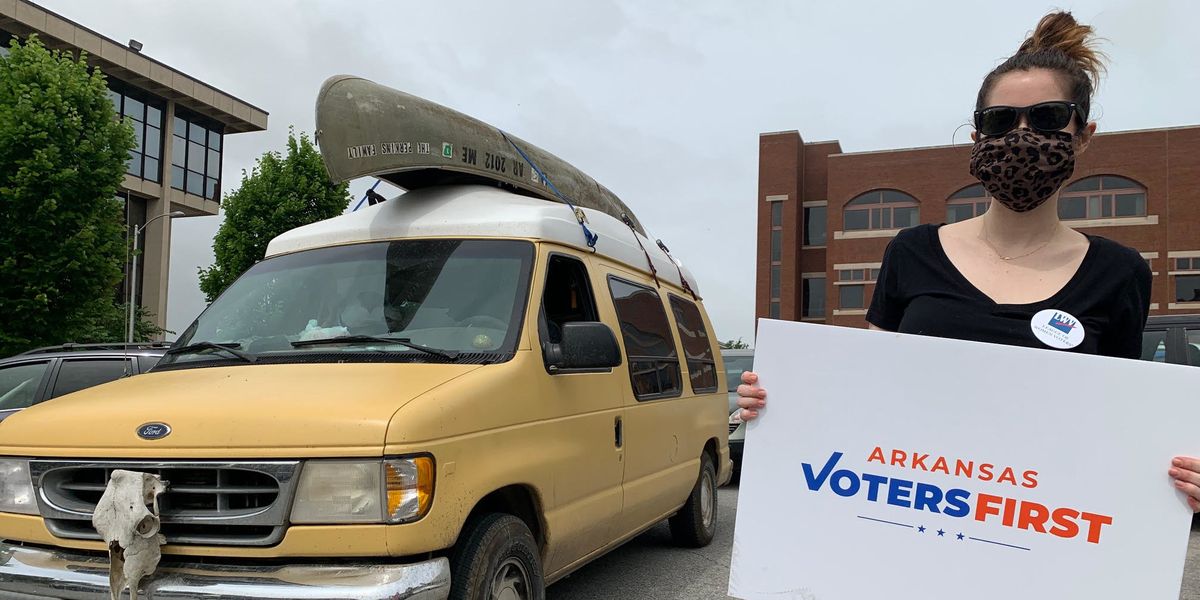 Arkansas Voters First
Bonnie Miller spent months working to get a measure on next week's Arkansas ballot that would have turned the state's political map making over to an independent commission. Her Arkansas Voters First Campaign gathered the necessary 150,000 signatures but was stopped on very narrow grounds by the state Supreme Court, meaning redistricting for this decade will be a partisan exercise controlled by elected Republicans. But Miller says she's not giving up on bettering democracy in her adopted home state, where she runs the League of Women Voters chapter in Fayetteville and is on the staff of the state university's law school. Her answers have been edited for clarity and length.
What's the tweet-length description of your organization?
The League of Women Voters seeks to improve government and impact public policies through education and advocacy.
---
Describe your very first civic engagement.
I ran for student government in middle school in southern California — unsuccessfully! My platform was not great and centered around more pizza and establishing dress-up days at school. I used a Mr. Potato Head during my campaign speech. Don't ask.
What was your biggest professional triumph?
Chairing our Arkansas Voters First campaign. Leading a grassroots movement to establish people-powered fair maps in our state has been the highlight of my life. I've been able to work with so many wonderful people who are passionate about redistricting reform and move our state closer to that goal.
Sign up for The Fulcrum newsletter
And your most disappointing setback?
Having our ballot initiative disqualified based on a procedural technicality. We expected opposition but thought we would at least have the opportunity to campaign on the issue. Instead, the court removed our proposal from the November ballot despite our having met all of the requirements to get on. The secretary of state, who sits on the board of politicians responsible for drawing legislative districts, fought us every step of the way. This proves exactly why politicians should not have the power to draw districts and how far they're willing to go to keep it — including disenfranchising voters. We won't stop fighting for fair maps in Arkansas!
How does your identity influence the way you go about your work?
Having grown up in a biracial household, I've always been aware there are different realities for people of color and white folks living in America. Seeing first-hand how my Latinx family experiences democracy and engages with politics has directly impacted the issues important to me. I want to live in a country where all people are equally represented in their government. Gerrymandering undermines representative democracy, especially when done for purposes of diluting the votes of Black, Indigenous and other people of color.
What's the best advice you've ever been given?
Don't respond from a place of heightened emotion. For me, this is always a work in progress.
Create a new flavor for Ben & Jerry's.
Caturday: peanut butter ice cream with swirls of chocolate fudge and Trader Joe's dark chocolate peanut butter cups. The perfect Caturday treat.
What is your favorite TV show or movie about politics?
HBO's "Veep." Julia Louis-Dreyfus as Selina Meyer is brilliant.
What's the last thing you do on your phone at night?
Set my alarm. I usually check it at least three times before I fall asleep to make sure it's set.
What is your deepest, darkest secret?
I love to turn off the lights and dance alone to '90s pop hits in my house. You have to find joy where and how you can.