Voting rights advocates echo Biden's call for filibuster reform
https://twitter.com/davidmeyers?lang=en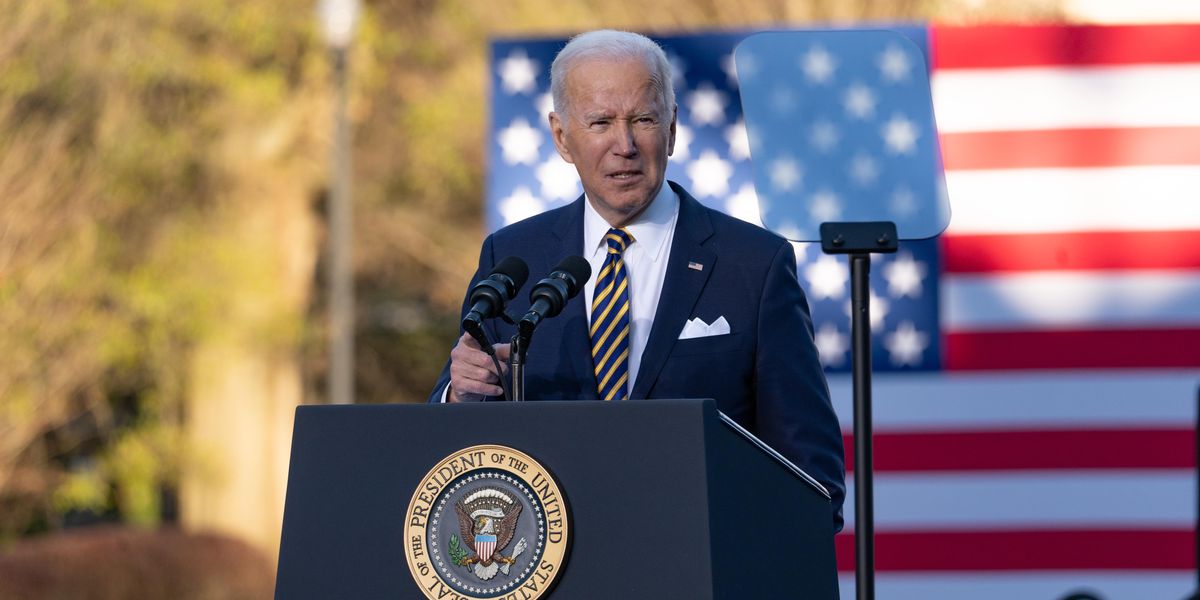 Megan Varner/Getty Images
President Biden gave an emotional speech in Atlanta on Tuesday, calling on Republicans to support election reform legislation and encouraging a change to long-standing Senate rules in order to get the work done.

But despite Biden's use of the bully pulpit and new polling that shows a majority of Americans favor reforms, the proposed bills appear stalled unless the Senate changes or abolishes the filibuster. Advocates for the Freedom to Vote Act and the John Lewis Voting Rights Advancement Act recognize the situation and renewed calls for the Senate to change how it conducts business.
---
While all 50 Democrats in the Senate support both bills, neither can advance because the Republicans can deploy the filibuster, a procedural move that effectively changes the standard for bill passage from a simple majority to a 60-vote threshold. And with Republicans in near-unanimous opposition to both bills, the only path forward appears to be scrapping the filibuster, changing how it can be deployed or creating a "carve out" for voting rights legislation.
Two Democratic senators, Joe Manchin of West Virginia and Kyrsten Sinema of Arizona, have repeatedly said they oppose changing the filibuster rules. But voting rights advocates are still pushing for such a move if Democrats can't get enough Republicans on board.
Sign up for The Fulcrum newsletter
Wade Henderson, interim president and CEO of the Leadership Conference on Civil and Human Rights:
"Some Senate Democrats, including Senators Manchin and Sinema, have been skeptical about changing the rules on the filibuster. But arcane Senate rules must not stand in the way of our democracy. The circumstances of this moment demand action now. We cannot afford to go back to a world reminiscent of Jim Crow — a world of exclusion, control, and violent inequality. For our democracy to work for all of us, it must include us all. Senators from both sides of the aisle must be on the right side of history, allow debate, and pass these crucial bills. However, if Senate Republicans refuse to join in that effort, Democrats must be willing to go it alone."
Karen Hobert Flynn, president of Common Cause:
"The fight over voting rights has clearly shown that the Senate is broken, and President Biden is right that it is time to fix it. As recently as 2006 every single Senator voted to amend and extend the Voting Rights Act – including 16 who are still in the Senate today – but for the last year, all Senate Republicans, with one exception, have continually voted against voting rights at every turn. If Republicans in the Senate continue to put their party before their nation, then the Senate must act with a majority to protect the fundamental freedom to vote."
Nick Penniman, CEO of Issue One:
"State legislatures across the country are passing laws to put partisans in charge of elections and overturn results of free and fair elections — that's what losing our democracy looks like. Congress needs to realize that this moment is bigger than politics as usual. Republicans need to move beyond obstruction and towards presenting constructive ideas. Unless Democrats reform the filibuster, they have to be flexible enough to listen to those ideas. Both sides must move beyond partisanship and do what previous generations of Americans have done – do whatever it takes to save our democracy and safeguard it from those who wish to subvert it."
Jana Morgan, director of the Declaration for American Democracy:
"To pass these critical bills, Majority Leader Schumer and the Senate must reform its broken system that has long blocked legislation to protect our freedom to vote. We cannot allow Senator McConnell to delay this bill through pretend negotiations and cynical stall tactics. Every minute we delay passing this popular legislation, partisan lawmakers and dark money groups will continue to enact laws that put up deliberate barriers to the ballot box to silence the voices of Black, brown, indigenous, and young Americans."
Joshua Graham Lynn, CEO of RepresentUs:
"With warning signs blaring all around us that America's democracy is in peril, President Biden posed the right question today: Will senators choose democracy or autocracy? Will they decide to restore the Senate to a functioning body, or let it atrophy amid crippling gridlock? … But while we're grateful that the president is more forcefully presenting this stark choice for lawmakers, time is running out. Many senators have stepped up in recent weeks to support rules changes to pass the Freedom to Vote Act, and we hope the president has a concrete plan to get the few remaining holdouts on board."
Virginia Kase Solomón, CEO of the League of Women Voters
"In his speech, the President forcefully called out those who would obstruct democracy, rightly laying the onus of democracy protection on the U.S. Senate. State legislatures across the country have passed anti-voter bills with a simple majority, while the president noted that the U.S. Senate requires a supermajority to pass voting rights protections. … The Senate would sully the legacy of Dr. King and Congressman Lewis by invoking their names without passing these bills."
Majorities back election reforms
Meanwhile, new polling by Politico and Morning Consult shows that a majority of Americans favor changes to elections laws even though they do not believe those issues should be a high priority.
A majority of respondents (54 percent) said Congress should make reforming how electoral votes are counted a top or important priority. Sixty percent said the same for expanding voting access, and 57 percent said expanding oversight of states' election law change should be a top or important priority.
But when asked if any of those three items should be the top priority, none received more than 26 percent of support, with one-third of respondents choosing "none of the above."
The pollsters also broke out individual elements of the Freedom to Vote Act and the John Lewis Voting Rights Advancement Act to gauge support for certain items. A majority either strongly or somewhat supported every one of them.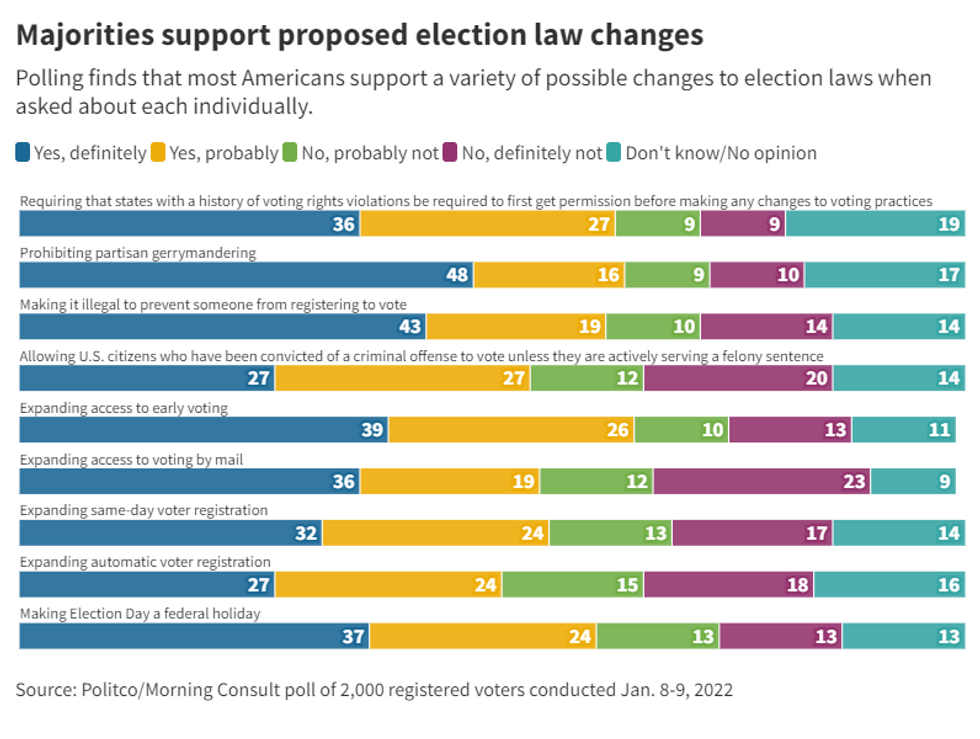 The survey also asked whether Senate Majority Leader Chuck Schumer should force a change in the filibuster rules. Respondents were split: 37 percent strongly or somewhat supported that idea, while 36 percent somewhat or strongly opposed it.