Big Picture
Lessons from Sally Jenkins' new book on how we can all learn from sports' GOATs and GREATs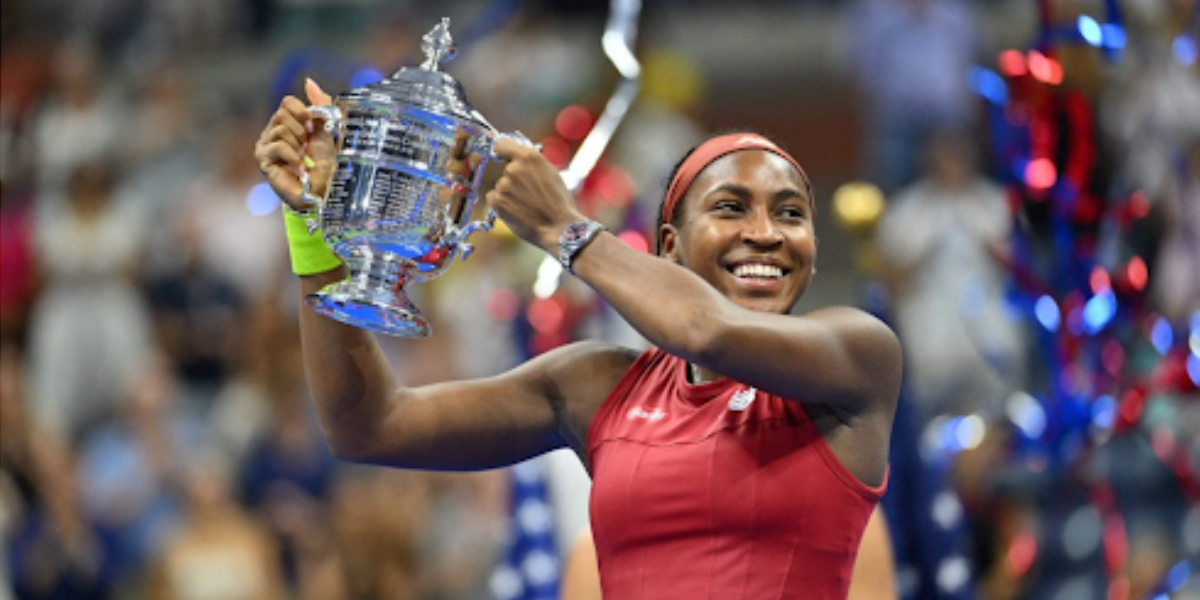 Angela Weiss/ Getty Images
Solomon is faculty in the Stanford University's design school and a creator of civic futures programs like Vote by Design, Building America's Teammates and Theteam.org
Although she's only 19, the 2023 U.S. Open Champion, Coco Gauff, shows all the signs of knowing how to make "the right call" under pressure. She emerged victorious after a grueling final three set win over Aryna Sabalenka, the current number one player in the world. It's not just that Gauff played two weeks of magnificent tennis, it's how she navigated marathon matches, extreme heat, and rising pressure and expectations of her play. As she said in her post-match interview with Mary Joe Fernandez, "Thank you for the people who didn't believe in me. You thought you were putting water on my fire, but I'm burning so bright right now!"
Watching Gauff — and other players — through this fortnight of amazing tennis took on a different depth this year, thanks to a new book from award-winning sports journalist Sally Jenkins called The Right Call: What Sports Teach Us about Work and Life. In it, Jenkins shares patterns and insights she's observed from covering sports greats with a vibrancy and clarity that makes us feel like we're in the locker room with her.
Sign up for The Fulcrum newsletter
As a former college tennis player, sports have always been an integral part of my life. I come from an obsessive Philadelphia sports family, and my mother, at age 79, is still a competitive golfer always learning how to improve her swing. I married a much more talented tennis player, who still trains and competes like he could enter the U.S Open Masters any day.
Now, in my role at Stanford, where I teach classes that help students learn how to navigate ambiguity and lead through complexity, my student athletes have helped me come to see sports as one of the best training grounds for how to thrive in a world of dynamic uncertainty.
Recently, I've helped launch a new civic initiative called The Team that helps college athletics prioritize and infuse civic engagement into their programs. Working closely with a passionate team of coaches and athletes, we believe that sports is a vehicle for not only creating great athletes and competitors, but great citizens and leaders as well.
That's why The Right Call resonates so deeply for me. In it, Jenkins distills the intentional choices and often invisible investments of sports superstars into relatable and learnable moments for all of us. She reminds us, again and again, that the great athletes we revere and root for are not mythical creatures to idolize. They are public models to learn from. The lessons they embody transcend any single competition, season, or sport. They provide a roadmap for how, even in the midst of high-takes moments, we can show up for ourselves, our teammates, and our fellow citizens.
Jenkins organizes her book into seven principles that distill the habits, values and standards of the greats: Conditioning, Practice, Discipline, Candor, Culture, Failure, and Intention.
As Jenkins says in her opening chapter, "Principles are foundational modes of behavior. They permit men and women to make hard and even undesirable choices without panic and with the clear-eyed recognition that though we might be at the mercy of unpredictable forces, we can at least employ sound practice and over time increase our odds of being right, more often than not."
While each chapter contains compelling stories and insights, often backed by neuroscience and psychology, below I've highlighted some concepts that I found particularly meaningful. I highly recommend you read the book for yourself. Whether you're an athlete, coach, educator, leader, or even a parent, there's brilliant wisdom here to ponder and apply.
Jenkins helps us understand that great athletes and coaches don't "rise to the occasion" during crucial moments — those are the very moments they train for. She reflects, "It's not random and it's not luck. The essence of their performance is not that they do something extraordinary and extreme under pressure, but that the opposite. When they are at their best, they are simply performing their usual ordinary well-practiced way."
I've long believed that we can't get better at things we don't practice. This is true for sports. It's true for leadership. It's true for life.
No rookie has a stellar performance the first time out — that's just not a reasonable expectation. And yet, it's how most of us operate in our personal and professional lives.
While we can't fully anticipate all of the uncertainties that may unfold, we can learn to be more adept and comfortable as we move through the unknown. We can intentionally develop standards and values to live by that stay steady and consistent regardless of the pressure or external forces in play.
Jenkins discusses the value of practicing strengths and, perhaps more importantly, practicing weaknesses focusing on the critical details that either contribute to — or detract from — success. "The difference between elites and amateurs is that elites practice things they are worst at and dislike the most, whereas the rest of us run around our backhands our whole lives, or live with a weak left hand, or avoid doing math." (As someone that does run around their backhand, the idea of deliberately practicing my weakness is a particularly powerful concept.)
Underlying this discipline of practice is a mindset of growth and development.
Great athletes are not only willing to work on their weaknesses, they are also willing to examine whether what they think are their strengths are truly their strengths. They learn from success and failures alike in search of opportunities to improve, even when it feels hard or painful.
Similarly, Jenkins points out in a later chapter that athletes don't shy away from failure. Athletes, like seasoned leaders and entrepreneurs, understand that success is not linear. Setbacks, obstacles, mistakes, unexpected outcomes are inevitable, especially if you're striving for excellence. The question isn't whether failure of some kind will happen; the real question is your response to it. Do you lean into it with a discovery and a learning mindset? Or do you avoid it with shame or look for others to blame? As she says, "Leaders who choose denial or blame shifting in the face of setbacks tend to stay stuck in failure mode."
What's clear is the importance of having an appreciative posture of what failure can teach us, both at the individual and organizational levels. "Good decision-makers make a certain amount of failure discussable, even permissible," and "the best athletic play callers recognize that all of their best and worst decisions come with complexities and ambiguities that require deep dissection."
Jenkins' last chapter focuses on intention, the "why" driving athletes and teams to their highest level of performance. Here, again, Jenkins demonstrates how a principle practiced at the individual level has broader communal impact and influence. "Intention is more than just a declarative statement of temporary purpose. It's the conscious decision to work toward a self-crafted identity, to refuse to let events — or other people decide who and what you will be."
In a world that promises more complexity, more uncertainty, more ambiguity, what are we doing to ensure that we — as leaders, parents, citizens — are making "the right call" towards the outcomes we hope for?
Jenkins' book reminds us that we don't need to be at the mercy of external forces, no matter how extreme. We can intentionally practice, develop, and hone ways of showing up for ourselves and others that will help us be the best version of ourselves — on the court and off.