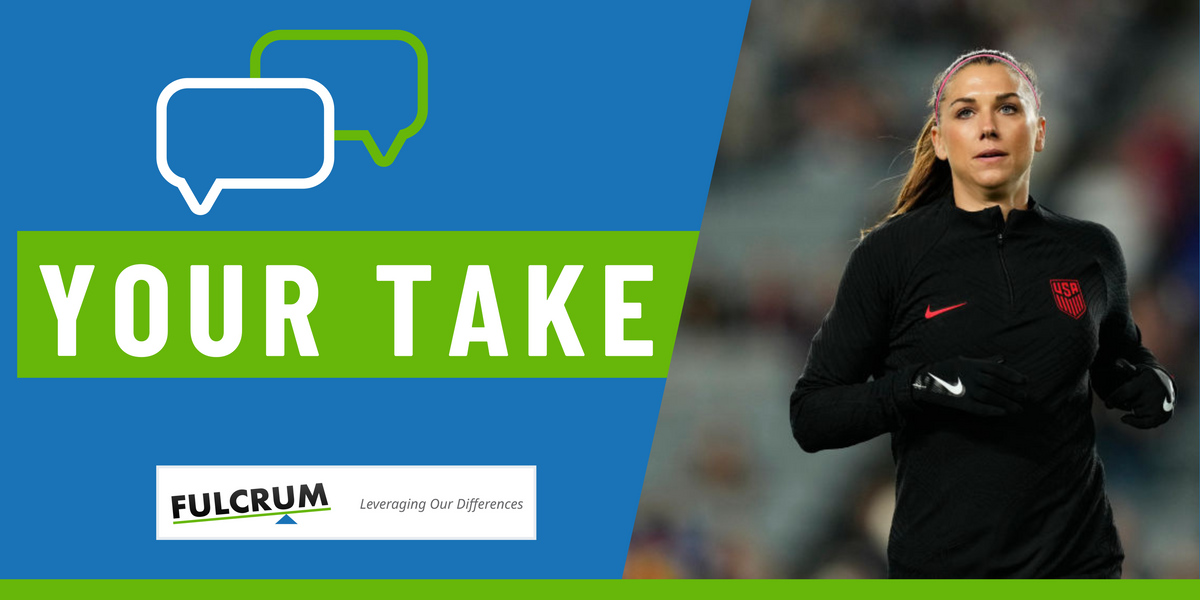 Earlier this week we asked the following questions of our Bridge Alliance, Coffee Party and Fulcrum communities to get your take on the value of sports in building social and political bridges:
What is your favorite, unifying sports moment?
Are sports a genuine tool for bridging our divides or a temporary distraction from the real issues?
A multistage tournament spanning across a month's worth of sweltering summer days, the 2023 FIFA Women's World Cup has entered the knockout round; cutting the remaining field of countries in half to begin a barrage of single-elimination clashes. Thankfully, the U.S.'s title hopes are still alive. And although criticism of the team's potentially lukewarm temperament has poured in, hope remains that the team will regain its back-to-back reigning-world-title form.
This same hope exists in the hopes that these games can be used to further a sense of positive change. In a recent article published on The Fulcrum, Marc Wong illuminated how this year's World Cup has been used to break down barriers of gender equality in various forms, even television ads. In a similar vein, we see fans pouring into bars and lounges across the country, united, just to get a view of a potentially historic third straight title by the U.S. Women's team. No, some good soccer will not be the tool alone to fix the smorgasbord of issues facing our country. But, if we can share a set of sticky barstools, we can engage in responsible political discourse. If countries across the world can do it for a simple soccer match, why can't we do it with and for each other? The beauty of sport is that even when a winner is decided, the most cherished aspect is the ability to participate earnestly.
Sign up for The Fulcrum newsletter
Just like the Boston Red Sox after the Boston Marathon bombing, the New York Yankees after the tragedies of 9/11, and Jesse Owens at the 1936 Olympics just to name a few- never rule out the value of sports in its ability to unite and create change.
Here is a sampling of your thoughts. Responses have been edited for length and clarity:
Sports are a good reminder of how we can unite around the achievements of our own players and even those of the players of other nations. - Audrey Gaquin
There are many special uniting moments I recall. In soccer there is always one that touches me. The song and honor given to each team while their respective national anthem is sung is special. Regardless of who wins - watch the embraces of the teams. Sadly this doesn't make the "roll" of the media many times but to see it live is impressive. That is unity. - Marc Garcia
Sports can be both a tool and a distraction. Participants find friends among competitors. But some viewers only care about the result but not what it means otherwise. For them, the contest is a distraction. - Glen Davis
I lived through the Miracle on Ice in Lake Placid in 1980, and I can tell you without question, sports has the ability to raise humanity up into its purest form of love and understanding. Not only did the hockey team bring together a country that was reeling from the Iran hostage crisis, feeling that America was no longer a place for dreams, it showed Russians in an entirely different kind of light. They watched not with jealousy, but with awe and admiration for the kind pure joy and emotion the U.S. amateurs expressed at upsetting what had been the greatest hockey team in the world for decades. Even the Russians, who were viewed as our 'enemy' were brought to a perspective of humanity, just from a different cultural lens. Sure, it was a distraction, but it was also a moment where I believe the world was uplifted to seek the ideals that dreams matter, that nothing is impossible if you try, and that we are better together than apart. - Jonathan Phillips
A cool unifying moment from women's soccer was when Japan won in 2011. It was at a time when their nation was reeling from the most devastating earthquake and tsunami, it gave such joy to the folks back home. Yes, I do think we can use sports to come together to root for a team, even if we disagree on most everything else. And if our team does win, that joy is something we can celebrate together - and those moments are often rare given our differences. - Vicky van den Berg