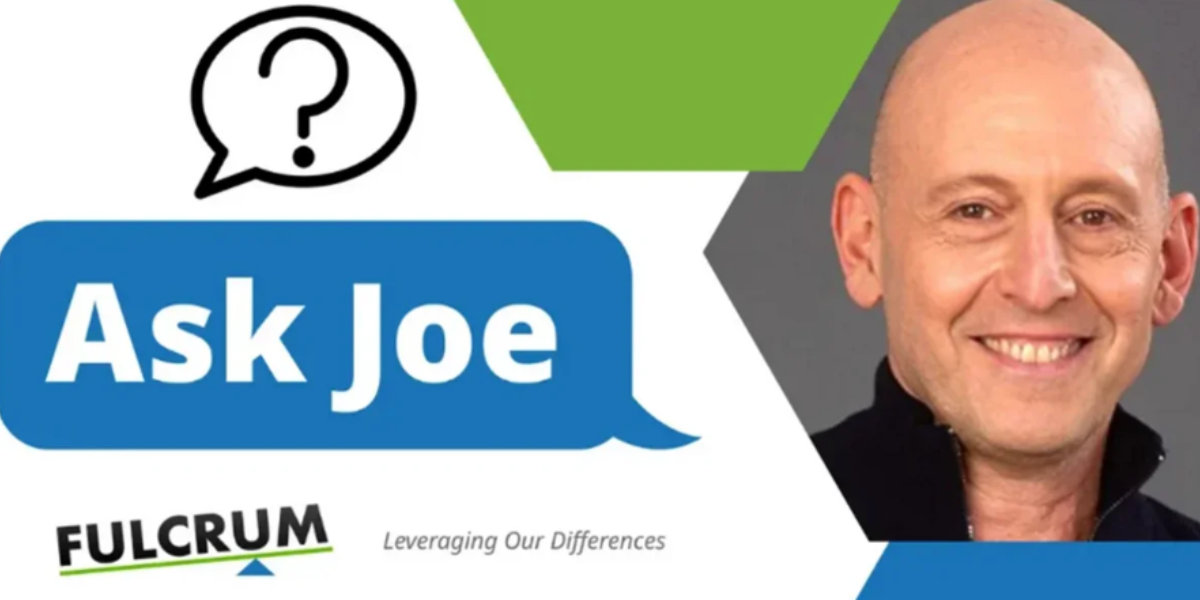 Hi Joe,
There's so much going on. It has already been so intense with so many conflicts around the world. Now there's the tragedy in the Middle East. I'm trying so hard to hold space for all my friends, colleagues and family members. Everyone is taking sides and not able to talk to one another. I'm not finding time to process how this is all impacting me. And now we're going into holiday time where I will have to spend time with people from all sides of the debates. I can't even imagine how I'm going to manage all that. Any advice?
Pained
Hello Pained,
Yes, there is so much pain at the moment, and for so many reasons. And with pain comes fear, and anger, and confusion, trauma and intense emotions. And with intense emotions comes nervous system dysregulation. And with nervous system dysregulation comes fight, flight, freeze responses. And with these responses, we find it hard to access our reasoning brain and approach ourselves and others from the heart.
And for some reason, it seems that our family members and people close to us become easy targets of our fear, anger, frustration, and feelings of hopelessness. Even though we know better, even though we make the commitment that we are not going to talk politics at the holiday parties, we still find ourselves in the familiar heated arguments, maybe fights. And at the end of it we realize that it never really accomplished anything other than making what could have been a fun and peaceful moment of respite from the hard world into a battleground of cynicism, increased polarization and indigestion.
Sign up for The Fulcrum newsletter
For more than a decade, I have been working closely with various groups of people in the Middle East. I have Jewish friends and Israeli friends and colleagues who are in a state of terror; I have friends and colleagues in Gaza whom I have no idea if they are alive or not. And while I have my own viewpoints on the issues, I can also see that it is impossible for me or anyone else to fully grasp the complexity of the problems. Therefore, I believe that the best thing I can do at this time is to offer nurturing and protection, not opinions and declarations of condemnation.
That doesn't always come easy, Pained. I have to do a lot of my practices to make sure I don't fall into my reactive patterns, shut down my heart and lose my connection to the humanity of others. It's all around us. I see the rise of Jewish and Islamic hate crimes from one direction and the demonization and hate speech from the other. None of this is going to lead to peaceful equitable solutions; in fact, it will most likely only destroy bridges that have already been built.
I'd like to offer a modified list of tips that I offered last year at this time for ways to take care of yourself during the holidays, while preserving or re-igniting the integrity of your relationships:
Check your motivation: What would you accomplish by engaging in the challenging discussions? Do you think you will solve our world problems by fighting out these issues with your family members? If you can see that having any conversation will cause more harm than benefit, I would recommend considering passing on the conversation.
Set boundaries: You have every right to respectfully say that you don't want to have any conversations about politics and that you will respectfully step away if a conversation starts. If you are feeling confident enough to engage in conversations, make it clear, in a respectful way, that you are willing to discuss politics, but only if everyone involved is willing to listen with an open heart. If that is not agreed upon, then make it clear that you will be excusing yourself when those conversations begin.
Be curious: Notice your own words, practice silence and do your best to listen. This gathering may not be the best place for others to hear your viewpoints. Consider your attachment to being right and to proving others wrong. If you listen to what others have to say, you may learn something new, or receive information you didn't have previously, that might help you find common ground and peace at this time.
Love and compassion: If the people you will be spending time with are family or friends, remember how they have loved you, and how you have loved them. Though views evolve and connections can become strained, these bonds may transcend politics.
Daily practice: Find time to do the things that empower you and bring you balance and peace. Do practices that currently work for you – jogging, yoga, Tai Chi, etc. This can help you regulate your nervous system, and foster stronger connection to your heart.
Contact your support network: Sometimes connecting with allies can reduce anxiety and tense emotions. Perhaps you can arrange with three of your trusted friends that if you need them, they will be close to the phone to help you ground and find balance. Offer to be a support to your friends as well.
These are just a few ideas, Pained. Perhaps you have others? I'd love to hear about them.

We are navigating a time of tremendous transitions which offers challenges AND opportunities for growth. While policy-making and social change are necessary, on some level, the real work of bridge-building and creating a civil, respectful society takes place around the kitchen table, and where we gather in a diverse community. But always remember, safety, respect and good timing must be present for that to happen.
Sending you holiday wishes of peace, inner strength and compassion with yourself and others,
Learn more about Joe Weston and his work here. Check out Joe's bestselling book Fierce Civility: Transforming our Global Culture from Polarization to Lasting Peace, published March 2023.
Have a question for Joe? Send an email to AskJoe@fulcrum.us.