Ask Joe: To sweeten or stir the pot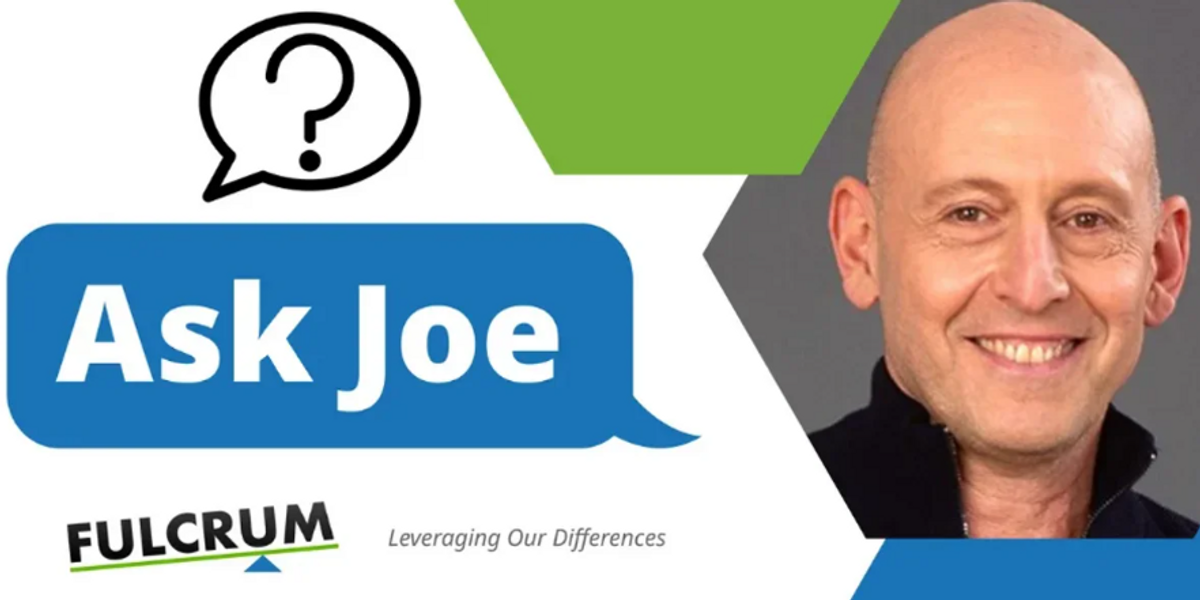 Hi Joe,
I'm noticing that it's getting harder to be around my work colleagues. Not all of us share the same views and we will vote for different parties. Management did a good job to offer some good processing to make sure we weren't being uncivil with each other. On the surface, we seem to be fine. But the tension is so high. The side comments are not pleasant. And I think it's only going to get worse this coming year. Any suggestions?

---
Saccharine Sweet
Hey Saccharine,
Sorry to hear that it's tense at work. With so many ways that life is wearing us down, I can imagine that your "chronically nice" work environment is draining. Our work colleagues should and could be a source of support and inspiration; I call this "creating a work culture of mutual empowerment." But before you can step into a work environment that could be thriving, some very important healing and reconciliation needs to happen in order to restore balance to an unstable system.
It seems that it might not feel safe to have some good heart-centered dialogue with some of your co-workers about the issues that are causing tension. I'm hearing this more and more from others. And now, with the tragic events that are unfolding in the Middle East, everyone seems even more to be caught in a spiral of needing to take sides and proclaim judgments and condemnations.
Sign up for The Fulcrum newsletter
It sounds like your you and your colleagues are stuck in one of the stagnating false polarities that I bring up in my book, Fierce Civility: the unconscious belief that "I am right, and if you have a different view, you must be wrong." I believe that the assertion of "let's agree to disagree" may seem like the "civil" thing to do, but look at how it is causing you and your colleagues stress and distress. It is holding you back from growth, collaboration, and creating safety and trust. In other words, every time you choose to agree to disagree, you are claiming that your need to be right is more important than the integrity and health of the relationship.
The "pivot" that I offer to break this stagnating, polarizing unconscious internal habit is to humbly and honestly ask yourself, "do I want to be right, or do I want to be effective?" Giving up the stubborn need to be right doesn't mean that what you believe is not true, or that you have to believe what the other believes. It does, however, mean that you awaken in yourself your capacity to be curious, give the other the benefit of the doubt and recognize that it is absolutely impossible for you to know everything. If you can get this far, maybe you are ready todo some powerful, courageous and healing work for yourself and for those around you.
The process starts with activating deeper levels of non-judgmental critical thinking. It is also essential to recognize that, on some level, we have forgotten, or are frightened to remember, that the process of debating issues in a healthy way requires that something needs to be let goof in order to open to something new—and that includes viewpoints. Unfortunately, in our current reactive and volatile culture, we inadvertently believe that shifting one's viewpoint means betraying ourselves in some existential way. On a deeper level, we now fuse our identities with what we believe; we have somehow forgotten that we have viewpoints, as opposed to being our viewpoints. Because of a lack of independent critical thinking, we have fallen into the rigid patterns of "identity politics" where we can no longer distinguish the individual from the issues.
If this is the case, then it makes sense why some of us will fight, sometimes with violence, to win or defend our viewpoints. Therefore, if someone asks us to question our beliefs, our fight-flight-freeze mechanism kicks in. Thinking that we are personally being attacked when someone expresses their opinions or beliefs, we close our hearts, shut down access to the reasoning part of our brain, and either fight for or defend our viewpoints and beliefs at all costs.
So, Saccharine, imagine how hard it has become to openly discuss challenging issues if we fuse our identity with our viewpoints. With this belief, we will automatically see anyone with differing views as a potential threat. And this is why it might not feel safe for you to initiate some truly open-hearted dialogue with your colleagues.
However, are there one or two you may be able to engage? Perhaps start with those colleagues whose viewpoints are closer to yours? Or maybe the insights I mention above might be enough for you to do your own internal inquiry which might activate in you more curiosity and compassion for those who hold different views. And this may soften (or sweeten?) the ways in which you treat others, which may, in turn, soften them. This is not a final solution, but certainly a first step.
As my colleague Vanessa likes to say, Saccharine, "add a little honey to neutralize the vinegar,"
Joe.
Learn more about Joe Weston and his work here. Check out Joe's bestselling book Fierce Civility: Transforming our Global Culture from Polarization to Lasting Peace, published March 2023.
Have a question for Joe? Send an email to AskJoe@fulcrum.us.
To engage in further bridge-building, participate in a global mediation focused on world peace. More information here.