Ask Joe: Respectful confrontation and fierce civility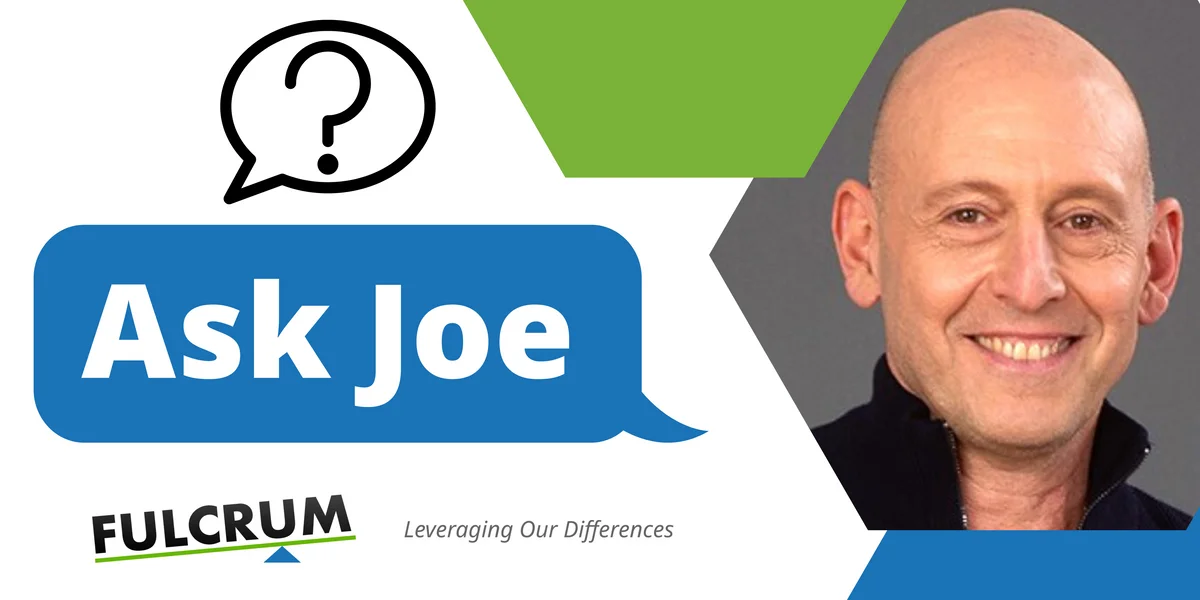 Joe's book, Fierce Civility: Transforming our Global Culture from Polarization to Lasting Peace, launched on March 9, 2023.
Dear Joe,
---
I have enjoyed your articles. I like that you approach everything from a human place. It seems we've stopped doing that. I wanted to know though why you are so focused on odd titles of your work? Respectful Confrontation, Fierce Civility? What about something like compassionate conversations or something like that?
Intrigued
Hey Intrigued,
I love your response! I received your response a while back, but I decided to save it for this week because I thought it would be appropriate to respond to you in the week of the launch of my new book, Fierce Civility: Transforming our Global Culture from Polarization to Lasting Peace. We had our launch yesterday on March 9th with a special one-day discounted price of $.099 for the pre-order of the ebook; but for The Fulcrum readers I'm extending it one more day. Feel free to purchase if you are interested.
Yes, I think things would be easier for me if I used less provocative phrases, but while I believe that there are many great models of communication that focus more in that direction, I personally think we need approaches that can meet and stand up to the level of volatility, agitation and sometimes violent ways we are currently treating each other without adding to the aggression or noise. Bullying and niceness are not going to solve our current challenges; a fierce level of cooperation will.
Sign up for The Fulcrum newsletter
I guess this quest starts with me growing up in a volatile family situation. There was a lot of fighting and arguments. And I saw very clearly, even as a boy, that it wasn't leading us anywhere productive. I had to learn at an early age how I could be authentic, get my voice heard and needs met, and still stay in alignment with my core values.
Without knowing it, we get pidgeon-holed into polarizing categories. What I mean by polarizing, is that when we don't take the time to investigate, we only think we have two options. The tough "guy" OR the nice "guy," the bully OR the pushover. We see it in our political discourse, in movies and cartoons. We get limited to only this OR that, and we get stuck, being forced to choose one or the other.
Being stuck in these unintentionally self-assigned roles, we perpetuate these patterns that have led to an increased breakdown of civil discourse and any hope of finding new solutions to our problems. If that is the case, until we break out of these patterns, we get more aggressive, or apathetic and cynical.
Both Respectful Confrontation and Fierce Civility create a kind of tension that breaks us out of these patterns. By unifying these seemingly polarizing approaches, we open the door to more than two options. Suddenly we increase our choices in how we approach situations; the more choices we have, the more power we have.
These phrases are designed to make us a little uncomfortable in order to wake us up out of habitual patterning. It's only in the uncomfortable moments that we can get back to presence, connection and the capacity to access our creativity. Notice I say uncomfortable and not unsafe. We all know too well how unsafe moments or traumatic events can get us activated in a new way. Think of events in your life, or global events, like September 11th or the Covid-19 pandemic. These moments certainly woke us up out of our daily habitual routines; it caused us to think and evaluate how we were currently doing things and forced us to find new ways to engage with ourselves, others and the world. But staying in states of trauma is not a good long-term strategy.
When we can train ourselves to not be overly respectful or confrontational but an exciting moment-to-moment balance of the two, when we can approach the challenges of our lives with a dynamic interplay of both fierceness and civility, we call ourselves and others to a level of presence and connection that can be transformational. We create a necessary friction that somehow alchemizes our conversation and interactions in a way that inspires, uplifts and challenges one another to be our best selves.
This is not easy; it has taken me years to harness and embody the skills and strategies necessary to both achieve and maintain this, even in challenging conversations and with people who hold different views. But I truly believe that our world is calling all of us to upgrade our current communication skills and strategies to bring about lasting change. Both methods of mine give practical guidance on how to achieve that.
The seeds of our solutions to our personal and global problems already exist, Intrigued, ready to spring forth with vibrant life. We just need a way to engage that cultivates and ensures that they take root, grow and thrive, and doesn't continue to stomp any hopes for a better future into the ground. We need a model of communication that brings us back to our hearts, ensures that we set clear boundaries and take care of ourselves, where we step into a level of boldness that nurtures and protects the best of who we are as human beings.
Let's be uncomfortable,
Joe
Learn more about Joe Weston and his work here. Make sure to check out Joe's bestselling book Fierce Civility: Transforming our Global Culture from Polarization to Lasting Peace, published March 2023.
Have a question for Joe? Send an email to AskJoe@fulcrum.us.