Ask Joe: Building bridges with patience and compassion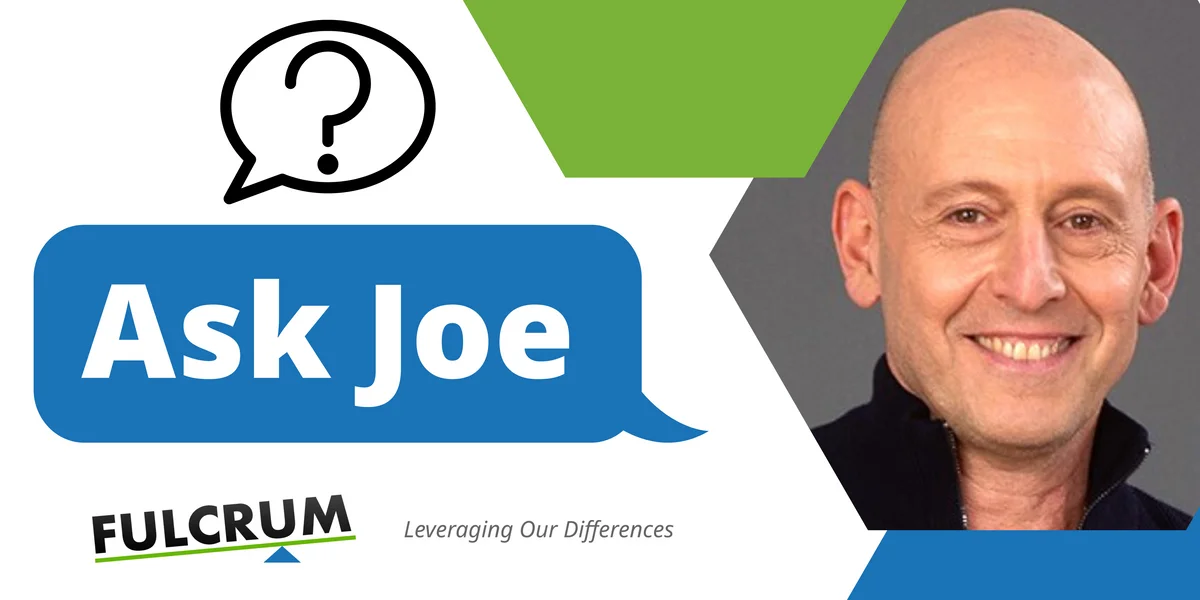 Hi, Joe.
I appreciated your last post, where you gave the manager of a business advice on how to help their staff overcome the tensions caused by polarization. I like what you say, but I still think people are people and they are not going to change. What are your thoughts on this?
---
Realistic
Hey, Realistic.
I think it's great that you took the time to read my last post, think about it and then reach out to share your truth on the matter. What you did is exactly what we need more of! You listened to someone's viewpoints, contemplated them, recognized where there was alignment in our facts and perspectives, and also clarified where there seemed to be differences. You then made the effort to share your truth. I appreciate that by writing to me and being curious, you are giving me the benefit of the doubt before you judge me, or even condemn me, if you don't see it exactly the same way.
This is what will lead to new, inclusive solutions and deeper levels of bridge-building. This may sound obvious – in fact, it is. But in our hyper-sensitive, polarized, oppositional climate, we seem to forget it.
Sign up for The Fulcrum newsletter
I actually see it the same way you do, Realistic. The goal of my advice in my last post was to help the manager find a hopeful path towards team building in order to cut through the confusion of the animosity. The exercise I offered was simply a starting point to foster productivity and a more amicable work environment; not to require people to change. And that should be the primary focus when at work: It is your job to do your job; it is not your job to change people.
Actually, not only at work, but with family members, friends or anyone who holds different views – it is not your job to change them. However, I do think it is possible with compassion and curiosity to appeal to the hearts of others and, through the messy conversations, find ways where both of you transform some of your viewpoints and find common ground.
Here's how I see it: People don't change; they transform. And what transforms are someone's viewpoints, habits and patterns. A person is not their viewpoints, habits and pattern; they have viewpoints, habits and patterns. Asking someone to transform what they have is far easier than asking them to transform who they are. Expecting someone to change rarely leads to new solutions or outcomes; supporting someone to transform on their own time and in their own way does.
I have spoken to various groups on a topic I call, "How your need to be right is sabotaging your mission." I've never seen a situation when you say to someone, "You are wrong!" and they instantly change. And yet, we still keep using this as a strategy for social reform. In order to shift this, the question to ask is, "Do you want to be right, or do you want to be effective?"
What is required to bring about this kind of reconciliation or shift in perspective is creating a space of safety and trust and meeting people where they currently are. That is why I believe the process of naming our highest core values is a strong starting point to shifting a work culture. It provides a neutral way for all involved to meet each other where they are, connect with the hearts of one another, and foster a deeper level of trust and safety. From there, anything is possible!
Yes, Realistic, as a concept this sounds very simple and ideal. Implementing it may feel daunting or even dangerous. It requires perseverance, courage and what I call utilizing the "skills and strategies of the heart" that increase effectiveness in bridging and diminishes opposition and breakdown of relationships. And above all, what is needed is patience.
Take it one step at a time,
Joe
Learn more about Joe Weston and his work here. Make sure to check out Joe's bestselling book Fierce Civility: Transforming our Global Culture from Polarization to Lasting Peace, published March 2023.
To Ask Joe, please submit questions to:
AskJoe@Fulcrum.us
.