Ask Joe: Overcoming workplace polarization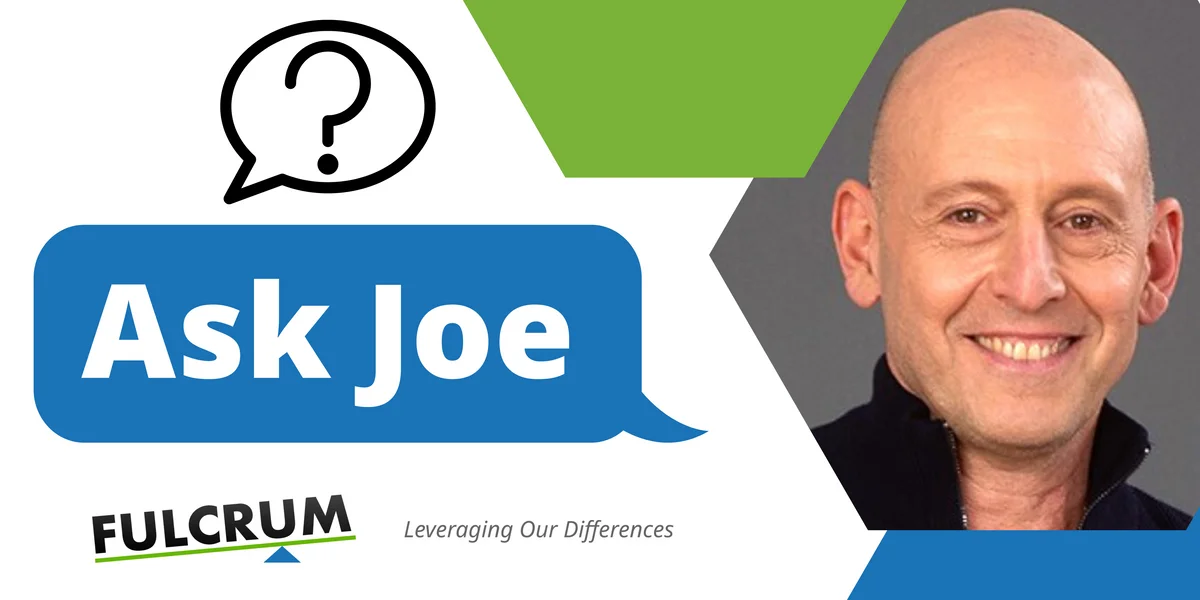 Hi Joe,
I'm wondering if you can give some insights to a dilemma I have at work. I'm the supervisor of a team that is made up of people who have different views about politics and other issues. Over the last couple of years, things have gotten worse. We are all trying our best to work together but it's getting harder. We are losing trust and it seems so tense. We used to laugh with each other and get along. I've tried so many things. I don't know what to do any more. You have any ideas? Thanks,
---
Hopeless Leader
Hey, Leader.
Sorry to hear it's been tough. This is a core reason I put my ideas and practices together in my upcoming book, "Fierce Civility: Transforming our Global Culture from Polarization to Lasting Peace." I explore the possible cause of that internal journey we've all taken from once being friends, or at least collegial, to now viewing each other as threats.
This is certainly a societal issue but, for your struggles, I'd like to offer perspectives on leadership and management. When I train leaders, I emphasize the importance of creating a work dynamic of safety and trust. This sets up the conditions for a work culture that is both inclusive and also functions with a strong structure of holding each other accountable with respect and compassion. This leads to mutual empowerment, where we can honor our differences and also choose to see each person at their best.
Sign up for The Fulcrum newsletter
You say that there is a lack of trust. That may not be your fault, but what can you do to shift that? How can you model an empowered vulnerability and transparency that is not weak, but that encourages others to show up in a more authentic way. How can you inspire others to take more responsibility for fostering this kind of work culture? It starts with one person.
If we are not feeling safe, we inadvertently perceive any change, things that are different or unknowns as a threat. We close our hearts and focus on our differences and imperfections. I find that some of the core causes of what makes someone angry, oppositional or closing their heart comes from a core feeling or belief that they are feeling powerless, or not heard, seen or understood. Could this be what is happening with your team?
I would like to offer you an exercise I use in my Resilient Power Leadership program – a human-centered approach to leadership and management that increases productivity and minimizes burn-out. You would need to make the time for everyone in their busy schedules to be present and not rushed for this:
Clarify each person's core values: Instead of focusing on the more outward characteristics of a person (political affiliation, religion, whom they choose to love), focus on what resides in the heart of each person. Ask them to all write down their top 10 values – for instance, efficiency, compassion, family, truth, joy, accountability. (If you'd like to explore this concept of values, there are many examples online, or check out my book, "Mastering Respectful Confrontation.")
From the 10, ask them to choose the top five; then three. This can bring up emotions and surprises. Give the space for this.
Next, have each person share their top three with the group, and then ask the rest of the group to reflect back on how they have seen this person operate from this value.
After everyone has had a turn, write down on a flip chart or white board all of the top three values of each member of the team. Acknowledge where there is overlap and also acknowledge the diversity of what each person brings to create this unique team.
You may then ask the group if they are willing to commit to treat one another from these highest values moving forward, and also find a respectful way to hold each other accountable when they slip and forget.
There are many tips I can offer, but I feel this one addresses your question. By recognizing and celebrating the highest core values of each person, you transcend the things that cause separation, and then reorient with each other from a place of commonality. You help each other remember who they are at their best. Since I believe our values reside in the core of our hearts, we reveal more of who we are, setting up the conditions for more empowered vulnerability, safety and trust, cutting through the confusion and suspicion.
This may inspire you, Leader, to approach the situation from a place of hope and possibility. Instead of focusing exclusively on what separates and creates mistrust, use your creativity to get everyone back to what unites you and inspires you.
Trust your courageous heart,
Joe
To Ask Joe, please submit questions to: AskJoe@Fulcrum.us.