Bipartisan group of senators hope to fund improved civics education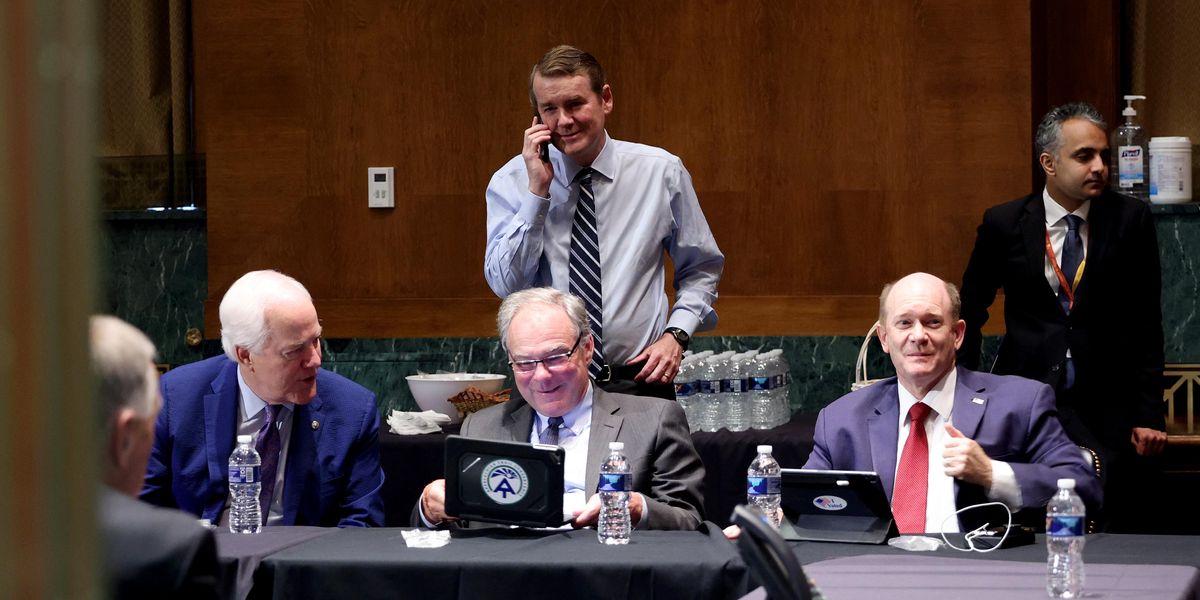 Anna Moneymaker/Getty Images
The Senate is getting a second chance to pass a civic education bill that failed to make the grade two years ago.
On Wednesday, a bipartisan group reintroduced the Civics Secures Democracy Act, with the hope of sparking a Senate-wide vote to improve American students' understanding of civics and history.
When the bill was first introduced in 2020, Democrat Chris Coons of Delaware and Republican John Cornyn of Texas co-sponsored the Senate version. The pair resumed that work this week with four new co-sponsors – two Republicans, one Democrat and one independent.
The legislation would provide a total of $1 billion annually for civics and history initiatives through the Civics Secures Democracy Fund.
---
The money would cover a range of initiatives:
$585 million for state education agencies with the goal of closing achievement gaps.
$200 million for nonprofit organizations to develop and support relevant curricula.
$150 million for colleges and universities to support the development and preparation of civics and history education in the form of competitive grants.
$50 million for research grants.
$15 million for a fellowship program — the Prince Hall Civics Fellowship — recognizing educators in underrepresented communities and granting a stipend for a five-year commitment to teaching.
Coons and Cornyn released a joint press release claiming the bill would help close gaps in civics and history education for students across the country — a necessary step at a time when trust in America's public institutions is falling.
"I have long believed that equipping students with robust understandings of their government and history is a critical step toward building a stronger, more resilient America," Coons said.
According to the bill, only nine states and the District of Columbia require a full year of civics or government studies, and 10 states have no such requirement. One poll found that a majority of Americans believe civic education would have "the most positive and meaningful impact on strengthening the American identity"
Sign up for The Fulcrum newsletter
Shawn Healy, senior director of policy and advocacy at CivxNow, a coalition of hundreds of organizations working to improve civics education, said the bipartisan support for the bill is encouraging.
"We're a very divided country," Healy said, whose organization has pushed the bill. "To do this work, to educate a citizenry ... across this landscape, we have to do something that's bipartisan and unites us all."


Sen. Bill Cassidy, a Republican co-sponsor, said the bill is a crucial step in understanding the common ground Americans stand on when it comes to education.
"America's history unites us as Americans," he said. "Civics education tells us that story. As we seek to overcome our divides, telling this story is essential."
Education has become another cause of polarization, with the left and right divided over the teaching of the role race has played in America's history.
With the national conversation on voting rights reaching its head, Healy thought now was an appropriate time to strengthen civics education for young people and researchers, though such an investment is far overdue.
"I've been doing this work for 20 years, and I've always thought now is the time," Healy said. "Civic knowledge is quite low. Political polarization is at historic levels. ... Trust in government just nosedived, and we think these trends all correlate with a disinvestment in civic education."
In contrast to the 2020 version of the bill, this iteration would forbid national curriculums — something that some lawmakers were insistent on including. The new bill also includes designated fiscal offsets to mitigate its cost, including the allocation of unspent Covid-19 relief funds from various sources.
Sen. Angus King, an independent co-sponsors, said supporting civics education could help preserve democracy.
"Supporting civics education is one of the most important investments we can make to protect this system of government for the generations to come," King said. "With our nation facing deep divisions, I hope this bipartisan legislation can help bring us together around core principles."
Healy agreed, and said the investment provided through the legislation is essential to protect the future of American democracy, especially since the country hasn't prioritized it in past generations.
"Democracy is not inevitable. This experiment that is long running now, in this country — there's no guarantee that it has a happy ending," he said. "Democracy is the people governing, and the people need to be equipped to govern."