Shalanda Young, a working mom, is the first woman of color to take charge of America's budget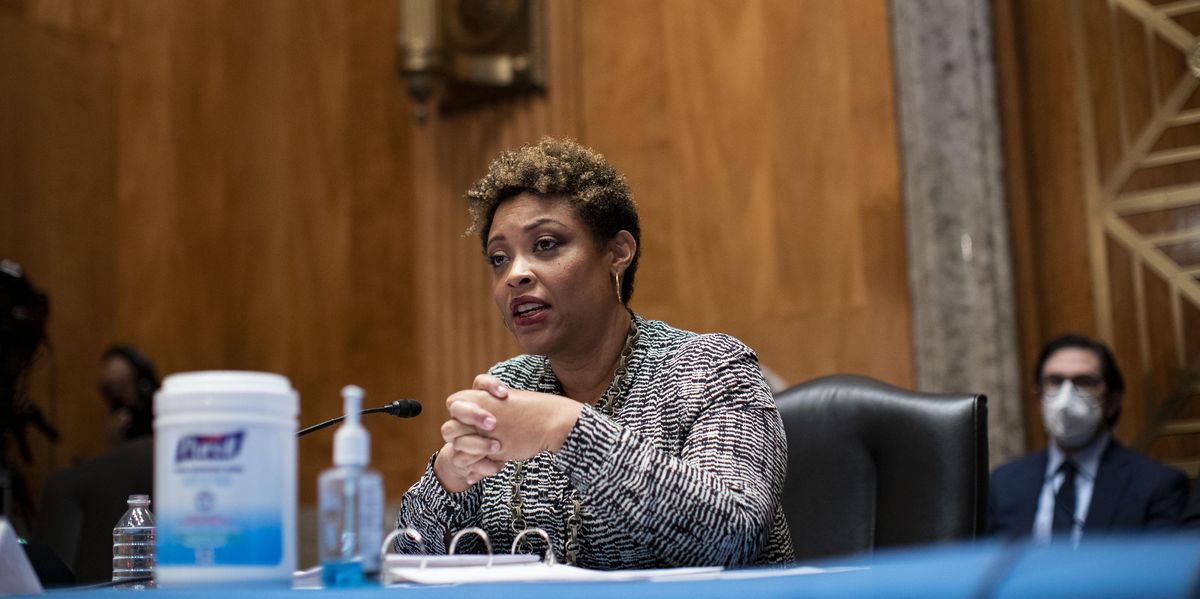 Pool/Getty Images
Originally published by The 19th.
For the first time, a woman of color is the director of what President Joe Biden called "the nerve center of government." The Senate voted 61-36 on Tuesday to confirm Shalanda Young's position as the head of the Office of Management and Budget.
"As evidenced by the strong bipartisan confirmation vote she received, Shalanda Young is well known to many of us due to her years of experience on the House Appropriations Committee staff," said Sen. Susan Collins, a Maine Republican who supported Young's confirmation. She added: "Shalanda is smart, fair, and knowledgeable. I look forward to working closely with her."
The Biden administration is on track to be the most diverse as promised. In addition to Young, more than a dozen of Biden's chosen leaders are the first in their community to hold a position, including Kamala Harris, Janet Yellen, Deb Haaland and Katherine Tai. On his first day in office, Biden issued an executive order on advancing racial equity through the federal government and directed the head of OMB — the office Young now formally takes over — to coordinate these efforts in the budget and across agencies.
---
Young is familiar with the office: She began serving as acting director in March 2021. Her confirmation process began toward the end of last year and took about 110 days — longer than the average time it took previous administrations. It took the Senate 103 days on average to confirm a Biden nominee, 100 for Trump, 80 for Obama and 48 for Bush. Presidents are required to fill about 4,000 politically appointed positions, including more than 1,200 that require confirmation in the Senate. The process entails a formal nomination from the White House, a Senate committee hearing and then a full vote on the Senate floor to formally confirm the nomination. Young is one of nearly 300 positions that have been confirmed thus far, according to Partnership for Public Service's tracker.
Sign up for The Fulcrum newsletter
The confirmation vote came the same day one of Biden's more high-profile picks, Sarah Bloom Raskin, withdrew from consideration for the Federal Reserve Board's vice chair for supervision. Raskin, who has previously served on the Fed and in the Obama administration, faced Republican opposition in part because of her willingness to address climate change through policy. She joins several other nominees, most prominently Neera Tanden, who were unable to clear Republican objections.

The Biden administration had initially nominated Tanden, the former president of the Center for American Progress, to serve as director of the OMB. However, the White House pulled the nomination after Tanden faced strong opposition in the Senate and was instead named White House staff secretary in October.
"[Young] earned the trust, respect and admiration of Democrats and Republicans alike," Biden said when announcing her nomination in November. "In her eight months as acting director of OMB, she's continued to impress me and congressional leaders as well."
Young, who previously worked for the House Appropriations Committee, has been acting director of the agency since March 2021, overseeing the president's budget and vision across the executive branch. In her confirmation hearing, Young said "a budget is your values" and "the federal budget can and should help make the promise of this country real for all families." She described growing up in a Louisiana town with a population of around 2,000 — the same town where her maternal great grandparents lived and had her grandmother in 1928.
"Somehow, even then, in the segregated South, my great grandparents sent their child, my grandmother, to college," Young said. "I am grateful they prioritized education — a commitment that has stayed in my family for generations. All families deserve to see their children have that same opportunity to pursue their potential."
Last fall, Young went on maternity leave following the birth of her daughter —which was mentioned as an advantage at her Senate Budget Committee hearing on February 1.
"Working moms have felt some of the worst of this pandemic — and at a time when a full-blown child care crisis and the lack of a strong national, paid leave policy has been especially hard for working moms, forcing so many to turn down extra hours, promotions — or quit entirely," Sen. Patty Murray of Washington said at the hearing. "I can't think of anything more appropriate than putting a working mom in charge of America's budget."
Murray, a Democrat who said she has known Young for years, characterized the new mother as a "steady hand" with years of experience negotiating across the aisle, who would help revive the country's crippled economy. Young has previously voiced support for increasing the federal minimum wage, decreasing student debt, expanding Medicare eligibility, guaranteeing 12 weeks of paid parental leave and making child care more affordable.