Schultz will spend a fortune on democracy reform instead of a presidential run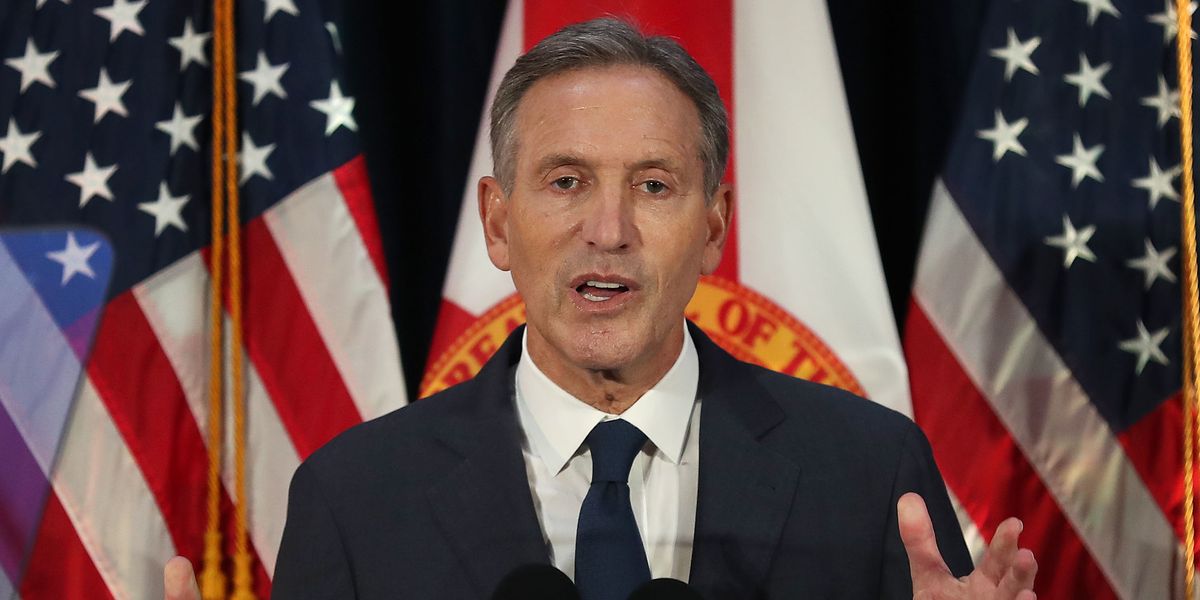 Joe Raedle/Getty Images
Billionaire Howard Schultz will spend more than $100 million fixing democracy instead of waging a presidential campaign, he announced Friday.
If the former Starbucks CEO follows through on the vow, it would represent one of the biggest and potentially most transformative infusions of cash ever to flow into efforts to improve American governance to good working order.
In January, Schultz announced he was considering a campaign for the presidency as an independent, on a platform nearly exclusively focused on addressing government gridlock and dysfunction. But the potential run was also seen as a threat to an eventual Democratic president nominee, who might lose enough votes to Schultz to assure the re-election of President Trump.
On Friday, Schultz announced he would abandon the idea of running and would instead redirect his efforts on "supporting bold and creative initiatives to transform our broken system and address the disparity of opportunity that plagues our nation," he wrote on his website.
---
"Statistically and anecdotally, there is an undeniable appetite for meaningful political reform in America," he said. "I had hoped to represent this common-sense view, but I've come to face a few truths about this moment in time."
Schultz went on to say that despite an appetite for reform among an "exhausted majority" of Americans, "extreme voices" are shaping political debates and those voices are drowning out "thoughtful discussions" to fix the political system.
Sign up for The Fulcrum newsletter
"In addition," he said, "not enough people today are willing to consider backing an independent candidate because they fear doing so might lead to re-electing a uniquely dangerous incumbent president."
The 66-year-old former corporate executive also acknowledged that his candidacy might take votes away from a potential moderate Democrat on the ballot, "and that is not a risk I am willing to take."
Shultz had previously said that, were he to run for president, he was willing to devote more than $100 million of his own fortune to the cause. He did not cite that number in his online letter to supporters, and he did not detail the specific items on the democracy reform agenda that he would support or whom he'd tap to carry out the priorities.
What he did say was: "The money that I was prepared to commit to a presidential campaign will instead be used to invest in people, organizations and ideas that promote honesty, civility and results in our politics, and that move the country beyond two-party gridlock."
Shultz announced in June 2018 that he was leaving Starbucks after running and steadily expanding the company for more than 30 years. Seven months later, he said he would travel the country to promote his ideas as part of a book tour, and he had taken preliminary steps toward getting on the ballots of all 50 states.
But his plans were paused by some significant back trouble this spring. And, all along, the prospects for running as an independent were complicated by more than the antagonism of Democrats furious that he'd be a spoiler who'd succeed only in helping Trump. History shows third-party candidacies rarely blossom. Since the Civil War only four minor-party candidates have won at least 10 percent of the vote — the last Ross Perot in 1992. The last to win electoral votes was George Wallace in 1968.