College students at heart of voting rights fight in New Hampshire primary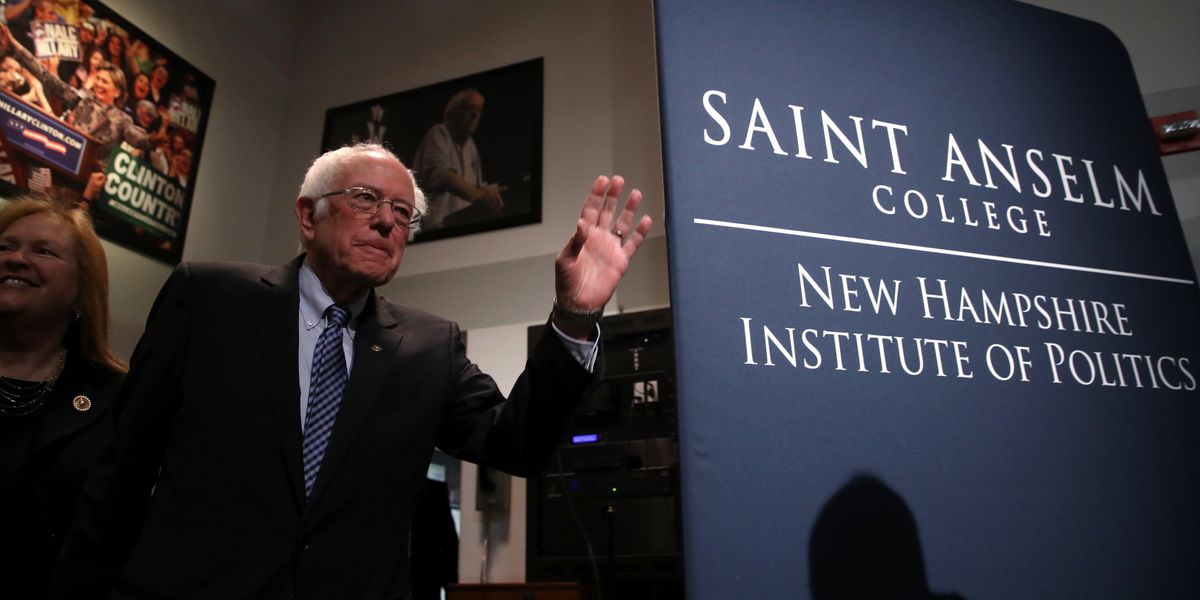 Justin Sullivan/Getty Images
A day ahead of the New Hampshire primary, college kids are in the center of both the main voting rights fight and concern about confusion at the polls.
The issue is what students from out of state must do in order to vote legally in the first straightforward election of the 2020 Democratic presidential contest. The rules were changed by state law two years ago, with some Republican legislators saying their aim was to make it tougher for young people who grew up outside the Granite State to take part.
But civil rights groups, led by the American Civil Liberties Union, are encouraging every American citizen who's at least 18 years old and wakes up in New Hampshire on Tuesday to head to the polls — potentially causing anger and delays if election judges seek to turn them away.
---
Some demographic studies project that people younger than 35 will make up the biggest voting bloc by age this year, surpassing people older than 65. Democrats have moved aggressively to corral the youth vote nationally, and Sen. Bernie Sanders of Vermont rounded up an outsized share as part of his strong showing in Iowa.
Now he and Sen. Elizabeth Warren of Massachusetts are counting most on strong turnouts by college students to boost their fortunes in New Hampshire. Reports that those voters are being blocked could cause a second wave of furor aimed at the presidential nominating process less than a week after the collapse of the results tabulation process in Iowa.
Sign up for The Fulcrum newsletter
Students count for as much as 10 percent of the state's eligible voters but a majority come from out of state — and not only at private colleges like Dartmouth, St. Anselm and Franklin Pierce. Half the students at the University of New Hampshire went to high school in another state.
The lack of certainty about their voting rights has been fed by the unresolved status of the ACLU's lawsuits challenging the 2018 law.
The new statute appears at first glance to change the rules for establishing residency in the state, a prerequisite to voting. One suit, on which the state Supreme Court will hear arguments a month from now, asks whether the law explicitly requires people who vote to first obtain a New Hampshire driver's license and vehicle registration — an expensive and inconvenient process that few college students are readily inclined to pursue.
If the court says they must get the documentation in order to exercise their franchise, then the ACLU will press its claim in federal court that the new law amounts to an unconstitutional poll tax.
A four-page document of "frequently asked questions about establishing a domicile / residence in New Hampshire" has been sent to all 301 polling places by the state's attorney general, secretary of state and motor vehicle department head. But it appears to offer some confusing if not contradictory guidance.
The ACLU is telling students who grew up outside New Hampshire to claim they have the right to both register and vote Tuesday by pairing their out-of-state driver licenses with their student IDs and piece of mail addressed to their campus addresses.
Henry Klementowicz of the ACLU says that advice is based on other statutes suggesting that people who consider New Hampshire their home may vote without a state driver's license or vehicle registration. Besides, he said, the very act of registering to vote is one of the requirements under state law for establishing residence.
Also, he and other critics of the law note, voters cannot be compelled to get a New Hampshire license if they don't drive in the state, and they cannot re-register a car they're driving if it's owned by someone (their parents, for example) who doesn't live in the state.
The law was written by a Republican Legislature and signed by GOP Gov. Chris Sununu. The Republicans said they were less worried about the presidential primary (which is open to all, regardless of party) than about a surge of liberal-leaning students from other states tipping the balance of power in New Hampshire. And, in fact, in the 2018 midterm (when the new residency law was not applied) the Legislature flipped to Democratic control.
Democrat Bill Gardner, the longest-serving secretary of state in the country, said the law is defensible because it ends New Hampshire's status as the "only state in the country where you do not have to be a resident to vote."