Consequences and repercussions from SCOTUS' Dobbs decision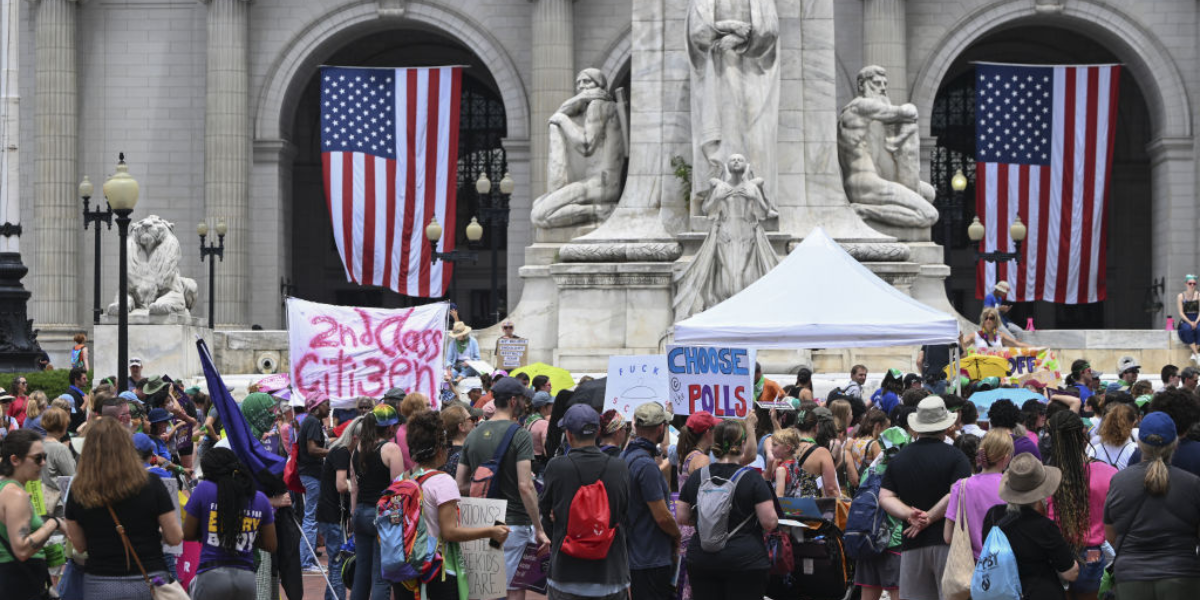 Getty Images
Steve Corbin is Professor Emeritus of Marketing at the University of Northern Iowa.
It has been a year since the Supreme Court stripped women of their nearly 50 year right to make their own reproductive health-care decisions in the overturning of Roe v. Wade. SCOTUS' Dobbs v. Jackson decision has created a ripple effect, catching many people by surprise:
---
1) For the first time ever, a majority of Americans say abortion is morally acceptable and recent abortion laws are too strict.
2) For the first time in two decades, more people identify as pro-choice than pro-life.
3) For the first time in 49 years, "The Dobbs decision transferred all-or-nothing disputes to the states" (Wall Street Journal), an undue burden on state supreme courts.
4) A recent NBC News poll found voters who oppose the court's actions include 55 percent of men, 67 percent of women, 66 percent of suburban women, 77 percent of female voters ages 18-49, 92 percent of Democrats, 60 percent of independents and 31 percent of Republicans.
5) A March17 - May 18 Kaiser Family Foundation survey of 569 OBGYN doctors revealed shocking findings: "68 percent found the [Dobbs] ruling has worsened their ability to manage pregnancy-related emergencies, [and] has worsened pregnancy-related mortality (64 percent), racial and ethnic inequities in maternal health (70 percent) and the ability to attract new OBGYNs to the field (55 percent)."
Sign up for The Fulcrum newsletter
6) Michele Goodwin, a legal expert in bioethics and health law, notes "A dramatic proliferation in anti-abortion legislation in the United States has coincided with this nation becoming the deadliest in the `developed world' to be pregnant and attempt to give birth" (Ms., May 24, 2022).
7) Black women are 3.5 times more likely to die due to maternal mortality than their white counterparts, unabated by abortion bans.
8) The states with the highest maternal mortality rates also lead the nation in anti-abortion legislation.
9) Isabella Oishi, Georgetown Law student, writes that since the Texas Heartbeat Act (SB 8) became law, it did not reduce the need for abortion care. Rather, there has been an 11-fold increase in Texans crossing state lines for abortions.
10) Oishi further reveals that states prohibiting women to seek abortions in other states is "likely unconstitutional based on the right to travel, the Privileges and Immunities Clause and the Dormant Commerce Clause. The anti abortion legislation harkens back to the (1793) Fugitive Slave Act."
11) Federal judge, Colleen Kollar-Kotelly, announced a constitutional right to abortion may be found in the 13th Amendment, ratified at the end of the Civil War in 1865 -- made slavery and involuntary servitude illegal. This is an area that was ignored by the Supreme Court (National Review).
12) Andrew Koppelman, author of "Forced Labor: A Thirteenth Amendment Defense of Abortion," writes "forced pregnancy's violation of personal liberty is obvious. Restrictions on abortion also violate the [13th] amendment's guarantee of equality, because forcing women to be mothers makes them into a servant caste, a group that, by virtue of a status of birth, is held subject to a special duty to serve others and not themselves" (National Review).
13) Elie Mystal, a legal scholar, wrote in the March 2022 issue of The Nation: "these [anti-abortion] states are borrowing traces of the sadistic logic and psychological tactics of this country's enslavers." As recently as June 29, Ja'han Jones, a research-based author, concurred with Mystal by noting "with abortion rights being rescinded across the country, it's more important than ever that we call restrictions on this vital procedure what they actually are: slavery."
The issues of pro-choice vs. pro-life, awareness of the 13th Amendment's slavery and involuntary servitude prohibition, OBGYN doctor concerns, morality and maternal mortality have come center stage to voters and the 2024 election. GOP candidates will – most likely -- purposely ignore these multitude of findings while Democrats will tout women's reproductive rights.
SCOTUS's 6-3 decision created this unnecessary chaos for 334 million Americans.
Disclosures:

Steve is a non-paid freelance opinion editor and guest columnist contributor (circa 2013) to 172 newspapers in 32 states who receives no remuneration, funding or endorsement from any for-profit business, not-for-profit organization, political action committee or political party