Blowback: A warning to save democracy from the next Trump
https://twitter.com/davidlnevins?lang=en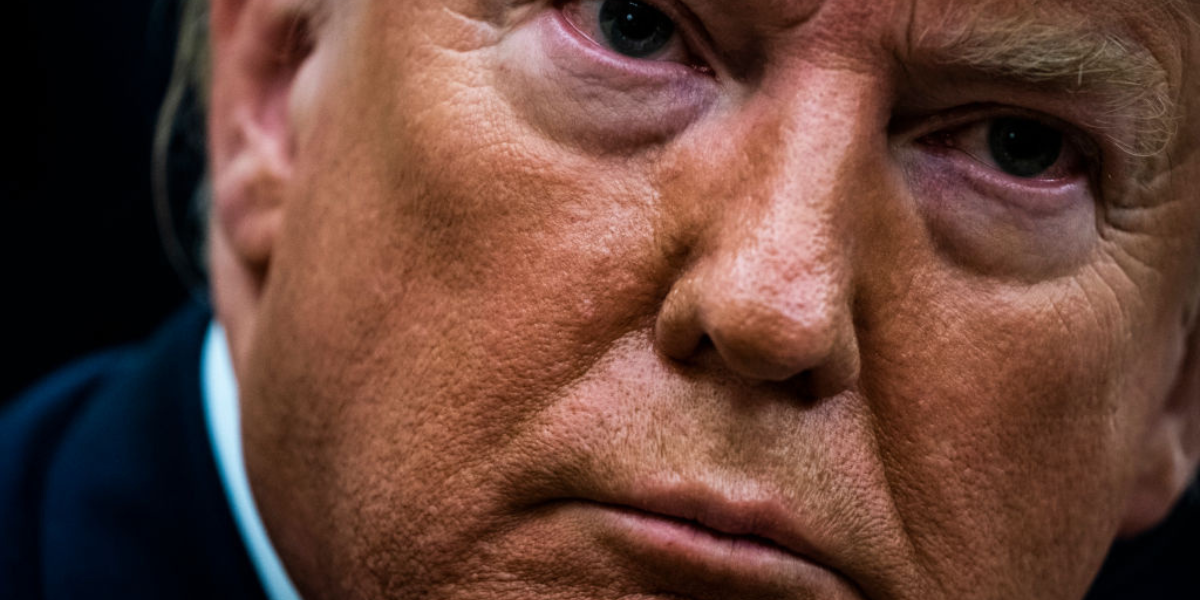 Getty Images
David Nevins is co-publisher of The Fulcrum and co-founder and board chairman of the Bridge Alliance Education Fund.
Miles Taylor is best known for writing a 2018 New York Times op-ed titled "I Am Part of the Resistance Inside the Trump Administration." At the time, it was authored anonymously and was followed by The New York Times best-selling book Anonymous, which offered an unprecedented behind-the-scenes portrait of the Trump presidency from the senior Trump official whose first words of warning about the president rocked the nation's capital.
---
Taylor continues with what he considers to be an urgent message to America with the release of a new book, Blowback: A Warning to Save Democracy from the Next Trump. Publishing in July of this year, the book sounds the alarm about how a deeply divided nation is setting the stage for the resurgence of Trumpism.
Taylor's analysis is about what will likely happen inside the White House of "Trump 2.0" or a corrupt copycat, described by reviewers as a book that "reads like a thriller and hits you like a tornado siren."
The formerly "Anonymous" former Trump official is back with more insider revelations and a sobering national forecast. Taylor has interviewed dozens of ex-Trump aides and government leaders, who reveal the policies that are being prepared for a second Trump term, or the White House of a more competent and formidable copycat. Trump's recent call for a purge of the DOJ by anyone involved with investigating him is only the beginning.
Sign up for The Fulcrum newsletter
As Special Counsel Jack Smith's investigation unfolds, we continue to hear a drip of information that lends credence to Taylor's account. What sounds like a fictional thriller—from shadowy presidential powers and CIA betrayals to angry henchmen and assassination plots—has become in many ways America's political reality. Taylor shares untold stories to shed light on the ex-President's unfulfilled plans and shines a light on the dark forces haunting our civic lives. He also advises us on how we can thwart the rise of extremism in the United States. Blowback is also a surprisingly emotional and self-critical portrait of a dissenter, whose own unmasking provides a vivid warning about what happens when we hide the truth from others and, most importantly, ourselves. We should all be self-reflective as citizens to do what is needed in the coming election cycle and beyond.
Taylor's feeling about the apologists for Trump were made clear in 2018 at the time of writing Anonymous when he said:
"They have more to add, if they'll find the courage. But even those who've dared to say something still feel deep down that it's not enough. Because it's not. No one is immune. Anyone aiding the Trump administration is, or was, one of his Apologists. They've all waited too long to speak out and haven't spoken forcefully enough. Myself included."
From that time until the present, Taylor and like-minded Republicans have been dedicated to establishing a principled Republican alternative to the twice impeached and court beleaguered Donald Trump. He is speaking forcefully now, warning Americans of the danger that lies before us, now.
In June 2021, Taylor and former presidential candidate, Evan McMullin, launched a new organization, the Renew America Movement (RAM). The organization's stated goal was to recruit candidates in the 2022 elections to challenge candidates who continue to support Trump believing that principle-based conservatism needed a voice. They were a part of the broad coalition of Republicans who were successful in ensuring that many Trump-endorsed candidates did not get re-elected in the 2022 midterms.
Taylor, along with Republicans Mindy Finn and Evan McMullin, founders of Stand Up Republic, organized a gathering entitled "The New Conservatives Summit." Attendees represented a wide array of conservative thought: former members of Congress and former governors, prominent academics and pundits, disillusioned Trump aides and staunch Never Trumpers, even officials from the Bush and Reagan administrations.
McMullin and Taylor said they had a simple purpose. A swath of conservatives helped remove Trump from office two months previous, and organizations like McMullin's Stand Up Republic and Taylor's RePAIR (The Republican Political Alliance for Integrity and Reform) were instrumental in that movement. But that groundswell of principle-based conservatism had to be harnessed. Common-sense conservatives needed a home, and McMullin and Taylor wanted to create one.
Blowback: A Warning to Save Democracy from the Next Trump will be published on July 18, 2023 but is now available for preorder on Amazon.