So, anything good on TV tonight?
---
Jan. 6 investigation goes primetime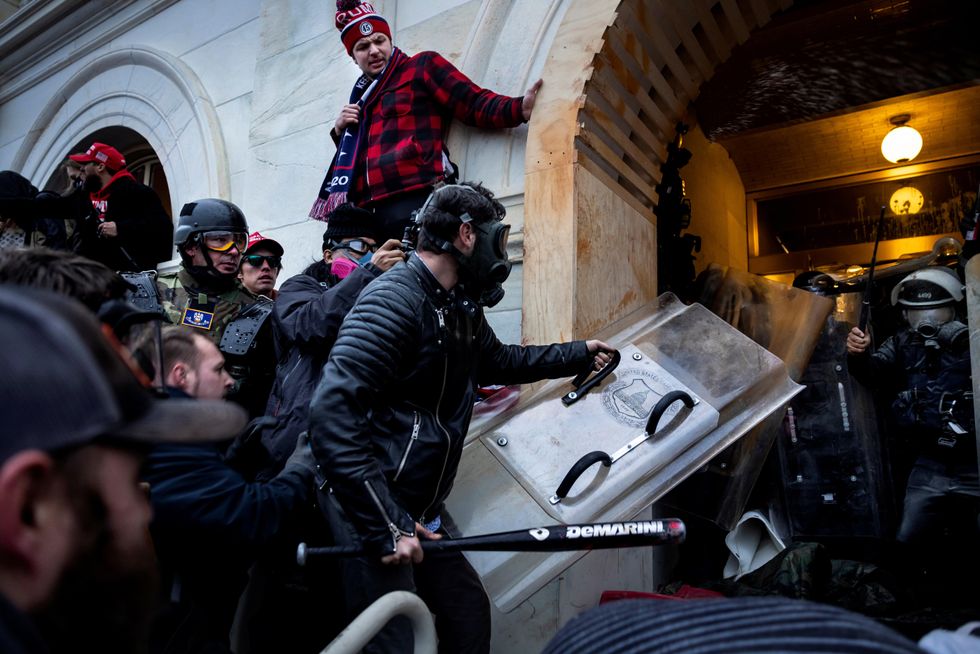 Brent Stirton/Getty Images
Hoping to draw the attention of the American public, the members of the House committee investigating the Jan. 6, 2001, insurrection will kick off a series of public hearings tonight with most major networks carrying the proceedings live. (Fox News is skipping it.)

While tonight's hearing will only feature two witnesses – Capitol Police Officer Caroline Edwards, who suffered a traumatic brain injury during the attack on the Capitol, and documentarian Nick Quested, who filmed activity around the building on Jan. 6 – committee members are expected to use their time to share much of the material they have collected during their investigation.
Typical congressional hearings take place during normal work hours and rarely are seen anywhere besides C-SPAN. But the committee wants to make a splash.
"You know, we are not in a situation where former President Trump has expressed any sense of remorse about what happened," Rep. Liz Cheney, a Republican on the committee, told CBS News. "We are in fact in a situation where he continues to use even more extreme language, frankly, than the language that caused the attack. And so, people must pay attention. People must watch, and they must understand how easily our democratic system can unravel if we don't defend it."
Our own Debilyn Molineaux weighed in, expressing her concern that the conflict profiteers have created a system in which anyone under the age of 30 has not lived through a functioning democracy.
This week's public Jan. 6 hearings will offer us all the perfect opportunity to test our abilities to separate the truth seekers from conflict profiteers. Watch for those who react to testimony by resorting to the ad hominem attacks that are directed against the individual presenting the information as opposed to addressing the question at hand. Also, watch for those who overstate and embellish the evidence for the purpose of adding to the conflict.
Additional reading:
Tim Shriver – chairman of the Special Olympics, founder of a movement to promote national unity and member of the Kennedy family – gave the commencement address at Georgetown University on May 21.
He spoke about the need to work past our differences in order to achieve the ideals we as Americans expect of our nation.
"People think, love your enemies? That's for saints—not for the hard-edge reality I live in. But nothing about love your enemies says you shouldn't fight for justice, you shouldn't fight for equity, and you shouldn't work for peace. It does say you will not get there with hatred and contempt. You will not win the battles which this generation must win for our country with hatred and contempt for your fellow countrymen and women. Love your enemies is no longer the strategy for saints: it is the new requirement for citizenship."
The war in Ukraine has been a major factor in the dramatic increase in the price of gas and oil in the United States. And while there's general agreement that something should be done to address the rising costs, the government is paralyzed by polarization.
But with energy prices tied to energy security – which, in turn, is tied to national and international security – it's imperative the government figure out a path forward.
"Long range steps will be less contentious and shorter-range policy will continue to be contentious," David Ellis of the Energy Future Initiative told The Fulcrum. "It may be one step forward, one step back if you have administrations or houses of Congress change. Then you have short-term reversals in policy that will harm long-term goals."
Also in the news
Mass. lawmakers unveil compromise voting rights bill (Boston.com)
11th Circuit rejects demand for bilingual voting materials in Georgia county (Courthouse News Service)
Are closed primaries in Missouri's future? Bill would ask voters for party affiliation (St. Louis Post-Dispatch)
New Iowa voting laws and redistricting caused confusion at the polls (We Are Iowa)
Upcoming events
Perception v. Reality – Identity of the Community Mediation Center - National Association for Community Mediation - June 9
America's Favorite Reform: A Dive into Approval Voting Polling - Center for Election Science - June 9
How to Write an Op-Ed - Civic Genius - June 9
Mass Shootings: Are We Taking the Wrong Approach? - Crossing Party Lines - June 12