Courtesy Nabilah Islam
Rotman is director of money in politics and ethics for Common Cause, one of the nation's oldest democracy reform advocacy organizations. From 2006 to 2011 she was the first director of Connecticut's public campaign financing program and before that was deputy general counsel of the New York City Campaign Finance Board.
When working-class Americans embrace the possibilities born of democracy, it often highlights that our government of, by and for the people is a work in progress. This is certainly the case when it comes to empowering working-class Americans to compete for a congressional seat. Just ask Nabilah Islam.
Islam ran for Congress in Georgia last year without a living wage or medical insurance. The Federal Election Commission then lacked the quorum required to issue an advisory opinion, requested by the candidate, as to whether she could use campaign funds to pay for health insurance.
So Islam had to go without coverage while campaigning for elected office last spring, during the first surge of the Covid-19 pandemic. (She finished third in the Democratic primary for an open House seat north of Atlanta.)
This scenario was unsafe for her. And it was unhealthy for our democracy.
Congressional candidates who represent the diversity of America — Islam only recently turned 30 and would have been the state's first Muslim member of Congress — must be able to seek office in Washington without worrying about a living wage or health insurance. Only 2 percent of the members of Congress have working-class backgrounds, and millionaires make up more than half of Congress, even though they amount to fewer than 5 percent of the national population.
Sign up for The Fulcrum newsletter
Consequently, public policy decisions made by Congress too often reflect the interests and preferences of the wealthy instead of the priorities and views of the vast majority of Americans. Historical economic inequity along the lines of race and gender has translated to a lack of political representation for Americans of color and women.
Big Money still determines who can run for office and win, and what elected officials must work on when they get into office. Possibility is born of democracy, but Big Money has our democracy in a stranglehold. We must make it easier for everyday Americans to represent us in Washington.
Islam is now petitioning the FEC, which finally has a quorum so it can resume regulating the campaign finance system, to make clear that candidates may tap their campaign accounts to pay for health insurance. She is also asking the agency to strengthen rules that have long allowed candidates to draw a limited salary from their campaigns while running for federal office; Islam wants the regulations altered to include a living-wage floor as part of the the salary formula to make the funds available from the beginning of a candidate's campaign.
This would be a great start toward elevating opportunities for working-class Americans to run for Congress, and my organization supports her petition enthusiastically.
We need to go even further. Congress must pass the For the People Act, which passed the House last month as HR 1 and is now awaiting debate in the Senate as S 1, because the legislation would help curb the dominance of wealthy special interests drowning out the voices of working-class people.
Our system is out of balance and wealthy special interests now use their power to amplify their own voices and drown out the voices of everyday Americans.
Small-donor programs such as the one included in the For the People Act, and the one I led in Connecticut, work to combat these inequities and elevate the policies that favor large swaths of everyday Americans. (The legislation in Congress would establish a voluntary public financing system for congressional candidates, under which donations up to $200 would be matched six-fold, so long as the candidates agreed to forswear almost all Big Money contributions.)
Following implementation of the Connecticut program, the state became the first in the nation to enact sweeping health care coverage for its service workers.
Real people have been excluded from democracy by a disproportionate number of millionaire members of Congress. Working Americans embody our nation's hope, possibility and promise.
These are the voices we need seeking elective office in Washington and across the country, and it is time we take every step necessary to end the millionaire's club. Nabilah Islam's efforts at the FEC are a great start.
Keep reading...
Show less
Eric Baradat/AFP via Getty Images
Carlson is a high school science teacher in the rural farming town of Royal City, Wash., and a volunteer for RepresentUs, a nonpartisan organization that advocates for a broad array of democracy reforms.
I was blessed to be born into a family that taught and modeled conservative values. My parents and grandparents showed me — not just with their words, but with their deeds — the values of honor, integrity and heeding the wisdom of our ancestors.

These values have shaped my personal and political choices my whole life. I have always voted for the candidate who I thought best represented these values, which I will readily admit has usually led to me voting for Republicans.
My conservative values also lead me to support the For the People Act — the comprehensive voting rights and democracy reform legislation now pending in the Senate after being passed by the Democratic-majority House, albeit without a single GOP vote.
I truly believe that conservative values make the strongest case for this bill.
Consider the conservative values of honor and integrity. Many modern politicians lack either one. This is because honor and integrity are not assets, but rather liabilities, in a system that relies on such things as partisan gerrymandering and dark money.
Sign up for The Fulcrum newsletter
Gerrymandering allows the politicians in power to pick their voters, custom-drawing their own electoral districts so they can coast to re-election year after year — without honoring their commitment to represent all the people they have pledged to represent.
Dark money is the term for the ocean of cash — more than $1 billion during the 2020 campaign — that nonprofit organizations are able to spend on politics without revealing the identities of their donors. Candidates who benefit from dark money have an obvious competitive edge over those not beholden to these special interests.
Given these two advantages, is it any wonder Congress had an average 24 percent approval rating in the last year but a 90 percent re-election rate last fall?
The For the People Act (also known as HR 1 and S 1) addresses these issues by turning over the drawing of congressional districts to independent commissions instead of politicians, and by requiring trade associations, unions and other politically active nonprofits to disclose who's giving them money and what campaigns they are funding — which, incredibly, is not required right now. (The scandal, as they say, ain't what's illegal.)
Once politicians are required to actually earn the votes of those they represent — and can no longer rely on rigged districts and secret money sources to stay in power — we will see honor and integrity filter back into the institutions that were designed to represent us.
When discussing this legislation with my conservative friends and family, the single biggest objection they raise is that the bill would seize power from states and local governments and put it in the hands of a remote and bloated federal government. "What could be more sacred to the conservative values than the right of a community to manage its own affairs?" they ask.
This is a valid concern. Its resolution comes from looking through the lens of another conservative value: the wisdom of our ancestors.
States will still run their own elections. The bill sets some basic rules to protect voters and the security of our elections nationwide. History shows this balance is necessary.
Following the Revolutionary War, our country first framed a government dedicated to the principle of complete local autonomy. The outcome under the Articles of Confederation was disastrous, spurring a constitutional convention to revise and repair the system.
The wise James Madison realized that corrupt factions had a much easier time gaining control over a local government than a central government — the phenomenon that caused the collapse of the Greek democracies and the Roman Republic. He believed a strong central government would provide an important check and balance on the worst impulses of local control.
In "Vices of the Political System of the United States," Madison made this argument powerfully.
"Place three individuals in a situation wherein the interest of each depends on the voice of the others, and give to two of them an interest opposed to the rights of the third. Will the latter be secure?" he asks. "The prudence of every man would shun the danger."
He then suggests that if the number of people is expanded to 3,000, the danger would be substantially reduced, concluding: "A common interest or passion is less apt to be felt, and the requisite combinations less easy to be formed, by a great than by a small number. The society becomes broken into a greater variety of interests and pursuits of passions, which check each other."
For that reason, he and the other Framers designed a Constitution with a central government, one that has lasted over 230 years.
I have no doubt that Madison — along with Benjamin Franklin, Alexander Hamilton and George Washington — would fully support enactment of the For the People Act. And while I may not agree with a number of the positions held by my state's senators, Democrats Patty Murray and Maria Cantwell, I am happy to note their support for this legislation.
Conservatives should want politicians with honor and integrity, and a government that heeds to the wisdom of our ancestors who wrote the Constitution. The For the People Act takes us in that direction. And for that reason, I call on my fellow conservatives across the country to support this bill and to encourage their senators, in both parties, to vote for its passage.
Keep reading...
Show less
enjoynz/Getty Images
As states prepare to redraw their election maps later this year, democracy reform advocates are raising the alarm once more about the severe threat of gerrymandering facing a vast majority of the country.

The Gerrymandering Threat Index, released Monday by RepresentUs, identifies 35 states — with a collective population of more than 188 million people — at extreme or high risk of partisan gerrymandering this cycle. These are red and blue states, ranging in population from Texas to Wyoming.
While some states enacted redistricting reforms over the last decade, politicians still have control over the mapmaking process in most states. Republicans will have the advantage in 21 states, Democrats will lead the redrawing in nine and another nine will have a divided government in charge.
In its 160-page report, RepresentUs assessed the threat of gerrymandering in all 50 states using five key questions:

Can politicians control how election maps are drawn?
Can election map drawing be done in secret?
Can election maps be rigged for partisan gain?
Are the legal standards weak?
Are rigged election maps hard to challenge in court?
Based on the answers to each question, RepresentUs marked whether the state was at a low, moderate or high risk of gerrymandering. If the answer to one or more of these questions was "yes," that indicated the state is at an elevated risk of partisan gerrymandering. These five ratings were then used to calculate a state's overall risk assessment.
Sign up for The Fulcrum newsletter
RepresentUs found that the threat of gerrymandering was extreme in 27 states, high in eight states, moderate in two states, lower in six states and minimal in seven states. Of the states at extreme risk, 10 received the worst rating for all five questions. Only California was labeled a low-risk state across the board.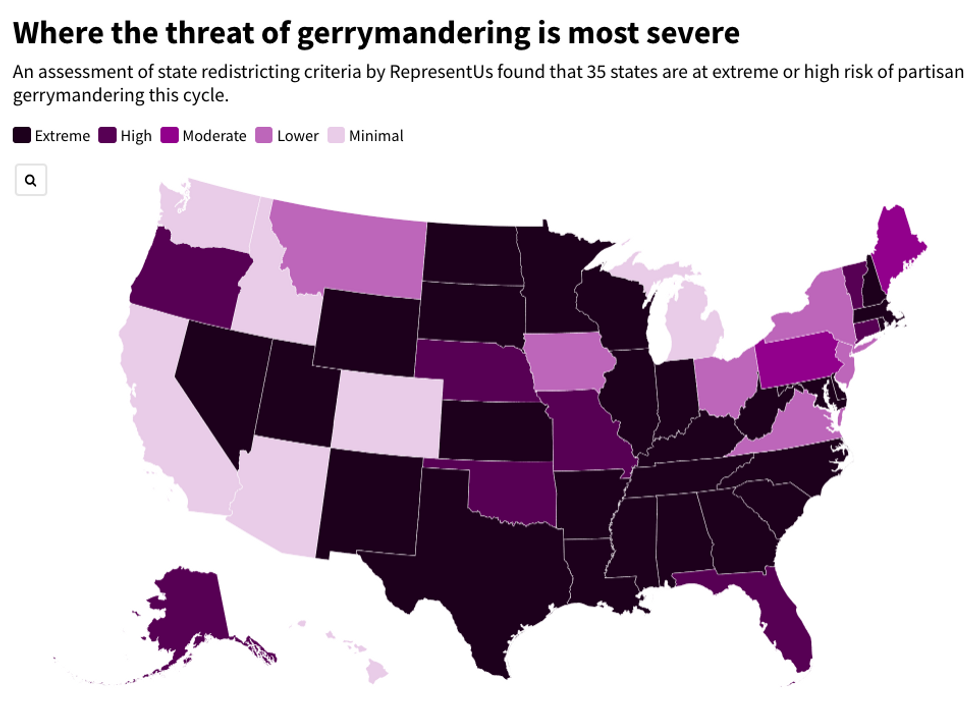 Source: RepresentUs
The country-wide solution to this pervasive problem, the report says, is Congress passing the For the People Act, more commonly known as HR 1. The sweeping reform legislation includes a provision requiring states to use independent redistricting commissions for their congressional maps, if they don't already have one in place.

Under HR 1, the states now considered at extreme risk would move to the low-risk category — all but ending partisan gerrymandering, the report says.
"This report makes it clear that gerrymandering is a national crisis that needs an urgent and bold solution. Politicians are already preparing to pick their voters during this year's redistricting. But with the For the People Act, Congress has a chance to stop them before they get started," said Josh Silver, CEO and co-founder of RepresentUs.
While House Democrats already passed HR 1 in March, the bill's fate in the 50-50 Senate is not as optimistic. With the filibuster still intact, it's unlikely the reform package will receive enough votes to pass.
From Your Site Articles
Related Articles Around the Web
Keep reading...
Show less
Chip Somodevilla/Getty Images
This is the 10th installment of an ongoing Q&A series.

As Democrats take power in Washington, if only tenuously, many democracy reform groups see a potential path toward making the American political system work better. In this installment, Lawrence Lessig, founder of Equal Citizens and a Harvard Law School professor, answers our questions about 2020 accomplishments and plans for the year ahead. His organization promotes reforms aimed at fixing the political system so that all citizens are represented equally. Lessig's responses have been edited for clarity and length.
First, let's briefly recap 2020. What was your biggest triumph last year?
A bunch of us reform organizations were focused on getting every presidential candidate to commit to fundamental, HR 1-or-better-like reform. We organized a string of town halls to secure that commitment, beginning with Andrew Yang and ending with Bernie Sanders.
We also succeeded in getting the Supreme Court to clarify the power of presidential electors. That decision shut down any effort to get electors to vote contrary to their pledge and — more importantly in this election — provided a clear signal that the court would not tolerate any legislatures voting contrary to how the people had voted.
And your biggest setback?
It seems strangely narcissistic to think about individual setbacks in the middle of a pandemic. The setback we suffered was the setback the world suffered, the U.S. more than it had to — the pandemic.
Sign up for The Fulcrum newsletter
What is one learning experience you took from 2020?
The profound wisdom in Margaret Mead's words: "Never doubt that a small group of thoughtful, committed citizens can change the world; indeed, it's the only thing that ever has." Fundamental democratic reform has been elevated to the center of national political attention. We've been working with many others for more than a decade to make this happen. But "we" have not been millions; "we'' have just been those convinced and committed to making this happen.
Now let's look ahead. What issues will your organization prioritize in 2021?
We will continue to press HR 1 as hard as we can. But we're incredibly excited about a new project that we'll launch as a beta in the next few weeks: a massive virtual deliberation project. We hope it will enable hundreds of thousands to deliberate in small groups, first about the Electoral College, and then, if that's successful, about other issues of democracy as well.
How will Democratic control of the federal government change the ways you work toward your goals?
After HR 1, we're shifting our focus to people, not Congress. We want to demonstrate broad and deep understanding of issues of democratic reform across America.
What do you think will be your biggest challenge moving forward? And how do you plan to tackle it?
America has a media culture with a severe attention-span problem — easily distracted, not easily focused. But unlike an ADHD kid, there's no clear treatment. Somehow we need to figure out how to engage the public with seriousness and serious issues. Slow democracy, not democracy tweeted.
Finish this sentence. In two years, American democracy will ...
have begun in earnest. HR 1 will have suppressed gerrymandering, and all the techniques to suppress the vote; it will have empowered small-dollar donations to support campaigns; and the people will have the tools to engage in serious, informed deliberation about important issues facing our democracy (and if not, admit it — even just one of these will be incredible!).
From Your Site Articles
Related Articles Around the Web