SPLC pledges $100 million for voter engagement in the South
https://twitter.com/davidmeyers?lang=en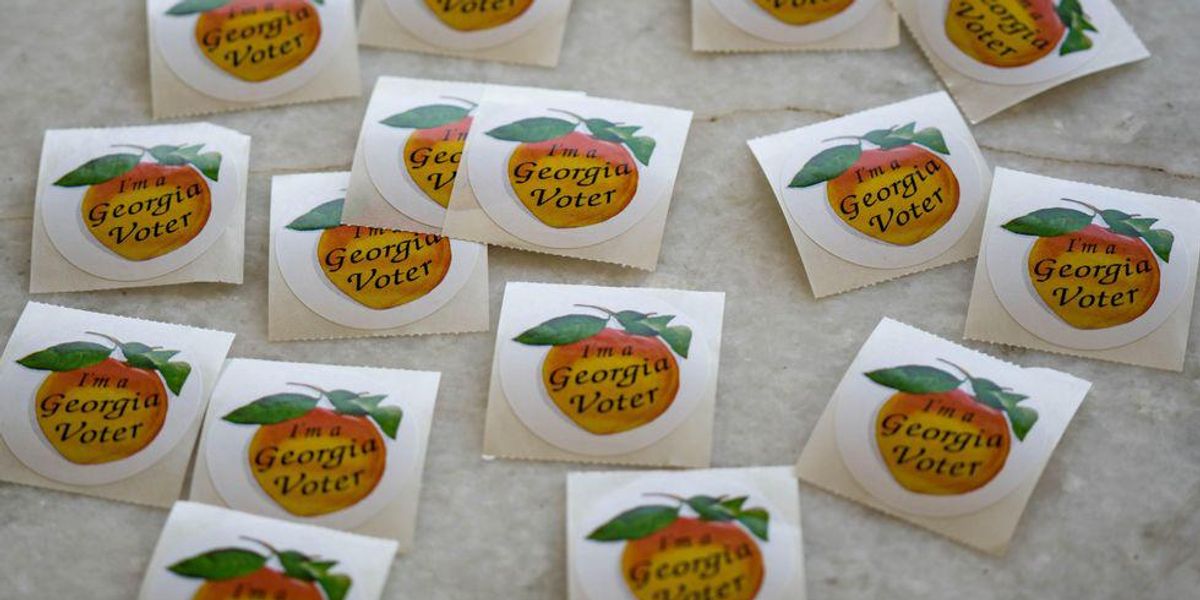 Megan Varner/Getty Images
The Southern Poverty Law Center announced Monday a $100 million, decadelong investment in voter outreach across five Southern states.

The civil rights organization, which has been criticized in recent years for an anti-conservative bias, will be partnering with other groups through its year-old Vote Your Voice initiative.
While all five of the targeted states — Alabama, Florida, Georgia, Louisiana and Mississippi — had increased voter turnout in 2020 compared to 2016, three of them ranked among the dozen with the lowest participation rate last year. Only Florida (15th) and Georgia (25th) ranked higher than 40th.
---
Each of the states underperformed the national average for turnout, although Georgia and Mississippi were just slightly below. Only Mississippi exceeded the national average for turnout among Black voters, while Florida was more than 10 points below.
According to the liberal-leaning Brennan Center for Justice, since the 2020 election 19 states have enacted a total of 33 laws that make it harder for people to vote. Georgia has been cited nationally as one of the states to impose the most restrictive changes, after the state went for a Democratic presidential candidate for the first time since 1992. The Republican-controlled Legislature has since taken a number of steps to tighten voting rules.
Sign up for The Fulcrum newsletter
Florida has also been cited by voting rights advocates for its own sweeping changes to voting laws.
"[To] ensure a government exists that truly is by the people and for the people, we must expand our efforts to push against the anti-democratic statements and actions of many state and local officials in the Deep South," said SPLC President and CEO Margaret Huang. "We are thankful for the hard work of all of our grant partners; these organizations' successes help to empower voters whose rights have been violated for too long."
Alabama Secretary of State John Merrill, who oversees elections, told WSFA12 News that he is concerned SPLC's investment is biased against conservatives.
"It is a targeted effort to ensure that liberal special interest groups that have been targeted by the SPLC are identified and motivated to go to the polls," he said.
Grants awarded through Vote Your Voice will support civic engagement programming, increasing fundraising opportunities, training new political leaders, building engagement in advance of the 2030 round of redistricting, and developing new tactics and tools.
Another Southern state was in the news Monday, when the Justice Department announced it had filed a lawsuit against Texas for racial discrimination in the redistricting process.
While a number of states that had been subject to a Voting Rights Act provision that required them to get prior approval from the federal government before making election-related changes, that "preclearance" section has been struck down by the Supreme Court. But the DOJ retains the power to enforce other elements of the act.
"Our complaint today alleges that the redistricting plans approved by the Texas state Legislature and signed into law by the governor will deny Black and Latino voters an equal opportunity to participate in the voting process and to elect representatives of their choice, in violation of the Voting Rights Act," Associate Attorney General Vanita Gupta said at press conference. "Our complaint also alleges that several of those districts were drawn with discriminatory intent."
Texas Attorney General Ken Paxton's office called the suit "absurd."
The Justice Department alleges that Legislature intentionally drew state and federal district lines to minimize the votes of minorities, even though increases in the Black and Latino populations drove the changes.

The Department of Justice's absurd lawsuit against our state is the Biden Administration's latest ploy to control Texas voters. I am confident that our legislature's redistricting decisions will be proven lawful, and this preposterous attempt to sway democracy will fail.

— Texas Attorney General (@Texas Attorney General) 1638818167
"For example, Texas will gain two new congressional seats because of its population growth, almost all of which is due to growth in the state's minority population. However, Texas has designed both of those new seats to have white voting majorities," said Gupta. "The congressional plan also deliberately reconfigured a West Texas district to eliminate the opportunity for Latino voters to elect a representative of their choice. This is the third time in three decades where Texas has eliminated a Latino electoral opportunity in this same district, despite previous court determinations that this violates the law."
While the Supreme Court has determined states should be the arbiters of partisan gerrymandering, the federal government may still intervene when racial gerrymandering is discovered.
And in North Carolina, the courts have become involved in a fight over new maps, with four cases working through the system.