Both sides back off, for the moment, in California fight over drop boxes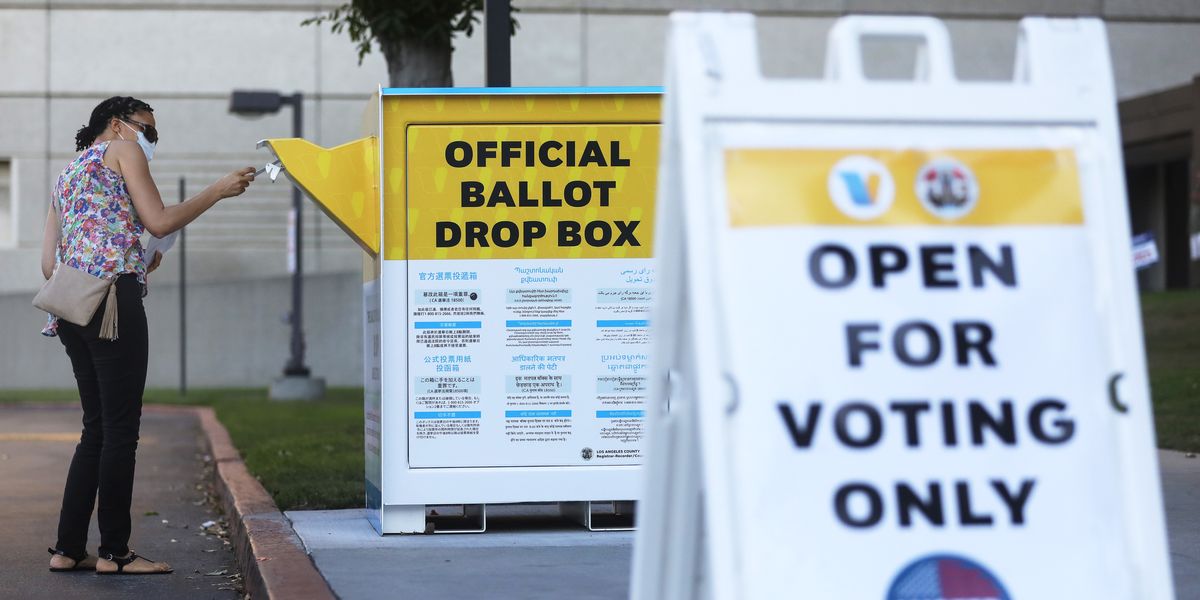 Mario Tama/Getty Images
An uneasy truce in the ballot drop box war has lasted through the weekend in California.

The state Republican Party has removed some of the vote collection bins wrongly labeled "official" that it had placed in areas with hot congressional contests. Two of the state's top Democratic officials say they are taking a trust-but-verify approach to the move.
There's solid potential for the dispute to flare again, however, reigniting a national dispute about how aggressively party operatives may collect their allies' ballots. President Trump, normally the most prominent among critics who deride this so-called ballot harvesting, now asserts his party is doing exactly the right thing in California.
---
Republicans said Friday they will continue to maintain dozens of other boxes they've deployed that don't have the deceptive labels. Secretary of State Alax Padilla responded by promising to issue subpoenas to unearth details about the GOP effort and Attorney General Xavier Becerra said he was still deciding whether to press charges of election law violations.
Republicans set up more than 100 of the bins a week ago at churches, political offices, gun shops and other conservative-friendly spots across parts of Los Angeles, Orange and Fresno counties. GOP candidates are in the hunt to take back House seats won by the Democrats in those places two years ago, in part on the strength of that party's finely tuned vote collection operation that year.
Sign up for The Fulcrum newsletter
Padilla and Becerra ordered the GOP to remove the boxes, arguing they crossed the line of the state's ballot harvesting law, which was significantly loosened in 2018.
Instead, the GOP said it would take three steps the law requires: modify the labels on the grey metal cubes to avoid confusion, assign volunteers to sign the backs of the envelopes when taking custody of them, and turn in the contents of the boxes to county officials every three days. That was good enough for state officials to temporarily stand down.
"We may be told one thing in person or we may hear or receive reports of activities but until we get evidence of it we have to assume everyone is trying to comply with the law," Becerra told reporters.
"If there is any indication of state law being violated we will not hesitate to act on it immediately," Padilla quickly added.
But the Democratic officials said they would not seek to disqualify ballots placed in the GOP bins without the necessary signature, a concession to the sensitivities of being accused of voter suppression.
The subpoenas seek the exact locations of each ballot box and the number of votes collected in each. State GOP spokesman Hector Barajas said the party might expand its operation and would not answer either question, labeling the inquiry "a thuggish voter intimidation and vote suppression tactic by our Democratic attorney general and secretary of state."
The dispute gained national attention because California, the most populous state, is also one that has switched to an almost entirely remote voting process for November because of the coronavirus pandemic. All registered voters have been sent a ballot, which can be returned by mail, in a drop box or at a voting center.
More than 1.5 million ballots have already been returned, 10 times the number two weeks before the 2016 election. Although the state's 55 electoral votes are firmly in the Joe Biden column, four congressional races and penty of downballot contests are too close to call.
For years, Republicans have decried the state's collection rules for fomenting election fraud. A House Republican study this spring raised concerns about "politically weaponized ballot harvesting" in the state but offered no proof of malfeasance in the 2018 midterms, when the GOP saw solid election night leads in several congressional races evaporate when all the ballots collected by third parties were tallied.
The most prominent case of ballot collection fraud is that of a Republican operative in North Carolina, who was indicted on felony charges connected with a scheme to collect so many ballots in a close congressional race two years ago that a do-over election was ordered. It is illegal in North Carolina for anyone other than a close relative or guardian to deliver another voter's absentee ballot. In two dozen states, any such third-party involvement is not allowed.