Trump's march on Washington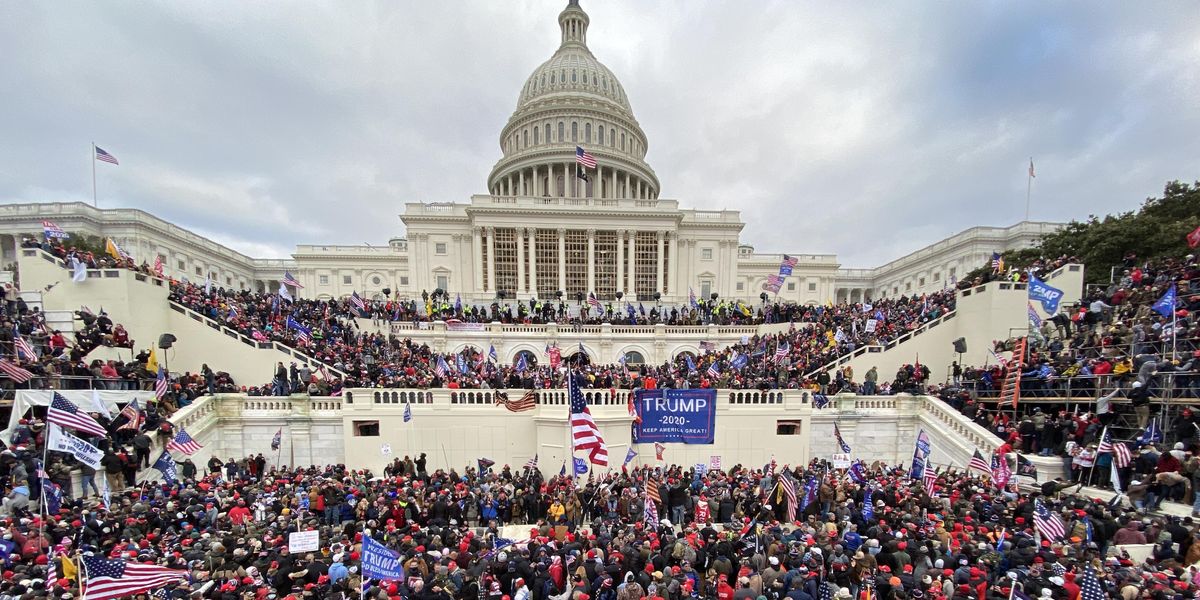 Tayfun Coskun/Anadolu Agency via Getty Images
Kleinfeld is a senior fellow at the Carnegie Endowment for International Peace and a board member of the National Endowment for Democracy, Freedom House and States United for Democracy.
What separates a democracy from a dictatorship? The ability for the will of voters to determine who governs them. The rule of law, a force that holds even the most powerful to a set of rules and institutions independent of the will of any one man. The peaceful transfer of power between parties.

This month, Americans are learning how thin that line can be.
As Cassidy Hutchinson described Donald Trump's plan to march with his followers to the Capitol, I heard echoes of Benito Mussolini's March on Rome – when conservative leaders handed the country to a dictator without a shot.
---
On Oct. 28, 1922, about 25,000 of Mussolini's black-shirted supporters gathered on the outskirts of Rome, threatening a march on the capital. The prime minister had been warned just a few days before – but refused to believe the threat was real. The military could have overwhelmed the marchers – but the government decided not to.
Mussolini's Fascists were already the country's strongest political party, having used persuasive fears of communism mixed with street violence to get business leaders and others on their side, one locality at a time. Conservative elites thought they could pull the strings and control Mussolini, using his popularity to forward their agendas. By the time the marchers entered the capital, Mussolini had already been handed control of the country by the king and conservative party leaders.
Sign up for The Fulcrum newsletter
Americans are rightfully stunned by the revelations of the select committee investigating the Jan. 6, 2021, riot at the Capitol. The president of the United States was aware that his followers were armed. He knew that the armaments were not intended for him. He directed the armed mob to march on the Capitol to pressure his vice president to overturn a legitimate election, after his own calls that morning had not succeeded. When Mike Pence did his constitutional duty, Trump was willing to let the man next in line for the presidency be killed by the angry mob he had summoned.
For two more weeks, this leader – a man who allegedly grasped for a steering wheel from the back seat so that he could lead his marchers to a transfer of power by force, whose word can launch thousands of nuclear missiles – remained in charge of the United States of America.
The country should be shocked by these devastating revelations. But they are not a surprise to the members of Congress who had been involved in the plotting and later sought pardons. They were not a revelation to the Republican Party and state leaders who had been privy to nearly two months of attempts to grasp at power over a lie through false accusations, demands to "find votes," and fake elector schemes. They were not a shock to his staffers or his Cabinet, who failed to invoke the 25th Amendment, as was their constitutional duty.
Trump's character was well-established during the 1,446 days he was in power before the events of Jan. 6. The intimidation and violence Trump directed his supporters to launch at anyone who stood in his way was also well known. Oathkeepers and other organized violent movements had provided volunteer security during his first inauguration and at multiple campaign events. The violent threats and armed protestors a Trump tweet could direct at the home of a Republican who voted for his impeachment, supported bipartisan legislation or otherwise opposed his will had been occurring for years.
Trump failed to take over our democracy by force on Jan. 6. But like Mussolini, his popularity and threats of violence led conservatives to hand him power well before the march.
More concerning is his continued grip. Weeks after the election was decided, Republicans in leadership positions refused to allow classified security briefings and other necessities that enable our country to continue to function during a time of government transition. The MAGA faction of Republican elites continued to pay obeisance after Jan. 6, building Trump's power by repeating lies about the election that they knew were untrue. And as Republican primaries are demonstrating, Trump continues to hold sway over local Republican elites.
America needs a conservative party to serve the tens of millions of conservatives whose beliefs deserve representation. But a two-party democracy cannot function if one party allows an authoritarian to take the helm. Judge J. Michael Luttig has warned that the Electoral Count Act, which determines the presidency, is not up to the challenge of another attempted takeover. We remain in "clear and present danger."
But Congress can reform the Electoral Count Act. They can protect election officials like Shaye Moss from intimidation. State GOP leaders can stop using violence to
buttress their own power
and instead prosecute people who intimidate and threaten. Republican voters can reject lies and threats. Democrats can stop supporting
anti-democracy Republicans
in the hopes that doing so will help Democrats in general elections. It is time to take back our elections from a potential dictator and his mob.