Democracy reform groups have work to do on diversity, study finds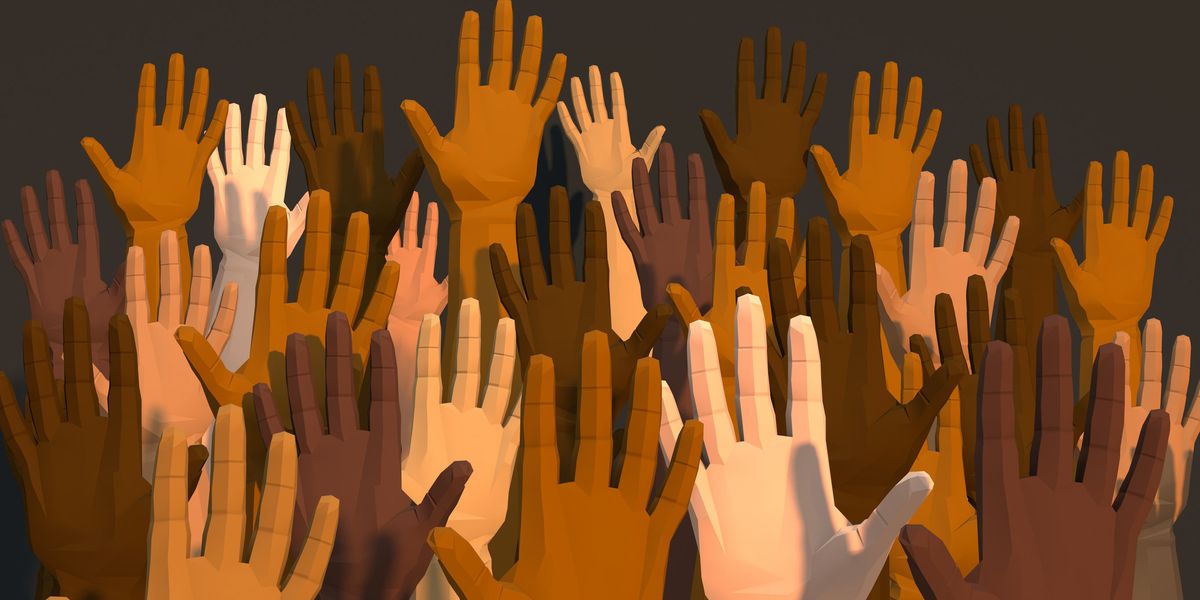 Andriy Onufriyenko/Getty Images
For anyone who has attended events featuring the key players in democracy reform groups, your eyes and ears tell you what a new diversity study documents: They're mostly old, white and left-leaning.
But the Bridge Alliance, a coalition of about 100 groups promoting healthy self-governance, says that actually conducting the study was important so that fix-the-system groups can know precisely where they stand and chart a more diverse path forward.
Beyond the findings, Bridge Alliance leaders announced two initiatives on Monday to help groups expand their diversity — one focused on professional development and the other on boosting pay.
---
In the first, dubbed a Mastermind Cohort, 10 leaders from the democracy reform movement will meet weekly for six weeks to share ideas, discuss projects they are working on and research they have discovered. The peer review style of collaborative project development is designed to bring a diversity of opinions and to build relationships among leaders.
The other initiative is the creation of a new Bridge Alliance Justice, Diversity, Equity Fund. The $150,000 fund will invest in national and emerging Black leaders and Black-led organizations that are addressing systemic racism.
The Bridge Alliance Education Fund (which is a funder of The Fulcrum) will be working with the Amplifying Black Voice Fund, which gives grantees access to the fund's network of political, corporate and nonprofit leaders and to collaborate with leaders in education, human rights and women's rights.
Sign up for The Fulcrum newsletter
"A diverse community breaks down the barriers that divide us, thereby leading to understanding and a greater sense of compassion," the report states. "Diversity represents the soul of our nation."
The report concludes that the executive offices and boards of directors of democracy reform groups underrepresent people who are not white, are younger than 45, live in the suburbs and have a center-right ideological outlook.
The goal need not be that each group's leadership reflect the demographic mix of the country, but that collectively the people who run the burgeoning number of groups aimed at making democracy work better — focused on such diverse issues as money in politics, bipartisanship, civil discourse, alternative election methods, civic education, redistricting and voting rights — match America's ethnic and political diversity.
Right now, they do not. The leadership staff of Bridge Alliance member groups is 78 percent white and their board members are 77 percent white. The country is 60 percent white.
Regarding their politics, 73 percent of executives and 70 percent of board members are left of center, 24 percent of executives and 27 percent of board members are right of center — and just 1 percent of top staffers and 3 percent of board members are political independents. (Gallup says the country now is 47 percent left, 42 percent right and 11 percent independent.)
The paid leadership of the groups skewed young in the survey — 57 percent are younger than 44 and only 9 percent have turned 65 — but the board membership tilts the opposite way: One-third are older than 65, almost half are in middle-age and only one-fifth are younger than 44. (Seventeen percent of the population is older than 65, one third are 45 to 64 and 38 percent are adults 44 and younger.
Bridge Alliance gathered data on gender but did not include it in the report because the breakdown for executives — 50.3 percent are women — almost exactly matches the American population, said executive director Debilyn Molineaux. The gender gap among board members was a little wider; they are 57 percent male.
The report argues that for democracy reform groups to succeed over the long term they need to make "diversity an operating system" within their organizations and not just a one-time, short-term effort.
"This will expand the number of people involved in social, cultural and democratic reforms," it concludes.
"As we increase the diversity of the people 'in the room where it happened' for collective action (hat tip to Hamilton), we will become more representative of the nation we are working to improve."