The sad upside for democracy in the Electoral College objection charade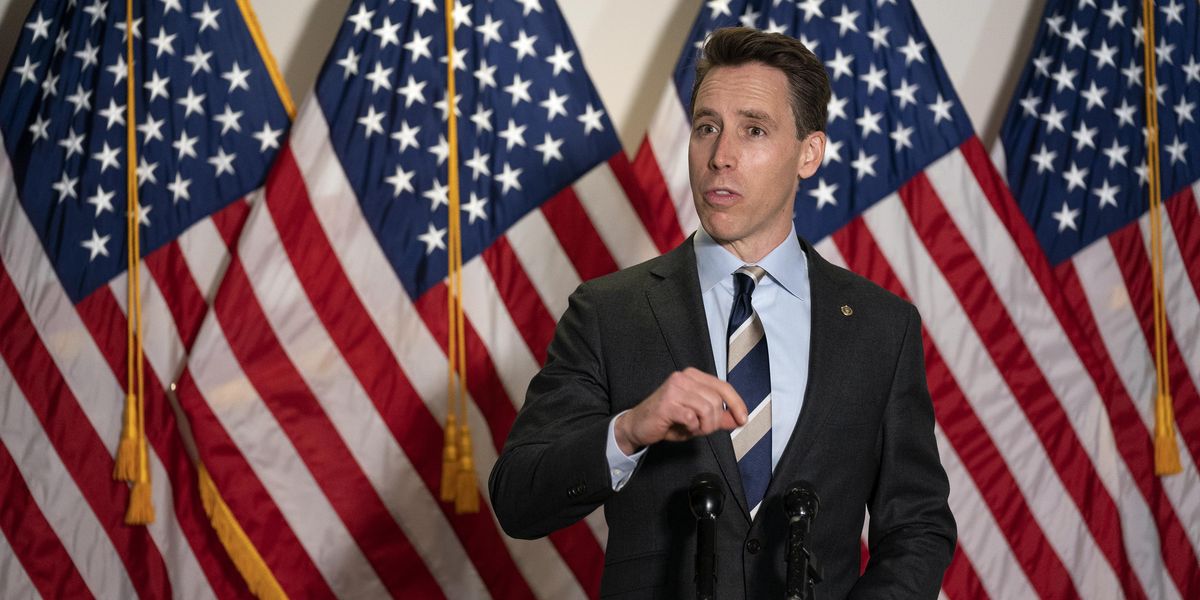 Stefani Reynolds/Getty Images
Burgat is director of the legislative affairs program and an assistant professor at George Washington University's Graduate School of Political Management.

---
The House and Senate are about to convene in a joint session to count the electoral votes. With only a few exceptions, this responsibility has been a mere formality, the last box checked in the process of picking a president specified in the Constitution and the Electoral Count Act of 1887. The meeting usually passes without fanfare or attention.
Not this time. There's going to be ample political drama Wednesday, the last step to formalizing Joe Biden's presidential victory. Following President Trump's incessant and unsubstantiated claims the election was rigged against him, his loyalists plan to formally object to counting the electoral votes of some states Biden won in November.
This not-going-to-succeed, Hail Mary effort is an attempt to deny Biden sufficient electoral votes to be sworn in, and instead set in motion a chain of events that would give Trump four more years in the White House.
An objection from only one member of the House and one senator forces everyone in Congress to vote. For weeks, several Trump loyalists in the House had volunteered but no senator had joined them. Many senators, including several Republicans, predicted not a single senator would be willing, concluding it was time to move on because the votes of all 50 states and D.C. have been legally certified and the president's lawyers have struck out in court.
Sign up for The Fulcrum newsletter
That all changed last week, when Josh Hawley of Missouri announced he would make at least one objection. Eleven more Republican senators led by Ted Cruz of Texas then announced their own plan for objecting.
This is perhaps the most egregious example yet of how far our politics has fallen: Now even our free and fair elections, a pillar of democratic governance, can't escape the partisan toxicity of our current political climate. Even worse, it's our elected members of Congress who are taking the steps to undermine our electoral processes.
But saying only that ignores a crucial reality: The election had already been severely undermined before it was Congress' turn to act. It has been undermined by a litany of actors in state legislatures, in courtrooms, in the media — and especially from the Oval Office. It was undermined even before Election Day. And it has been undermined with alarming success every day since, so that now more than 65 percent of Republican voters view the election as being rigged and a majority in the GOP believe Trump was the rightful winner.
But precisely because much of the illiberal damage has already been done before the senators announced their ill-fated plans, there is an enormous upside for our democracy in going through with this charade.
The senators will produce an action that members of Congress nearly always work like hell to avoid: a straightforward "yes" or "no" vote, with every member's position on a controversial issue recorded in the Congressional Record for posterity. All lawmakers, House and Senate, will have to publicly declare, once and for all, whether they accept the certified results of the presidential election.
This will provide the clearest-cut answer we are likely to get from many members as to whether or not they agree with Trump, or at least say they do, that the election was rigged.
So the coming votes can serve as an illuminating positive — one that will tell us which lawmakers are willing to attach their name to the position that the election was a fraud and Biden is an illegitimate president.
Without the vote triggered by the objection, Republican lawmakers could have — and likely would have — continued to dodge questions as to their thoughts on Trump's conspiratorial claims. This is exactly why so many Republican lawmakers are upset at the senators who have decided to object, and why GOP Leader Mitch McConnell privately pressured his Senate caucus not to engage with their House counterparts on the issue.
Now they will all have to go on record with a vote that's sure to alienate a large share of their independent and Republican constituents, not to mention fire up their Democratic constituents for elections to come. For most, it's a political no-win.
But voters deserve to know, for better or worse, if the people they sent to Congress are willing to oppose valid electoral votes. At this stage, getting a recorded vote on the issue is vital. In fact, if the GOP senators back away at the last minute from their protest promises, congressional Democrats should think about objecting simply to force Republicans on the record.
Now, as many correctly point out, even a vote to throw out electoral votes will be more about politics than about their true views on the results.
Those who vote against the real Electoral College tally — 306 for Biden, 232 for Trump — see their action as the best way to endear themselves to Trump's incredibly stable populist base, knowing full well that there won't be enough Senate or House votes to actually upend the election.
Because they know their effort ultimately won't succeed, they can see their votes as a low-cost way to shore up their MAGA bonafides — to stave off a primary challenge from the right when they next run for the Senate, or, for Hawley and Cruz, to take up Trump's populist mantle ahead of likely 2024 presidential runs.
Republican Sen. Ben Sasse of Nebraska exposed this calculus when he posted this on Facebook last week: "When we talk in private, I haven't heard a single congressional Republican allege that the election results were fraudulent. Instead, I hear them talk about their worries about how they will 'look' to President Trump's ardent supporters."
No matter the reason — they believe in the unfounded allegations of fraud or solely in their own political benefit — the depressing levels of distrust in the 2020 election mean every member of Congress should have to go on record for or against the outcome. The alternative is far too easy.