Late tweaks keep HR 1 on track for House passage despite new assault from the right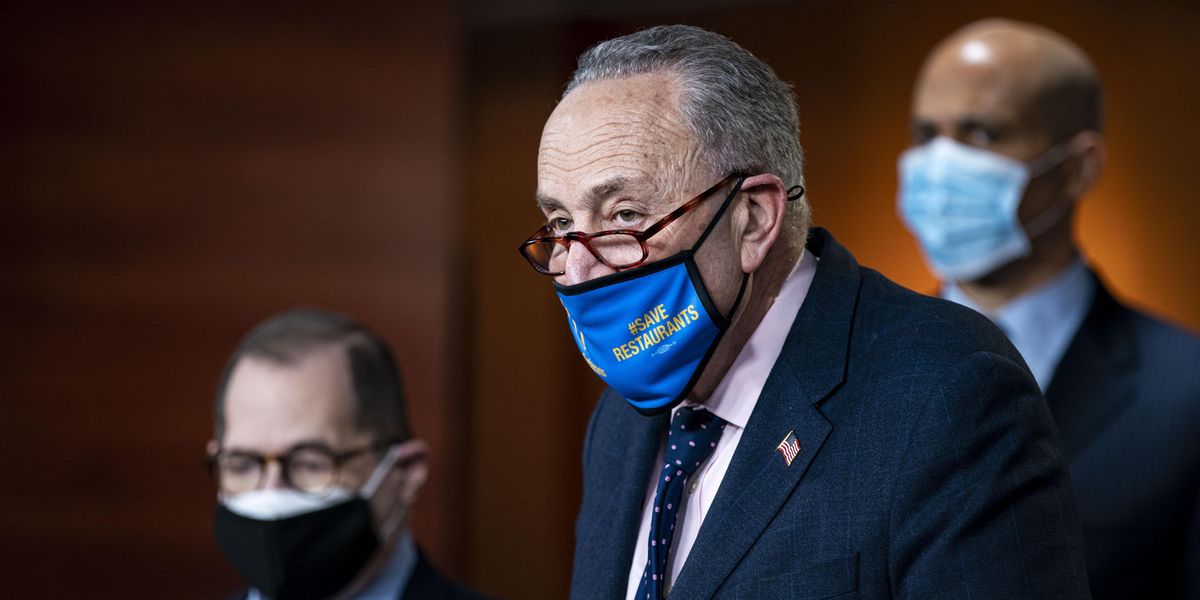 Al Drago/Getty Images
Some last-minute changes to the Democrats' comprehensive democracy reform package appear to have mollified disparate factions in the caucus — senior Black members and swing-district moderates — paving the way for smooth passage of the legislation on Wednesday.

Keeping almost everyone in the narrow Democratic majority in line behind the bill, known as HR 1, is essential to its short-term prospects because Republicans have rallied behind intensified and unified derision of the measure in recent days.
The opposition, buttressed by a conservative group's new ad campaign and freshly embraced by former President Donald Trump, only underscores how the bill will be a dead letter in the Senate so long as the legislative filibuster survives.
---
Senate Majority Leader Chuck Schumer has promised to force a vote on the measure, which would nationalize rules easing access to the ballot, limit the influence of dark money on campaigns, stiffen election security, tighten government ethics rules and seek to end partisan gerrymandering. But he has not signaled how quickly he will do so after House passage — or whether there's a chance he might use that debate as the moment to undo the decades-long power of 41 dissenting senators to block legislation.

Doing so is the only way HR 1 might get to President Biden for his signature, which the administration formally promised on Monday.
Sign up for The Fulcrum newsletter
"In the wake of an unprecedented assault on our democracy, a never before seen effort to ignore, undermine, and undo the will of the people, and a newly aggressive attack on voting rights taking place right now all across the country, this landmark legislation is urgently needed," the White House said in urging House passage.
With only 222 Democrats, however, the bill would be derailed in the House if as few as a half-dozen of them vote against it. And that looked increasingly possible in recent days, especially after a group of moderates started balking at a provision that would create federal subsidies for congressional campaigns.
The well-funded conservative advocacy group American Action Network ramped up the pressure on them Monday, launching digital TV ads of labeling HR 1 a "corrupt campaign finance bill" in the districts of 15 of the lawmakers, all of whom have potentially tenuous holds on their seats. It also said it was running phone banks to generate calls urging "no" votes to 34 other Democrats, mainly from politically competitive suburban areas.
Some of the late changes to the measure are designed to help those lawmakers repel those critics' arguments.
The public financing proposal would not be scrapped altogether, as some Democratic moderates advocated. Instead, one language tweak underscores that general tax revenue would not be used, only money that gets to the Treasury in the form of corporate penalties or lawsuit settlements.
The more substantive change would underscore that members of Congress could opt out of the public financing system, under which campaign donations below $200 would be matched by a subsidy six times as big — but only for candidates who decline all checks for more than $1,000. Proponents say this would persuade more and more politicians to end their reliance on the benevolence of millionaires and reduce the influence of the 1 percent over governance.
The Democratic leadership also made changes to the section designed to end partisan gerrymandering — or the party in power drawing lines to preserve that control.
The alterations were made at the behest of senior members of the Congressional Black Caucus, many of whom have safe a hold on their seats because mapmakers have packed African-American voters in their districts. They worry that many solidly minority-majority districts would get eliminated if all congressional redistricting is put in the hands of politically independent commissions in each state, as the bill would require starting in 2030.
The subtly altered language aims to give more leeway to these panels to draw lines that could preserve plenty of districts with Black or Latino majorities but without creating lopsided advantages statewide to either Democrats or Republicans.
The bill would create automatic voter registration across the country and decree that all convicted felons could register after release from prison. And it would mandate expanded early voting, enhance absentee voting and simplified voting by mail rules nationwide. All the language was originally written before the bill first passed in 2019, long before the pandemic altered American's civic engagement habits as never before — so that almost two-thirds of all 2020 presidential ballots were cast before Election Day. That change is prompting Republican legislatures across the country to consider bills making early and mail voting more difficult next year.
HR 1 would also enhance federal support for voting system security, increase oversight of election system vendors, upgrade online political ad disclosure and require all organizations involved in political activity to disclose their large donors. And, in a minimally veiled rebuke of Trump, it would compel presidents to divest themselves of financial interests creating potential conflicts of interest — and release 10 years' worth of tax returns.
The Republicans' main arguments are that the bill would result in a federal takeover of election administration that rightfully belongs to the states, and was designed to boost Democratic turnout at the expense of the GOP.
Trump, taking a stage Sunday for the first time since leaving office, told the Conservative Political Action Conference that HR 1 was a "flagrantly unconstitutional attack on the First Amendment and the integrity of our elections."
In a critique that included a range of misleading or flatly wrong characterizations of the bill's proposals, Trump said it would not only "drastically restrict political speech, empower the federal government to shut down dissent and turn the Federal Election Commission into a partisan political weapon," but also "virtually eliminates voter ID requirements nationwide, effectively ends all registration deadlines" and "automatically registers every welfare recipient to vote and puts unaccountable unelected bureaucrats in charge of drawing congressional districts."