Big things start small
https://twitter.com/davidlnevins?lang=en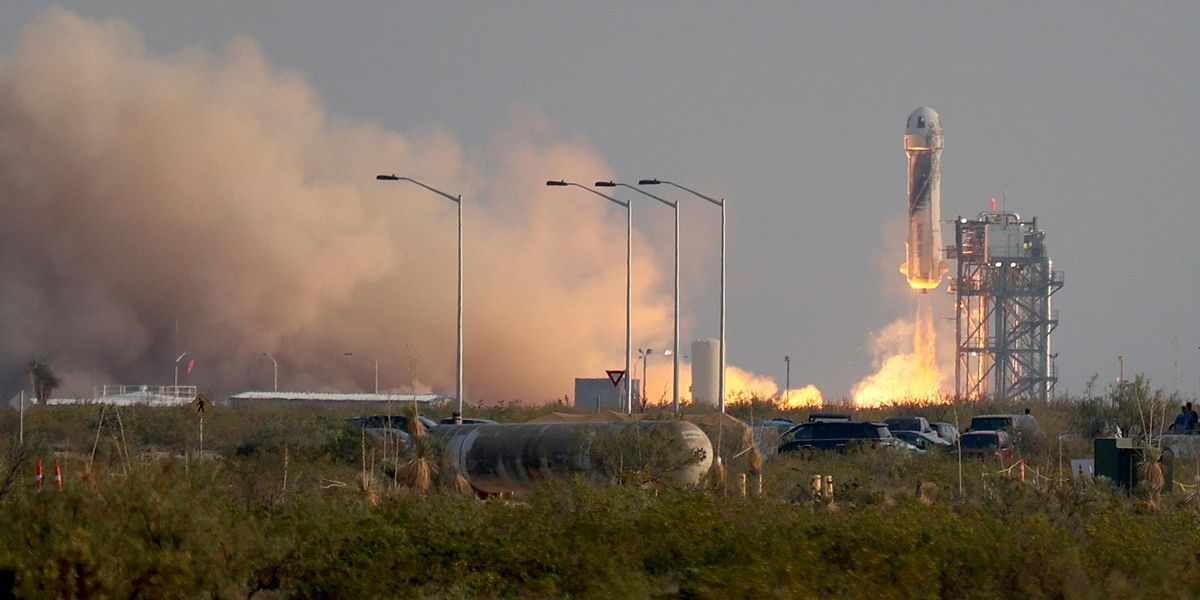 Joe Raedle/Getty Images
Nevins is co-publisher of The Fulcrum and co-founder and board chairman of the Bridge Alliance Education Fund.
---
Tuesday night, as I listened to Jeff Bezos speak of his vision for space, I was moved by the vastness of his vision; his vision of space as a production center to lessen the environmental dangers of industrial production to our planet.

His vision seems so far-fetched today, just as I am sure a vision of a vast commercial aviation business that flies millions of people around the world daily would have seemed only a distant dream after Wilbur and Orville Wright's first flight of 12 seconds and 120 feet in 1903.
I was inspired by Bezos' vision as it applies to the work I have been doing for over a decade to repair the broken democracy that currently exists in our nation. As the founder and chairman of the board of the Bridge Alliance, a coalition of 90+ organizations working together to strengthen our democracy and heal the divides that separate us as a society, I sometimes feel that my efforts and those of my colleagues are merely an idealistic dream given that the toxic polarization and dysfunction seem to bet getting worse, not better.
Sign up for The Fulcrum newsletter
And so Bezos' words inspired me. His statement that big things start small reminds me that the task of democracy reformers will not be easy. As things seem to be getting worse, I realize that now is the time to take bold steps. While polls show most Americans believe our democracy is highly dysfunctional, many say to me the chances of change are small given the enormity of the task at hand. I fully understand the challenges that lie ahead, but like the exploration of space, taking small steps now will build into giant leaps in the future. Just as Bezos realizes his dream will not be realized in his lifetime, I realize the same may be true for the work democracy reformers are doing.
As with most innovations, big changes are never the work of one person. Innovation comes from the combined energy and brilliance of a community of people all working toward the same goal. Like the transcontinental railroad or the great interstate highway system that has brought our citizens closer together in terms of proximity, we are building a similar infrastructure, an infrastructure for democracy.
The visionary leaders of the organizations within the Bridge Alliance recognize that democracy must be founded on discourse and discussion, and that these discussions must be replete with differing perspectives and opinions. This visionary group of men and women, with whom I work daily, understand that embracing our ideological differences will ultimately lead to inquiry, and this inquiry to truth. Civil discourse and critical thought are essential if the grand experiment that is American democracy is to succeed.
This week, Bezos decided not only to invest in space, but in the infrastructure of democracy as well. Two "Courage and Civility" awards valued at $100 million apiece went to José Andres, whose World Central Kitchen helps feed masses of people following natural disasters, and Van Jones, who has founded several efforts to bridge the divide that separates us.
In announcing the awards Bezos said. "We need unifiers and not vilifiers. ... We need people who argue hard and act hard for what they believe. But they do that always with civility and never ad hominem attacks. Unfortunately, we live in a world where this is too often not the case. But we do have role models."
Now is the time to realize that bold changes are needed. The recipes of the past simply do not work. As idealistic as it seems today, flight exploration is going to change the very nature of commerce, so the work of the Bridge Alliance and our members seems equally as preposterous.
Let us be bold idealists, with big dreams:
A democracy where elected representatives are direct and honest in their public statements, putting ethical commitments above partisan and career objectives, surely seems impossible in today's environment.
A democracy where elected representatives who engage constructively, and do not dehumanize each other and refuse to debate the issues of our time in good faith, seems so far away if not impossible.
A democracy that represents the diversity that is America, a democracy that represents the voice of young people, people of all ethnic and racial backgrounds, rural and urban dwellers, conservatives and progressives, is within our grasp if We the People invest today in this dream for a better future.
We need to be bold and now is the time!