Giving teachers more decision-making power would bring democracy to life at school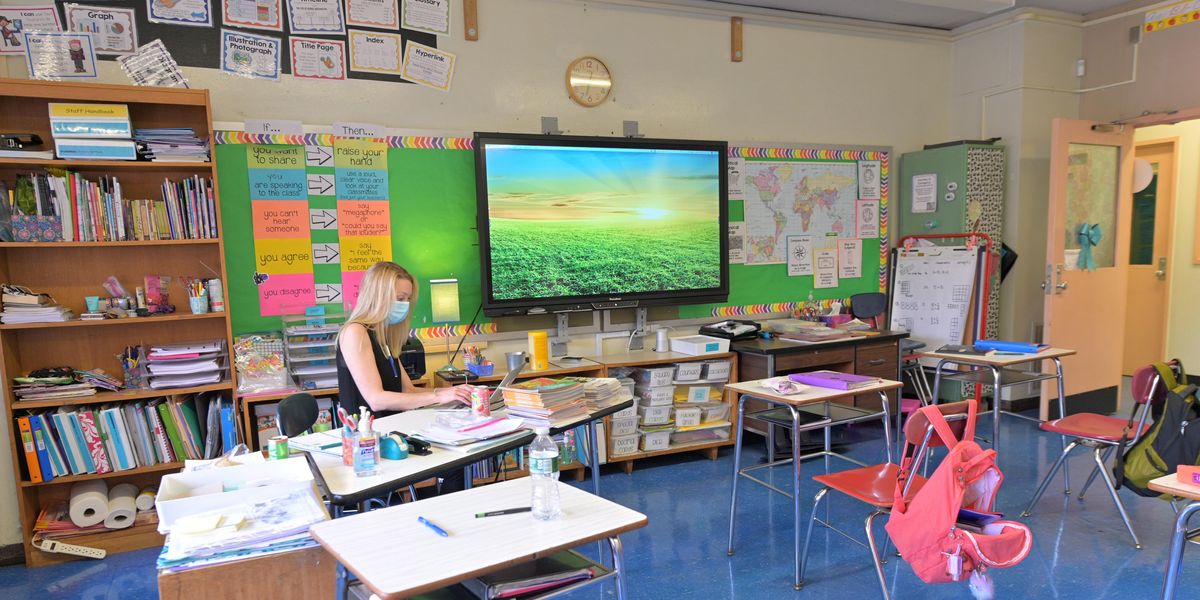 Michael Loccisano/Getty Images
Schleifer is research director at Public Agenda, a nonprofit, nonpartisan research and engagement organization focused on strengthening democracy, building trust and expanding economic opportunity. This is the second in an occasional series.
---
Rethinking how teachers teach civics and how students learn about democracy has never been more crucial.
Even before the 2020 election, many Americans were concerned about the state of our democracy. Then the Jan. 6 attack on the Capitol reinforced the dangers of misinformation and extremism. The new Educating for American Democracy report for teaching civics and history reaffirms the importance of this work and provides a roadmap for pursuing it.
But schools can be more than settings for teaching and learning about civic engagement. Schools can also be places where people put democratic principles into practice. Not only can civics and history be more fully and equitably integrated into curricula and pedagogy, but schools and districts can also implement democratic practices to both improve how schools function and to build civic muscle.
This moment presents an opportunity to reimagine schools as incubators for more participatory forms of governance and decision-making.
Schools and school districts have historically lacked robust systems for teachers to work collaboratively on issues such as curriculum, student discipline and assessment. But a growing body of research shows that when teachers work more collaboratively, student outcomes can improve, teachers can be more satisfied in their jobs and teacher turnover can decrease.
Sign up for The Fulcrum newsletter
In some schools, democratic processes and shared decision-making are already being put into practice. For example, students in some districts play roles in making decisions about spending through participatory budgeting or participate in student voice programs. Teacher leadership programs in places including Tennessee, Philadelphia and New York City — some of which work in collaboration with unions — provide professional development, coaching and networking so that teachers can have a greater voice in their schools and districts and in education policy. Unions in some districts also play roles in school improvement efforts in partnership with administration, such as in Meriden, Conn. Kentucky law mandates school-based decision-making councils that include teachers, parents and administrators.
What would happen if there were more widespread, sustained mechanisms to give teachers more of a voice in how schools are organized and operate?
Giving teachers more decision-making power could improve their job satisfaction and their willingness to stay in the profession. Retaining more teachers is important since teacher shortages were acute even before the pandemic, and in our recent survey 78 percent of teachers believed the pandemic will make it even more difficult to recruit new people to their profession.
The intense debate over when, whether and how to hold in-person classes during the pandemic may not at first glance feel like an issue for participatory decision-making. But scientific debates are also political debates, and in the case of in-person teaching and learning, they are also very personal debates for teachers, students and parents.
How much space is needed between desks? Do classroom windows open? Can elementary school students keep their masks on? What should we do about lunch? How can students interact with teachers and with each other during science labs or art classes? How can teachers do their best work while keeping themselves safe and healthy?
Our survey found most teachers think they should decide whether to hold in-person classes during the pandemic and that most parents agree. Beyond these concerns about masks, ventilation and distancing, teachers have seen firsthand how students have struggled academically, socially and emotionally during the Covid-19 outbreak -- isolated from friends and often in families affected by lost jobs and reduced incomes, and in too many cases grieving death in their families.
Our survey found both teachers and parents believe it is absolutely essential for K-12 public schools to ensure teachers have the resources they need to help students who have fallen behind academically or are struggling socially and emotionally because of the pandemic.
So what are the teachers' ideas for addressing those challenges in curricula, pedagogy, classroom management and assessment? These are all issues about which they can have a voice as experts in education practices, classrooms, students and communities.
Once the pandemic abates, allowing them to participate in decision-making can be an important way to make schools operate more effectively and democratically, to honor teachers' professional expertise — and put civics lessons into action.