Infrastructure bill takes rare bipartisan step forward, but still faces loud opposition
https://twitter.com/saramswann?lang=en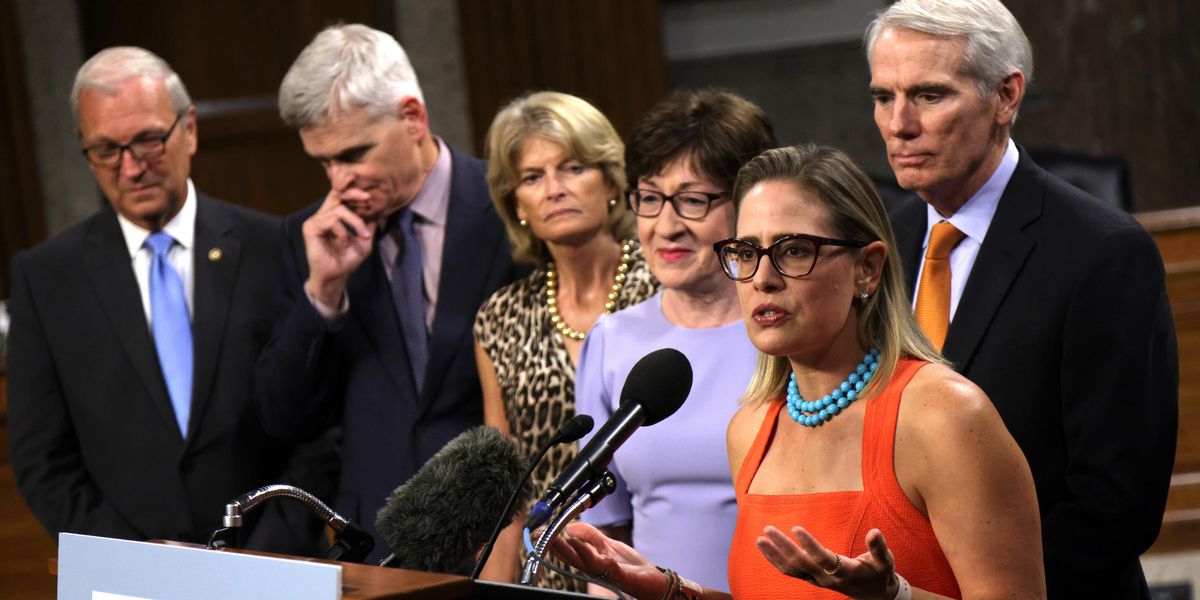 Alex Wong/Getty Images
Senate Democrats and Republicans took a significant step this week to advance a bipartisan infrastructure package. However, the deal is far from done.

The Senate's 67-32 vote Wednesday cleared the first procedural hurdle and put lawmakers on track to begin debate on the $1 trillion proposal soon. This development was a big win for congressional bipartisanship at a time when cooperation between the two parties is rare.
But despite being negotiated by a bipartisan group of 22 senators, the infrastructure deal still received harsh criticism from both the right and the left. And some lawmakers were also hesitant to support the deal because the legislation has yet to be written.
---
Sen. John Cornyn of Texas was one of the Republicans concerned with the lack of drafted legislation. "I'm encouraged that our colleagues have gotten us this far, but the bill's not ready, and we need to see the text and be given adequate time to read it," he said on the Senate floor Wednesday.
Because the bill has yet to be drafted, the exact investments and cost off-sets are not set in stone. Those details are likely to determine how many Republicans ultimately support the package, promising a rocky path forward as debate on the legislation begins.
Sign up for The Fulcrum newsletter
While former President Donald Trump has already attempted to throw a wrench into negotiations by urging GOP lawmakers not to support the deal, lawmakers on the left aren't fully on board either.
Along with the infrastructure bill, Democrats are pushing a second $3.5 trillion package that includes other priorities for the Biden administration, such as expanding Medicare, support for families and children, and combating climate change. Democrats have said they want to move both packages in tandem.
However, on Wednesday, Democratic Sen. Kyrsten Sinema of Arizona, one of the lead architects of the infrastructure deal, said she would not support the $3.5 trillion price tag for the second package. Democrats plan to use the reconciliation process for the second bill because such a maneuver cannot be blocked by a filibuster — but would likely require every Democrat to vote for it.
In response, progressive lawmakers pushed back, saying they would not support an infrastructure deal without the reconciliation package.
"The votes of the Congressional Progressive Caucus members are not guaranteed on any bipartisan package until we examine the details, and until the reconciliation bill is agreed to and passed with our priorities sufficiently funded," the caucus chair, Rep. Pramila Jayapal of Washington, wrote in a statement.
Democratic Rep. Alexandria Ocasio-Cortez of New York more pointedly criticized Sinema for her stance.
Good luck tanking your own party's investment on childcare, climate action, and infrastructure while presuming you'… https://t.co/irsrXS0s8A

— Alexandria Ocasio-Cortez (@Alexandria Ocasio-Cortez) 1627498173.0
While bipartisan agreement on infrastructure has proved difficult to achieve in Congress, recent polls have repeatedly shown a majority of Americans support such an investment in the country's roads, bridges, railways and broadband.