Disabled dealt harsh blow in latest Supreme Court voting decision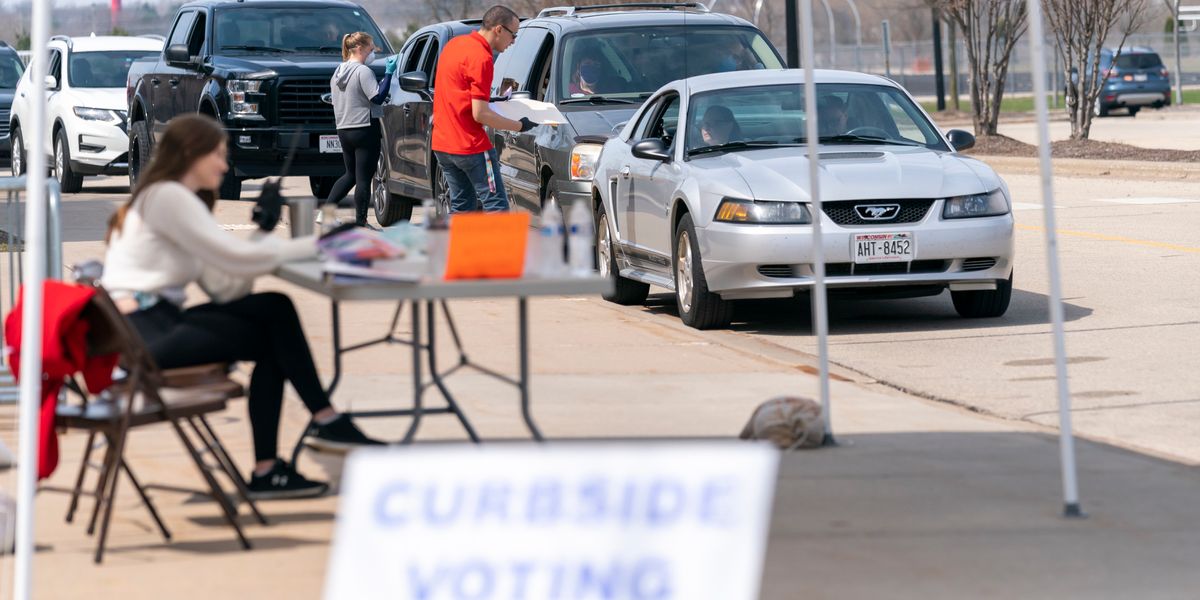 Andy Manis/Getty Images
Disabled voters have suffered one of their biggest recent setbacks at the Supreme Court.

The court Wednesday night upheld Alabama's fresh prohibition on curbside voting, which the state's two biggest cities wanted to offer to accommodate people with disabilities or at high risk of serious problems if infected with Covid-19.
The 5-3 decision, with the three liberal justices dissenting, was not only a defeat for the cause of rules protecting the franchise for minority groups. It was also a sign that other election-smoothing moves in response to the pandemic will face rough going if they reach the Supreme Court, especially if ordered by federal judges.
---
"I am not at all surprised by this ruling," Rick Hasen, an election law expert at the University of California, Irvine, wrote on his blog after the brief and unsigned order was issued. "It is clear that the conservative justices believe that it is up to states, rather than federal courts, to decide how to best balance health concerns related to voting during the pandemic with burdens on voting rights."
The next election case on the court's docket is an effort by Democrats and voting rights groups to revive a deadline extension for absentee ballots to arrive in battleground Wisconsin, which a federal trial judge ordered but an appeals panel stopped.
Sign up for The Fulcrum newsletter
But a handful of other matters affecting how many people get to vote — as well as the speed and accuracy of the results — could get to the justices in the dozen days before the balloting stops Nov. 3, or as soon as the tabulating is close and the parties start fighting about which votes should be tossed.
Alabama will almost certainly not be part of that fight. President Trump carried the state's 9 electoral votes by a 2-1 margin last time and is assured of extending the GOP nominees' streak in the state to 11 elections. And Doug Jones is the only Democratic senator who's become a clear re-election underdog this fall.
But the high court's decision has ramifications beyond the state, because it amounts to a rebuke for the one in five Americans who say they have a physical disability. Fewer than half of them vote in most elections, in part because they describe the mechanics of the process as too often too difficult.
The ruling supports "unconscionable voter suppression and potentially genocide, not to mention illegal discrimination," said Valerie Novack, who focuses on the rights of the disabled at the Center for American Progress, a progressive think tank. "It is a blatant form of ableism and disregard for more than 20 percent of the population with a disability."

In the past two elections, several counties in Alabama had curbside voting — allowing people to vote from their cars outside polling places and hand their ballots to poll workers. But when county officials in Birmingham and Montgomery announced a repeat for the primary this year, GOP Secretary of State John Merrill told them they could not.
Several disabled and high-risk people sued, and federal Judge Abdul Kallon in May ruled the restriction violated the Americans with Disabilities Act. A divided 11th Circuit Court of Appeals upheld his ruling, and Merrill asked the Supreme Court to intervene.
"Some level of risk is inherent in life and in voting, pandemic or no," his brief said.
Curbside voting has been recommended by the Centers for Disease Control and Prevention during the pandemic, and the Justice Department has endorsed it as a way to prevent violations of the ADA.
Dissenting from the high court's action were Justices Stephen Breyer, Sonia Sotomayor and Elena Kagan. Sotomayor wrote a dissent for the group arguing that in-person voting is considerably easier for the disabled than voting by mail in Alabama — because poll workers can offer help and there are no witness or photo ID requirements like there are for absentee ballots.
But it is illegally discriminatory this year, she said, to make vulnerable voters "wait inside, for as long as it takes, in a crowd of fellow voters whom Alabama does not require to wear face coverings."