GOP completes multipronged curbs on access to the vote in Iowa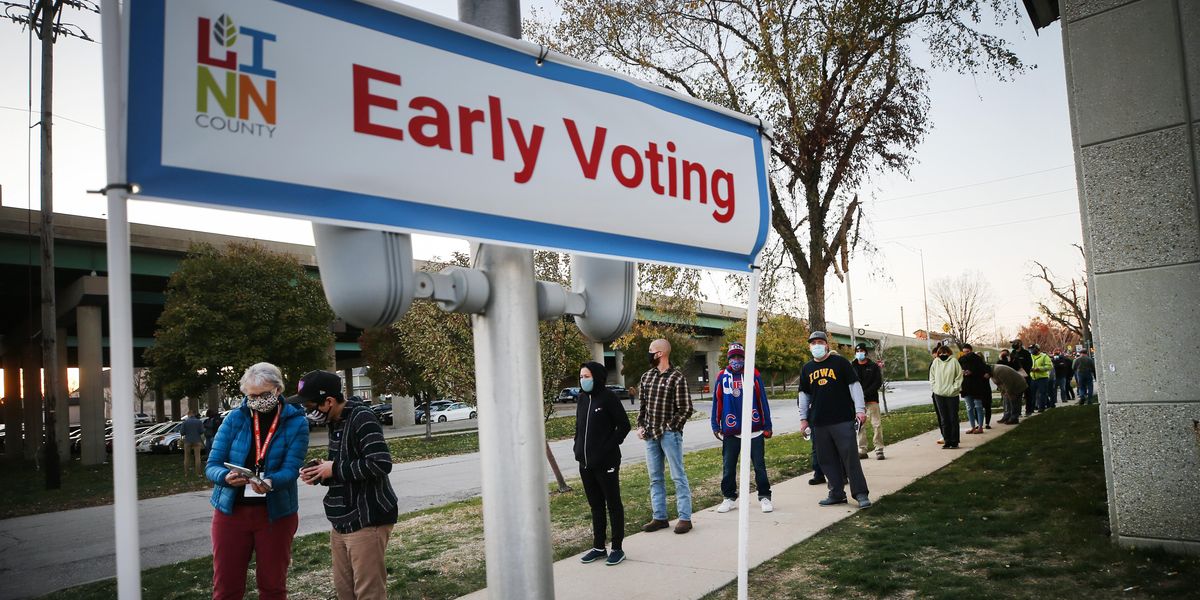 Mario Tama/Getty Images
Iowa has become the first state this year making it much tougher to vote. It's the vanguard of a nationwide Republican effort to curtail access to the ballot box in response to last year's record turnout, central to both President Biden's election and former President Donald Trump's baseless claims of fraud.

GOP Gov. Kim Reynolds on Monday signed a sweeping set of tightened election rules pushed through the General Assembly two weeks ago without a single Democratic supporter.
The law reduces in-person early voting to 20 days, from 29, and shortens the time the polls are open Election Day by 60 minutes, to 13 hours. Local officials are now barred from proactively sending out vote-by-mail application forms. And absentee ballots arriving after the polls close will be discarded, eliminating a six-day grace period for Postal Service delays.
---
In addition, Iowans may no longer turn over their sealed vote envelopes for delivery by partisan operatives or community activists, the practice critics deride as "ballot harvesting." And Iowans will from now on be removed from the rolls if they skip a single general election and don't report a change in address or register as a voter again.
Finally, there is a new limit of one ballot drop box in each of the 99 counties, no matter how remote or urban, and counties may not set up satellite in-person early voting sites unless formally petitioned by residents.
Sign up for The Fulcrum newsletter
Like their legislative colleagues pushing more than 250 similarly restrictive proposals in 42 other states, GOP lawmakers in charge of the General Assembly say the tougher rules are necessary guards against cheating — although Iowa has no history of election irregularities and November's election generated record-shattering 75 percent turnout statewide (9 points better than the national number) without any credible hint of shenanigans.
"These additional steps promote more transparency and accountability, giving Iowans even greater confidence to cast their ballot," the governor said upon signing the bill.
"While politicians may claim these provisions ensure 'election integrity,' they do nothing of the sort," countered the Democratic Party's most prominent election litigator, Marc Elias. "They are a result of the record turnout in Iowa and the nation in 2020. This bill will impose unconstitutional burdens on minority, elderly and disabled voters and cannot be permitted to stand."
He promised to file federal lawsuits in Iowa and any other states that follow its lead.
Some of the most prominent efforts are in states that Biden turned blue after they went red in 2016: Pennsylvania, Arizona and maybe most notably Georgia, where the House has debated curbs on "souls to the polls" early voting on Sundays and on Monday the Senate voted to end no-excuse absentee voting.
But Trump took Iowa's six electoral votes by a comfortable 8 points, a slightly bigger margin than four years before. Moreover, Republicans picked up two U.S. House seats in the state, GOP Sen. Joni Ernst survived a dogged and well-financed challenge and the party's legislative majority expanded, too.
And those successes came even as 76 percent of Democrats voted by mail or early and in person — but only 52 percent of Republicans did so in response to Trump's campaign of falsehoods. Overall, a record 60 percent of votes statewide were cast ahead of Election Day, mainly as a consequence of an array of election easements by county officials responding to the pandemic.
On Monday, Heritage Action, a national conservative group, announced a $10 million advertising and grassroots mobilization campaign across eight states, including Iowa, to drum up support for legislation curbing absentee ballots, stiffening voter ID and citizenship verification rules, and more active culling of registration lists. The group's executive director, Jessica Anderson, praised Iowa's new law but urged the General Assembly to do more.
There were 12 convictions for election misconduct in Iowa in the past two years, the state's nonpartisan Legislative Services Agency told lawmakers as they debated the package.