New York City poised to give non-citizens the right to vote in local elections
https://twitter.com/davidmeyers?lang=en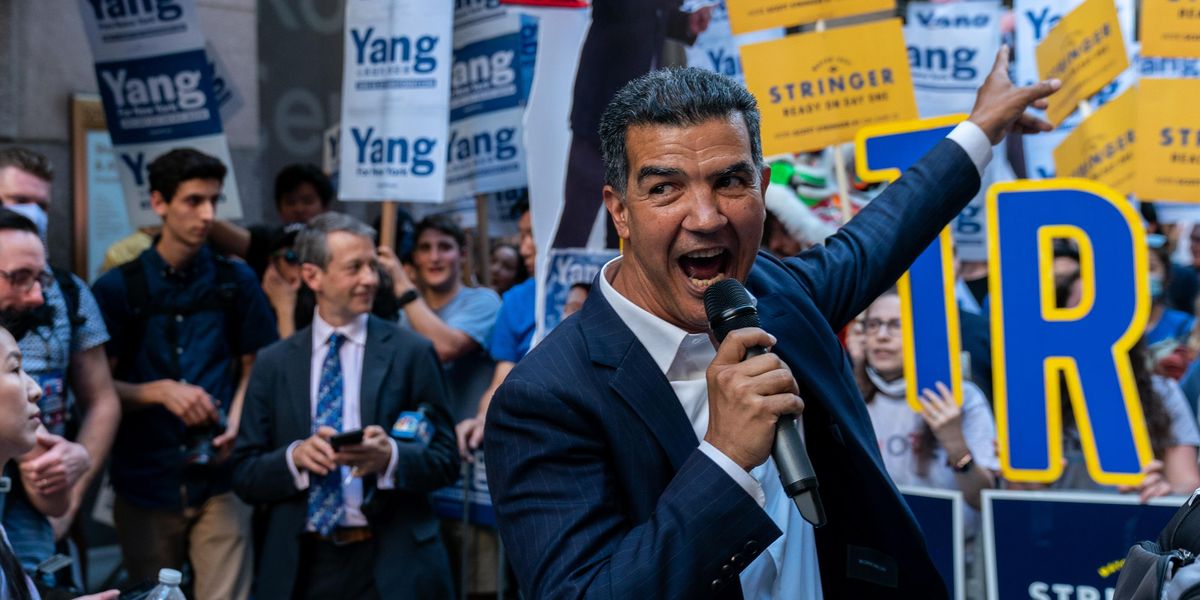 Jeenah Moon/Getty Images

New York City appears to be on the verge of the nation's biggest expansion of voting privileges for non-citizens who are permanent residents of the United States.

While non-citizens are legally prevented from voting in federal elections, some states allow municipalities to open the door for local elections. Cities in California, Maryland and Vermont have already granted voting rights to non-citizens, but not on the scale proposed in New York.
---
A bill currently under consideration by the City Council would allow as many as 900,000 non-citizens to vote for mayor, city council, borough president and other local offices. The bill is scheduled for consideration Dec. 9 and is likely to pass, according to Gothamist.
Supporters of expanded voting rights had reason to celebrate over the Thanksgiving weekend after the bill's lead sponsor, Democratic Council member Ydanis Rodriguez, struck a deal to get it on the Dec. 9 agenda.
I think it\u2019s an important gift for our brother and sister New Yorkers during this holiday to let them know we\u2019re giving them the dignity and respect they deserve, https://www.nydailynews.com/news/politics/new-york-elections-government/ny-nyc-council-deal-immigrant-new-yorkers-local-elections-20211124-tfdohexrrvdwjhfdo7glkfxmme-story.html\u00a0\u2026 #ourcityourvote

— Ydanis Rodriguez (@Ydanis Rodriguez) 1637786097
This would not be the first time New York allows non-citizens to vote; during the last three decades of the 20th century, non-citizens were able to vote in school board elections. Ron Hayduk, a professor of political science at San Francisco State University, studied data from New York as well as other U.S. and European jurisdictions that have allowed non-citizens to vote, and found those instances have increased civic engagement.

Sign up for The Fulcrum newsletter
"Research shows non-citizen voting injects issues important to immigrants into politics, makes elected officials more responsive to immigrants, leads to more diverse political leaders, and keeps government more accountable to them," Hayduk said. "Education issues show particular gains, including funding for improvements to schools, language access, after-school programs, books and curriculum, and the like."
If the bill passes, Mayor Bill de Blasio would have the opportunity to sign it before his term expires. He has opposed the bill in the past, citing questions of legality, but recently softened his stance. The recent City Council elections appear to have installed enough supporters of the bill to overcome a veto. If de Blasio leaves office without acting, the responsibility would fall to Mayor-elect Eric Adams, who has said he supports expanding the franchise.
Even if the bill sails through the City Council and the mayor's office, it may still face opposition. Republican Vito Fossella, a former member of Congress and incoming Staten Island borough president, has promised legal action to prevent the bill from going into effect.
But Hayduk believes the bill passes constitutional muster.
"Numerous legal scholars conclude NYC's law is constitutional because NY's Constitution merely provides the floor but not the ceiling regarding who can vote, whereby charter cities like NYC can use their home rule power to enact such changes," he said.
The number of New Yorkers who could gain voting rights would exceed the total population in as many as a half-dozen states.
According to Ballotpedia, 14 states allow municipalities to grant voting privileges to non-citizens, and 14 cities (all in California, Maryland and Vermont) have done so.
San Francisco is by far the biggest, but only allows non-citizens to vote in school board elections.
Eleven towns and cities in Maryland have varied rules allowing certain non-citizens to vote.
Vermont became the latest state to grant such authority, when the Legislature overrode Gov. Phil Scott's veto in June. Now two cities — including the capital, Montpelier — now allow non-citizens legal residents to vote.
Efforts are underway in other areas —notably Illinois, additional California cities and Portland, Maine — to give non-citizens the right to vote, according to Hayduk.