Redistricting impacts Virginia elections
(This is one of three VA election stories today)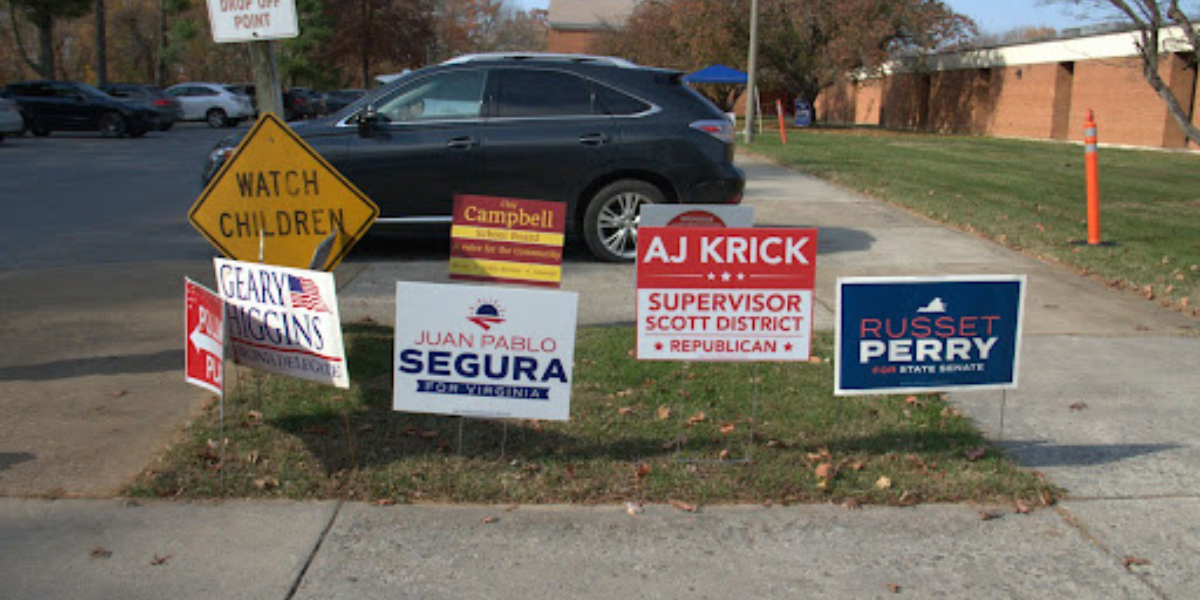 Meaghan Downey / Medill News Service
Both Meaghan Downey and Nicole Norman are graduate students at Northwestern Medill in the Politics, Policy and Foreign Affairs specialization
ONE OF THREE VIRGINA REPORTS TODAY: As one of the key swing states for the 2024 presidential election, the Commonwealth of Virginia rightfully received considerable national attention. Today, we present three news stories all written by Northwestern University students participating in the university's Medill News Service. We are proud to be partnering with the Medill News Service to present reporting written and produced by Northwestern University graduate journalism students reporting from Washington, D.C.
---
VIRGINIA – In Fauquier County, Sandra Rodgers stood behind a folding table with a Republican party flag draped over the front. She handed out Republican sample ballots and copies of the U.S. Constitution to voters as they entered Marshall Middle School.
Her reasons for volunteering with and voting for Republicans in Tuesday's legislative elections were one in the same.
"Virginia needs to be a little more conservative than it is now and we're hoping to flip that Senate in order to make that happen," Rodgers said.
For the first time since redistricting in 2021, Virginians voted within new district lines. Prior to the election, experts predicted it would be the most diverse General Assembly in the state's history. However, in some districts like Senate District 31, some voters felt that the new lines put them in districts that do not represent their values.
Sign up for The Fulcrum newsletter
Home to one of the most watched State Senate races, District 31's contest between Democrat Russet Perry and Republican Juan Pablo Segura attracted national attention and at least $10,393,791 million spent. Republicans hoped the open seat in this new swing district would give them the majority they needed to control the state Senate.
"This is a very consequential election. It could change things here in Virginia very dramatically," Leesburg's Democratic Mayor Kelly Burk said Tuesday morning. "I want to make sure that the town continues to prosper and grow and we need the help of the Senate to do that."
When the districts were redrawn, Senate District 31 came to include parts of Democratic-leaning Loudoun County and Republican-leaning Fauquier County. In the 2020 presidential election and 2021 governor's race, Loudoun County voted for President Joe Biden and former Democratic Governor Terry McCauliffe. Fauquier County went red in these elections, voting for former President Donald Trump and Republican Gov. Glenn Youngkin.
Loudon County makes up about 90% of Senate District 31. The voters in the district were aware of the new lines, but were primarily motivated to come to the polls by the issues at stake, like Youngkin's proposed 15-week abortion ban.
Tine Beam, a voter who rode up to the poll on her bicycle, longed for the days when Virginia had a Democratic governor and Democrats were in the majority in both chambers of the legislature.
"Five years ago we [had] all Democratic and it went very well. And look at now and all the rights that are being taken away," Beam said.
Experts complimented Virginia's redistricting efforts, saying it resulted in a map that fairly represents the population and its party preferences. Not everyone is happy with the outcome. Only 10% of Senate District 31's registered voters are from Republican-leaning Fauquier County.
Some Fauquier County voters, like Henry Skinker, expressed frustration over the state's new electoral district boundaries.
"We are in a district right now that is just completely inundated by Loudoun County. They out-populate us by so much. We're really keen to act against that," Skinker said.
But for Virginia voters who hoped to consolidate Republican control in the state Senate and House of Delegates, the GOP came up short Tuesday. Democrats retained their majority in the Senate, although they lost one seat in District 24, and successfully flipped the House.
Perry was one of five Democratic candidates for state Senate to defeat her Republican opponent in a competitive swing district. According to the Virginia Department of Elections' unofficial results, Perry had a five-point lead over Segura with 52.52% of the vote.
The Democrats' victory across the state presents a new barrier for Youngkin, who had hoped to pass more conservative policies, such as abortion restrictions and giving parents more control over teachers
"I'm a little disappointed," Youngkin told reporters Wednesday morning when discussing Tuesday's election results. "I think the number one lesson is that Virginia's really purple."