Courtesy Millennial Action Project
Growing up in Milwaukee, Steven Olikara felt that playing music was the only way to bring people of all backgrounds and ideologies together — until he was inspired to launch the Millennial Action Project.

Believing the trend toward polarization had put American democracy on perilous footing, Olikara decided to translate his musical performances into political involvement on a national scale. In 2013, he officially launched MAP with the hopes that the next generation could bridge the political divide and put America on the right path forward.
Now, after nearly a decade at the helm, Olikara has stepped down as both he and the organization enter new chapters. On Wednesday, the organization announced as his successor Layla Zaidane, who previously served as MAP's executive director and COO. As for Olikara's next steps, the 31-year-old has his sights set on a potential Senate run next year when Republican Ron Johnson's seat is up for election.
"I'll be focused on how we can raise the consciousness of our politics and how we can bring the MAP model to a new level in our country," Olikara said. "I'm very deeply engaged in how that model can make a positive impact in my home state of Wisconsin."
Sign up for The Fulcrum newsletter
His name is one of several that have been thrown out as possible Democratic contenders for Wisconsin's hotly contested Senate seat. Others include: Outagamie County Executive Tom Nelson, Lt. Gov. Mandela Barnes, state Treasurer Sarah Godlewski, Milwaukee Bucks Senior Vice President Alex Lasry and state Sen. Chris Larson of Milwaukee, according to the Milwaukee Journal Sentinel.
There's a chance Johnson, who is in his second term, may not seek re-election, which would dial up the competitiveness of that race. The 65-year-old senator has said previously that he intended to serve only two terms, but he has not yet made an official decision. If Johnson decides to retire, his open seat would be one of two in a state that went to Donald Trump in 2016 and Joe Biden in 2020. (The other is held by Pennsylvania Republican Pat Toomey, who announced his retirement last October.)
Regardless of where Olikara's political career takes him, he will stay involved with MAP as founder and senior advisor. (Olikara also serves on the board of directors for Issue One, which owns, but is journalistically independent from, The Fulcrum.) Over the last few months, he has been transitioning out of his leadership position while MAP's board of directors vetted more than 100 candidates for the role.
Ultimately, Zaidane was chosen because "there was no one quite so intimately connected or committed to MAP's mission and vision as Layla," board Chair Nicholas Maschari said in announcing her promotion.
Since joining MAP in 2016, Zaidane said, she has been "truly inspired by MAP's vision of a more inclusive democracy, led by young people."
As the new CEO, Zaidane will continue to grow the organization's Future Caucus Network, a bipartisan coalition of young legislators from across the country. Through this work, MAP and its caucus members will develop future-oriented solutions on issues such as climate change, criminal justice and democracy reform.
"It's hard to imagine a more important time for our country to move beyond the partisan framework that's defined our politics for far too long, and I am honored to be leading MAP and our network of young legislators in this movement," she said.
Zaidane, before joining MAP, was managing director of the youth-oriented Generation Progress and a marketing specialist for LivingSocial. She earned a degree from Georgetown University's School of Foreign Service.
During his time leading MAP, Olikara said his biggest accomplishments came when he saw the hard work of his staff and legislators in the Future Caucus pay off.
"Often it happens behind the scenes where they exhibit tremendous political courage to get a bill over the finish line or when they reach across the aisle to build a coalition," he said. "That always speaks deeply to the possibilities of this movement, so it's these stories of growth and leadership that, to me, are the most personally meaningful."
And millennials' impact on politics will only continue to grow. Last year's election saw more victories from young candidates than ever before: 1,641 people under the age of 45 were elected to state legislatures — representing nearly a quarter of the total seats. And 81 young members from both parties, including 23 freshmen and 58 incumbents, were elected to the House of Representatives.
Plus, Democrat Jon Ossoff won his January runoff in Georgia, making him at age 33 the youngest person elected to the Senate since Joe Biden in 1972. Another young senator, 43-year-old Republican Tom Cotton of Arkansas, was re-elected last year.
Olikara is hoping these young representatives will help inject new life into politics and political decision-making. One of the biggest problems MAP has tried to tackle from the outset is what he calls the "short-termism" of politics.
"It's all about short-term wins and short-term fixes, often at the expense of the long-term health of our country," he said. "It's been too politically convenient for our leaders to just kick the can down the road on a lot of generational problems, whether it's climate change or the national debts or preparing our workforce for the jobs of the future."
Having young people represented in state legislatures and Congress, Olikara said, is going to have a huge impact on policymaking because their generation brings different life experiences and ideas.
Reflecting on his time at MAP, Olikara said there is no person better suited to lead the organization into its next chapter than Zaidane.
"For over four years, Layla has been by my side for every major decision at MAP. She brought energy, conviction and dedication to her role first as COO and then as executive director & COO," he said. "As I step down from serving as CEO at the organization I helped found over eight years ago, I'm proud to pass the baton to such a capable leader. It's honestly a dream come true."
Keep reading...
Show less
enjoynz/Getty Images
As states prepare to redraw their election maps later this year, democracy reform advocates are raising the alarm once more about the severe threat of gerrymandering facing a vast majority of the country.

The Gerrymandering Threat Index, released Monday by RepresentUs, identifies 35 states — with a collective population of more than 188 million people — at extreme or high risk of partisan gerrymandering this cycle. These are red and blue states, ranging in population from Texas to Wyoming.
While some states enacted redistricting reforms over the last decade, politicians still have control over the mapmaking process in most states. Republicans will have the advantage in 21 states, Democrats will lead the redrawing in nine and another nine will have a divided government in charge.
In its 160-page report, RepresentUs assessed the threat of gerrymandering in all 50 states using five key questions:

Can politicians control how election maps are drawn?
Can election map drawing be done in secret?
Can election maps be rigged for partisan gain?
Are the legal standards weak?
Are rigged election maps hard to challenge in court?
Based on the answers to each question, RepresentUs marked whether the state was at a low, moderate or high risk of gerrymandering. If the answer to one or more of these questions was "yes," that indicated the state is at an elevated risk of partisan gerrymandering. These five ratings were then used to calculate a state's overall risk assessment.
Sign up for The Fulcrum newsletter
RepresentUs found that the threat of gerrymandering was extreme in 27 states, high in eight states, moderate in two states, lower in six states and minimal in seven states. Of the states at extreme risk, 10 received the worst rating for all five questions. Only California was labeled a low-risk state across the board.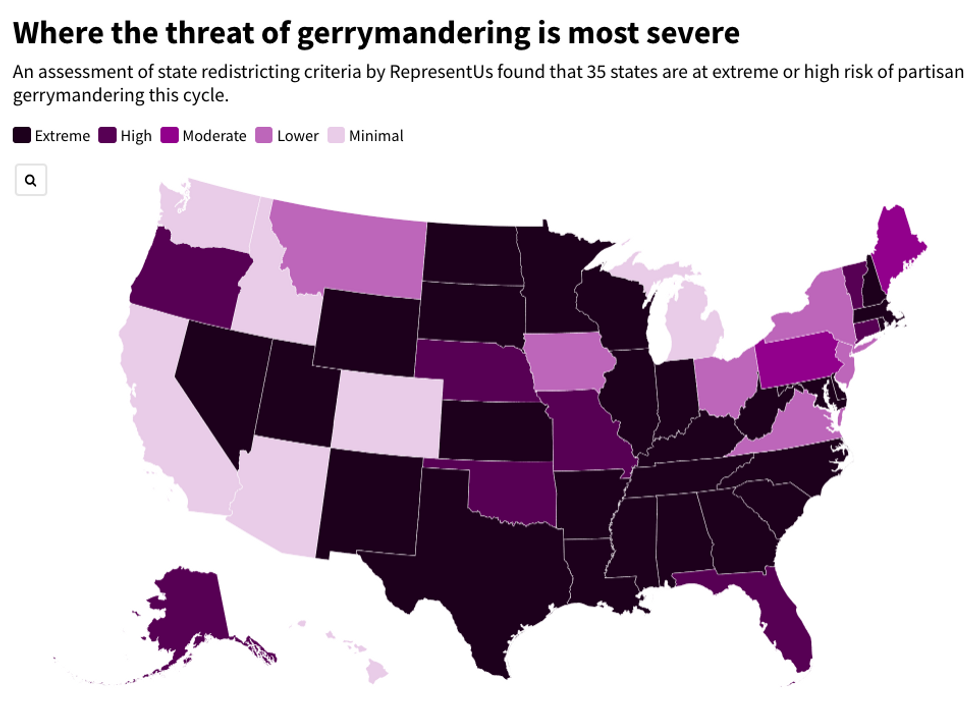 Source: RepresentUs
The country-wide solution to this pervasive problem, the report says, is Congress passing the For the People Act, more commonly known as HR 1. The sweeping reform legislation includes a provision requiring states to use independent redistricting commissions for their congressional maps, if they don't already have one in place.

Under HR 1, the states now considered at extreme risk would move to the low-risk category — all but ending partisan gerrymandering, the report says.
"This report makes it clear that gerrymandering is a national crisis that needs an urgent and bold solution. Politicians are already preparing to pick their voters during this year's redistricting. But with the For the People Act, Congress has a chance to stop them before they get started," said Josh Silver, CEO and co-founder of RepresentUs.
While House Democrats already passed HR 1 in March, the bill's fate in the 50-50 Senate is not as optimistic. With the filibuster still intact, it's unlikely the reform package will receive enough votes to pass.
From Your Site Articles
Related Articles Around the Web
Keep reading...
Show less
Despite record-high turnout in last year's general election, a new report found that a majority of congressional elections in 2020 were determined by only a small number of voters due to the widely used partisan primary system.

Unite America, which released "The Primary Problem" on Tuesday, found that just 10 percent of voters cast ballots in primaries that ultimately decided the winners of 83 percent of House seats. These "safe" seats are in districts that are reliably retained by the same party in nearly every election, so the real competition is not in the general election but in the primary.
The resulting problem, the report concludes, is high re-election rates for members of Congress, even though most voters don't feel adequately represented by their elected officials or approve of the job they are doing. Unite America's solution: Adopt open and nonpartisan primaries.
In most states, primaries are closed so only registered Democrats or Republicans can vote for which of their party's candidates they want to advance to the general election. This not only leaves out millions of minority party or unaffiliated voters, but it also leads to more polarizing politics.
Candidates in those districts tend to fall more on the extreme ends of the political spectrum in order to have a better chance at winning a partisan primary. Therefore, districts are pushed further into uncompetitive territory when it comes time for general elections.
Sign up for The Fulcrum newsletter
Last year, in 151 of the 361 congressional districts considered "safe," candidates for the dominant party ran unopposed in the primary. In the remaining 210 "safe" districts, voters in the non-dominant party "effectively had no voice in choosing their representative," per the report.
Unite America, which is a financial supporter of The Fulcrum, says more states adopting nonpartisan primaries will help solve the country's twin issues of dysfunction and polarization.
Nonpartisan primaries are designed to serve the voters, the report says. "They can give every citizen an equal voice, produce more representative outcomes, and improve governing incentives by ensuring our elected leaders are accountable to a broader swath of the electorate."
The most recent state to adopt such a system is Alaska. In last year's election, voters approved a nonpartisan top-four primary system that also uses ranked-choice voting. Starting in 2022, voters will rank their top candidates, with the four who receive the most support advancing to the general, regardless of party. California, Nebraska, Louisiana and Washington also use nonpartisan systems in which all candidates appear on the same primary ballot.
But most of the country uses some form of a partisan primary system. Nine states have closed primaries in which voters must be a registered Democrat or Republican and all other voters are excluded from participating, according to the National Conference of State Legislatures.
In 15 states, unaffiliated voters can participate in primaries, but the contests are still closed to cross-party voting. Six states allow voters to cross party lines in a primary, but they must publicly declare they are doing so. And the remaining 20 states are considered to have open primaries that either have all candidates listed on one ballot or allow voters to privately choose which party's ballot to vote.
There has been recent movement in Wisconsin to change the state's primary system to a nonpartisan one. Last week, a bipartisan group of state lawmakers introduced a bill to adopt "final-five voting." Under this system, there would be a single ballot for all primary candidates and the five who receive the most votes would advance to the general election. Then, voters would rank candidates in order of preference to determine the winner.
Democracy Found Executive Director Sara Eskrich, whose organization advocates for final-five voting in Wisconsin, said she's seen a lot of interest in this reform from voters and legislators alike because they recognize there is a systemic problem and the nonpartisan solution benefits everyone.
"Until major systemic reform is undertaken, it is likely incumbents will continue to change their behavior to avoid being primaried, rarely lose to more moderate challengers, and continue to put the interest of their narrow primary electorates over the public interest," the report concludes.
From Your Site Articles
Related Articles Around the Web
Keep reading...
Show less
Leigh Vogel/Getty Images
This is the third installment of an ongoing Q&A series.

As Democrats take power in Washington, if only tenuously, many democracy reform groups see a potential path toward making the American political system work better. In this installment, Karen Hobert Flynn, president of Common Cause, answers our questions about 2020 accomplishments and plans for the year ahead. Her organization has long been on the front lines of advocating for democracy reform. Hobert Flynn's responses have been edited for clarity and length.
First, let's briefly recap 2020. What was your biggest triumph last year?
In an unprecedented election year, challenged by the pandemic and rampant disinformation, Common Cause worked to ensure that every voter was able to cast their ballot safely, securely and with the confidence that their ballot would be counted. We navigated and combatted an unprecedented amount of online voter intimidation and disinformation, and implemented a multipronged approach to fight suppression policies, actions and tactics from an array of special interests at all levels, up to and including the Trump administration.
From the beginning of the pandemic, Common Cause state leaders worked with allies and election officials to plan for how the pandemic and the political climate would impact voters and election administration. As we advanced solutions — from paper ballots to voting-by-mail — at the state level, we also worked with election officials to ensure that they had strong election security provisions in place.
Sign up for The Fulcrum newsletter
Common Cause helped lead the nonpartisan Election Protection program, where we worked with a coalition of more than 100 national and state organizations on critical pieces of the program infrastructure, including communications, field and combatting disinformation. In the field program alone, we recruited, trained and deployed more than 40,000 poll monitors in 40 states. Overall, our grassroots volunteers sent and received more than 15 million texts to voters.
And your biggest setback?
False narratives about the election, specifically vote-by-mail, were deliberate and rampant. Social media companies failed to remove Donald Trump from their platforms in time, even though he was the biggest sower of these lies. Our anti-disinformation campaign's herculean effort to combat this was up against years of lies about the integrity of our elections. Trump created false narratives about election fraud before he was even elected in 2016. These lies convinced a significant number of Republicans that the election was stolen, which led to the violent insurrection on Jan. 6. We saw that when social media groups dropped Trump from its platform, disinformation dropped 73 percent.
What is one learning experience you took from 2020?
Words matter, and they can lead to violence. Lies, racism and words that stoke violence, repeated over time and left unchecked, do enormous damage. A president who will repeat these lies, abuse his office and threaten election officials can do untold damage to our democracy.
Now let's look ahead. What issues will your organization prioritize in 2021?
We will fight for accountability for those who tried to derail our democracy. We will push Congress to pass the For the People Act, the John Lewis Voting Rights Advancement Act, D.C. statehood and the Protecting our Democracy Act, along with reining in the power of social media platforms. We will continue to advance policy measures at the state level to expand voter access and ensure that our election infrastructure is secure and resilient. We will also fight against racial and partisan gerrymanders that deprive people of fair representation.
How will Democratic control of the federal government change the ways you work toward your goals?
We will be able to partner with a voting rights-minded Department of Justice, Department of Homeland Security and other government agencies to strengthen voter protections, voter access and election security. Democrats will have the ability to set the agenda, decide which bills move forward and have the power to convene hearings and put big ideas into practice. The term "Democratic control" needs to be qualified, though. So long as the Senate filibuster exists, Mitch McConnell can block bills that enjoy majority Senate support from going to President Biden's desk. The filibuster — what President Obama called a "Jim Crow relic" — needs to be addressed.
What do you think will be your biggest challenge moving forward? And how do you plan to tackle it?
Dismantling the architecture of systemic racism that allows laws like voter ID to masquerade as security as opposed to being seen as the voter suppression it is. The public is exhausted after four years of Donald Trump's poisonous time in office and the enormous damage he did. But we do not have the luxury of rest. Time is short, the list of priorities is long, and it will require Americans to stay engaged to make due on the promise of democracy.
Finish this sentence. In two years, American democracy will ...
be strengthened.
Keep reading...
Show less