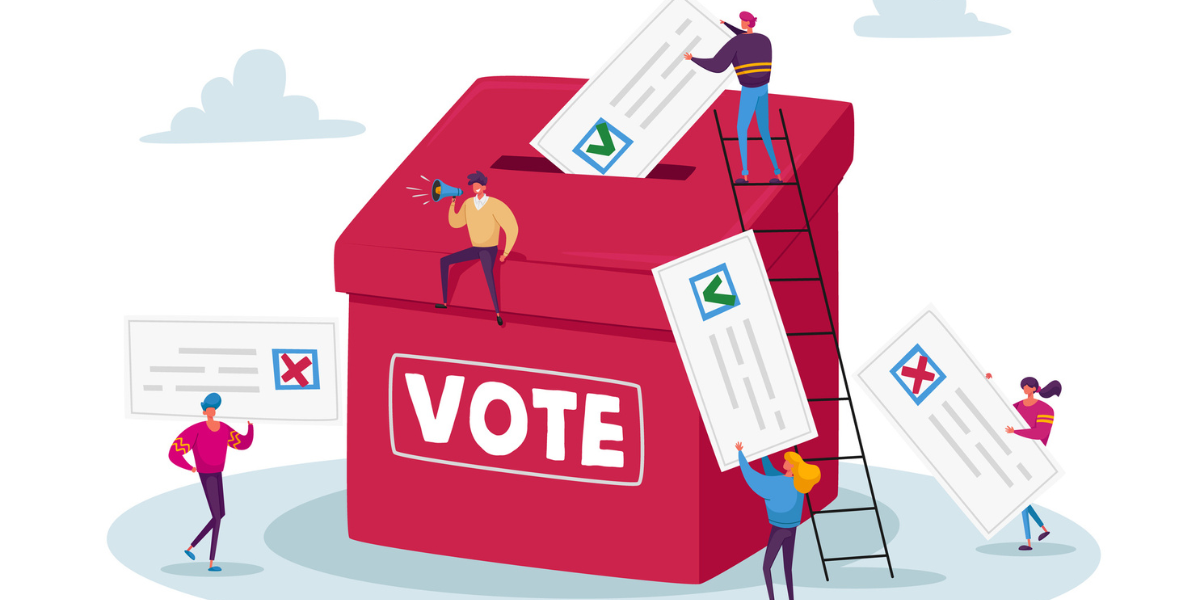 Getty Images
Adair is Communications and Operations Associate at Stand Up America, a pro-democracy organization.
A county election worker in Oregon recently found himself in an unsettling situation during his rounds collecting ballots from dropboxes. A disgruntled woman, driving erratically, had been following him for hours. As the situation escalated, the woman began shouting that she had a gun and would continue filming him doing his job. Unfortunately, this election worker is not alone.
One in six local elections officials in America have experienced threats while on the job. The dedicated citizens who keep our elections running smoothly face an increasingly hostile political environment. While they've repeatedly sounded the alarm about the need for increased security funding, their calls for help have mostly fallen on deaf ears.

Election workers serve on the front lines of our democracy, helping to ensure every American can exercise their freedom to vote. They do the often thankless work while acting as facilitators of our elections—from collecting ballots from dropboxes to opening polling locations in the early hours of morning. Before 2020, election workers carried out their duties largely unnoticed, but this drastically changed after Donald Trump falsely accused them of rigging the presidential election for Joe Biden.
Sign up for The Fulcrum newsletter
Trump's lies exposed election workers to escalating threats despite the non-partisan nature of their work. As a communications professional at a national democracy organization, I monitor election news trends and have witnessed a dramatic spike in threats to election workers over the last year. Many election workers feel unprotected: in fact, only 27% say the federal government is doing a good job supporting their needs. It's not surprising they feel this way when their calls for much-needed election security funding have been ignored by Congress.
Because of these threats, election workers are leaving the profession at a disturbing rate. A recent survey found that one in five local elections officials is unlikely to continue serving through 2024. Election administration will suffer if institutional knowledge is lost en masse before the next presidential election.
The federal government's lack of urgency is astounding. The U.S. Department of Justice established the Election Threats Task Force in 2021, but a year later, out of more than the 1,000 cases it reviewed, there was only one individual tried and sentenced. President Joe Biden's 2024 budget called for just $5 billion in election infrastructure funding over the next ten years, even as a bipartisan coalition of state and local officials estimates they'll need $53 billion to safely and effectively administer elections over the next decade.
Our leaders on Capitol Hill have fallen even shorter. Congress appropriated just $75 million for election administration in fiscal year 2023. While this year's appropriations process is ongoing, House Republicans have advanced legislation zeroing out election security funding altogether, leaving state and local elections officials to fend for themselves. The Senate did not follow their lead and included $75 million. However, this is still significantly less than the $400 million election administrators hoped for to make important improvements and repairs before the 2024 election.
In 2022, with conspiracy theories swirling, election officials understood that voters had more questions about their work. Rather than shy away, most administrators seized the opportunity to communicate with the public frequently and transparently. This dedication resulted in a dramatic increase in Americans' trust in election administration compared with 2020. As election workers repair our democracy, the least Congress could do is invest in them and in our elections.
Some states have taken steps to shield their election workers from intimidation and harm. Oregon, Colorado, and Maine enacted or increased penalties for threats against election workers. But a nationwide threat requires a nationwide response.
It is alarming that a job once conducted in obscurity has now become a target for harassment, threats, and conspiracy theorists. Election workers serve on the front lines of American democracy, and Congress must do all it can to ensure they have the critical resources they need to stay safe while administering our elections safely and peacefully. Safeguarding Americans' freedom to vote also means protecting democracy's vital entry point for every American: their local election office.