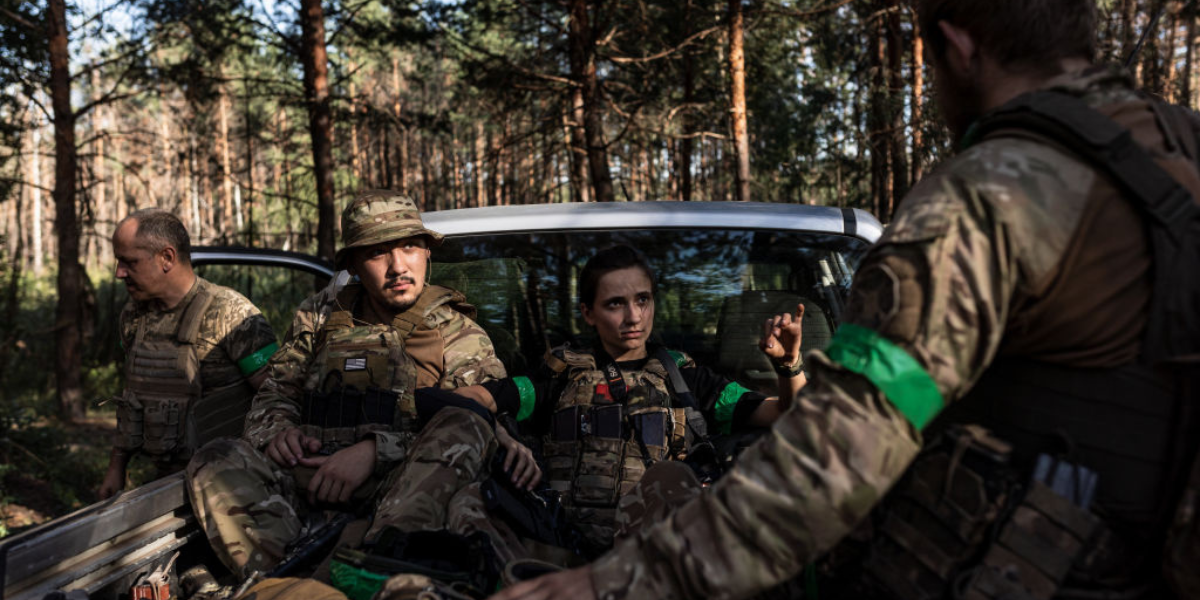 Getty Images
Kull is Program Director of the Program for Public Consultation.
Lewitus is a Research Analyst at Voice of the People whose research interests focus on policy, public opinion and democracy reform.
"Ear to the People," is an analysis conducted by Voice of the People, that tracks surveys on foreground policy issues from numerous sources. The surveys use standard polls with solid methodology, as well as including public consultation surveys that provide respondents briefings and pro and con arguments (reviewed by experts across the spectrum of views).
While it may sometimes seem that surveys produce contradictory results, usually when one examines the wording carefully it becomes clear that the questions are actually significantly different, each one providing a different angle. Integrating the findings together provides a complex, but coherent, picture of the public's views.
The key takeaways from an analysis of surveys conducted on attitudes of Americans on various aspects of the Ukraine war were:
Dig into the data below to learn more about the public's views on whether the US should provide military equipment, training, intelligence.
A bipartisan seven-in-ten supports the U.S. providing military assistance to Ukraine, including military equipment, ammunition, training and intelligence. Republican support is lower, but still a majority.
Sign up for The Fulcrum newsletter
When provided with background information and pro and con arguments:
Standard polls:
Whether the U.S. should provide funding
Standard polls: When U.S. support to help Ukraine fight against Russia is framed only in terms of financial assistance, without specifying how the funding would be used, a small majority or plurality are in support, but less than half of Republicans.
What types of military equipment should the U.S. send?
Bipartisan majorities or pluralities support sending both light and advanced weapons, and defense systems. When provided with background information and pro and con arguments:
Standard polls: note that when polls offer a "not sure" option, a substantial percent will choose that option, lowering the total percent in support or opposition. Research shows that this is not because those people lack any view on the policy or are undecided, but that they are expressing their lack of certainty about whether their view is correct. When the "not sure" option is not offered, most will choose an option that expresses a view.
A plurality of 45% supported the U.S. sending "Advanced weapon systems (for example, helicopters, cannons, armored vehicles)" with 29% opposed and 26% "not sure." Among Democrats, 59% are in favor. Among Republicans, 45% are in favor and 36% opposed. (Economist/YouGov, December 2022)
Whether the U.S. should provide humanitarian aid
A very large bipartisan majority supports the U.S. sending humanitarian aid, such as food and shelter, and aid for infrastructure repair. When provided with background information and pro and con arguments:
Standard polls:
Whether Ukraine should be encouraged to enter negotiations
Majorities prefer that the U.S. support Ukraine's position of not entering peace negotiations until Russia has first committed to withdraw its forces or until Ukraine has reclaimed its territory, even if this stance results in a prolonged conflict. While a clear majority of Democrats favor this position, Republicans' views are more mixed.
When provided with background information and pro and con arguments:
Standard polls:
When the poll included non-committal options, the total percentage in support dropped to a plurality:
Is Support Going Down?
Polls have shown some changes in public opinion towards aid to Ukraine since the start of the war. Support for providing military aid started very high at over seven-in-ten, gradually declined, but then recovered to two thirds and has stayed there since. The percentage saying the US is providing too much aid in general has gradually increased but is still less than 3 in 10. Republicans, however, have reached a plurality saying it is too much.

Providing military aid to Ukraine
Support for the US, "sending additional arms and military supplies to the Ukrainian government," started at 79% in March 2022, declined to 72% in July 2022 and then to 65% in November 2022. (Chicago Council of Global Affairs). Support for the US "provid[ing] weapons to Ukraine" started at 71% in March 2022, declined to 66% in October 2022, then to 58% in February 2023, and increased to 65% in June 2023 (Reuters/Ipsos). As noted, a PPC survey in June 2023 found 69% in support of continuing to provide military aid (Program for Public Consultation).
Respondents were asked whether the US, in response to Russia's invasion of Ukraine, was providing Ukraine with too much, too little, or about the right amount of aid. Those who said the US was providing too much aid was just 7% in March 2022, increased to 20% in September 2022 and then reached a high point of 28% in June 2023. Among Republicans, those saying too much started at a low of 9%, increased substantially to 32% and then reached a plurality of 47% (with 34% saying too little or about right) (Pew Research Center).
You can find these digests on various issues on Voice of the People's website.