Wipes and sanitizer are good for election security, feds say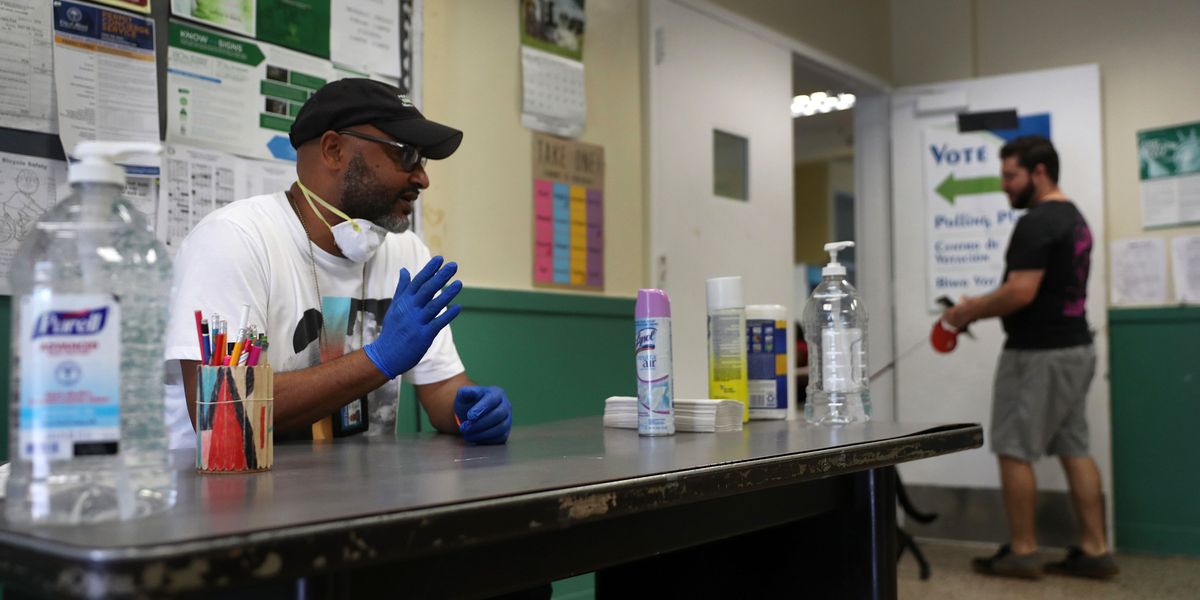 Joe Raedle/Getty Images
States may buy hand sanitizer, disinfecting wipes and masks with their federal grant money for bolstering election security.

That permission was granted Tuesday by the Election Assistance Commission, the latest example of how the novel coronavirus is reshaping the exercise of democracy this year.
---
Weeks before the global pandemic arrived in the United States, President Trump signed legislation in December providing $425 million to the states for security measures to protect election systems from the sort of hacking attempts by foreign operatives that occurred during the 2016 election. That was on top of the $380 million in grants approved in March 2018.

Election officials across the country are now scrambling to make sure Covid-19 does not totally disrupt the nation's voting — especially the wave of primaries this spring and summer for congressional seats and state legislatures and judgeships, even after the Democratic nominating contest is decided.
The EAC said its new guidance came in response to questions from state election officials about using grant money to pay for supplies to keep voting locations clean, assure equipment stays sanitary and minimize the health risks to both the election judges and the electorate.
The agency said it "considers these allowable costs purchased to protect the health and safety of poll workers, staff and voters during federal elections," so long as the expenses for cleaning supplies are reasonable and the material is only used to improve hygiene in federal elections.
Sign up for The Fulcrum newsletter
Among the concerns: Numerous complaints have been filed with consumer agencies across the country alleging price gouging by vendors selling disinfectants and other cleaning supplies.
Significant anxieties sprang up at polling places across Arizona, Illinois and Florida during Tuesday's presidential primary voting, with complaints that poll workers had no wipes or other cleaning supplies or were not properly using what they had.
Ohio's contest was postponed at the last minute because of health worries, and primaries have now also been postponed in four other states; Maryland, Kentucky, Georgia and Louisiana.
The EAC is also acting as an online information clearinghouse for state and local election officials on how they should respond to the coronavirus pandemic.
The most recent round of grant money has ranged from $38.7 million for California down to $600,000 each for Alaska, North Dakota, South Dakota and Wyoming