Coronavirus chaos at the polls as primaries proceed in 3 of 4 states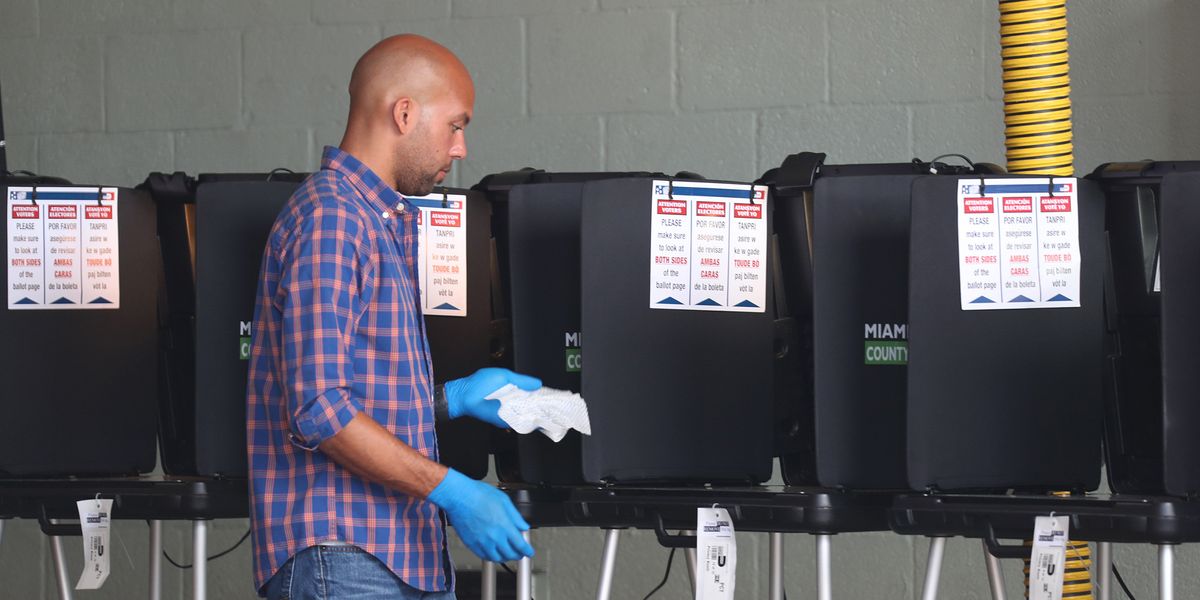 Joe Raedle/Getty Images
Chaos reigned Tuesday in all three states that pressed ahead with their Democratic presidential primaries in the face of the burgeoning coronavirus pandemic.
Legions of poll workers, who are mainly older people and therefore in greatest danger of Covid-19 infection, canceled at the last minute or failed to show up at voting locations in Florida, Illinois and Arizona.
Voters were caught off guard when they found their usual polling places shuttered because of health concerns. People in the three states were told where to head instead but people in Ohio were told all voting had been canceled for the day. And plenty of Americans with compromised immune systems decided to walk away rather than risk their health at voting sites they reported were not following basic hygiene standards.
"If it were not so tragic, it would be comical," said Ami Gandhi of the Chicago Lawyers' Committee for Civil Rights. His organization and a collection of other voting rights groups took stock of their reports from the field at midday.
---
The voting got started in the trio of states — with a combined 441 Democratic delegates at stake — just hours after President Trump sharply escalated efforts to contain the spread of the highly contagious and potentially deadly virus, telling Americans to stay away from groups of more than 10 people and avoid unnecessary trips away from home for the next 15 days.
Sign up for The Fulcrum newsletter
Late Monday night, Republican Gov. Mike DeWine of Ohio said that such a "health emergency" permitted him to order polls that were to open at 6:30 a.m. statewide to stay closed all day — even though a judge had ruled a few hours before that the election must go on. With the fate of 136 delegates at stake, and a relatively close contest in the state between former Vice President Joe Biden and Sen. Bernie Sanders, the governor said he would work to get Democrats more time to vote. All this produced the greatest confusion and angst anywhere on Tuesday.
One positive was being pulled from all this catastrophe: The three states that went ahead had also allowed for periods of early voting — and each reported healthy numbers of people had already cast their ballots.
Still, there was solid evidence that turnout on the climactic day of the primaries was going to be significantly less than had been expected.
Here are more details about what has been happening Tuesday in the three states holding primaries and the one that canceled.
Florida
Several polling places in Palm Beach did not open at all Tuesday morning because there were no officials there to unlock the equipment.
Elizabeth McClenaghan, chairwoman of the board of the state's Common Cause chapter, said some facilities where seniors live that were supposed to be voting sites chose on their own to opt out even though they were not covered by state bans on visitations to nursing facilities.
In addition, McClenaghan said her group was receiving calls from people who were afraid to vote because their immune systems are compromised and there were reports about places without supplies of sanitizer for voters or disinfecting wipes for cleaning voting equipment between each ballot.
Nearly 4.5 million Floridians, more than one in five, are 65 or older, the highest percentage of any state in the country.
Illinois
Gandhi with the lawyers' committee said that for the first time on an Election Day her group was hearing more from frustrated poll workers than from voters.
She said some were substituting for poll workers who had canceled and these people were not sure where to go or what to do and could not reach local election officials. She cited one instance where 25 people had been turned away from a polling site that did not open on time. Eventually, her group was able to redirect people to another location.
A major problem, she said, was the last-minute change in voting locations that left people confused.
Arizona
Closed and changed voting sites were also a problem across the Grand Canyon State. In Maricopa County, where Phoenix is located, 80 voting sites were closed because of a lack of poll workers or cleaning supplies to disinfect the sites.
The remaining 151 sites were redesignated as voting centers, meaning that anyone may vote at them. But all the changes left voters confused, said Patty Ferguson-Bohnee, head of the Indian Legal Program at Arizona State University.
Ferguson-Bohnee also expressed concern that proposals to remedy the voting problems by expanding voting by mail may not work for tribal voters who often do not have access to regular mail service.
Ohio
The cancelation came so late that many voters were not even aware of the decision.
Kristen Clarke, president of the Lawyers' Committee for Civil Rights Under Law, used the terms "deeply disturbing," "sheer chaos" and "unlike anything we have seen before" to describe what was happening across the state.
Ohio Department of Health Director Amy Acton formally issued an order closing all of the state's polling places. Early Tuesday the state Supreme Court rejected an attempt to open them.
Republican Secretary of State Frank LaRose announced Tuesday that the primary would be rescheduled for June 2 but later in the day the legislative leaders in Columbus announced that setting a new date was their prerogative.
The issue is expected to end up in the courts.