No spitting on ballots, and other primary day virus guidance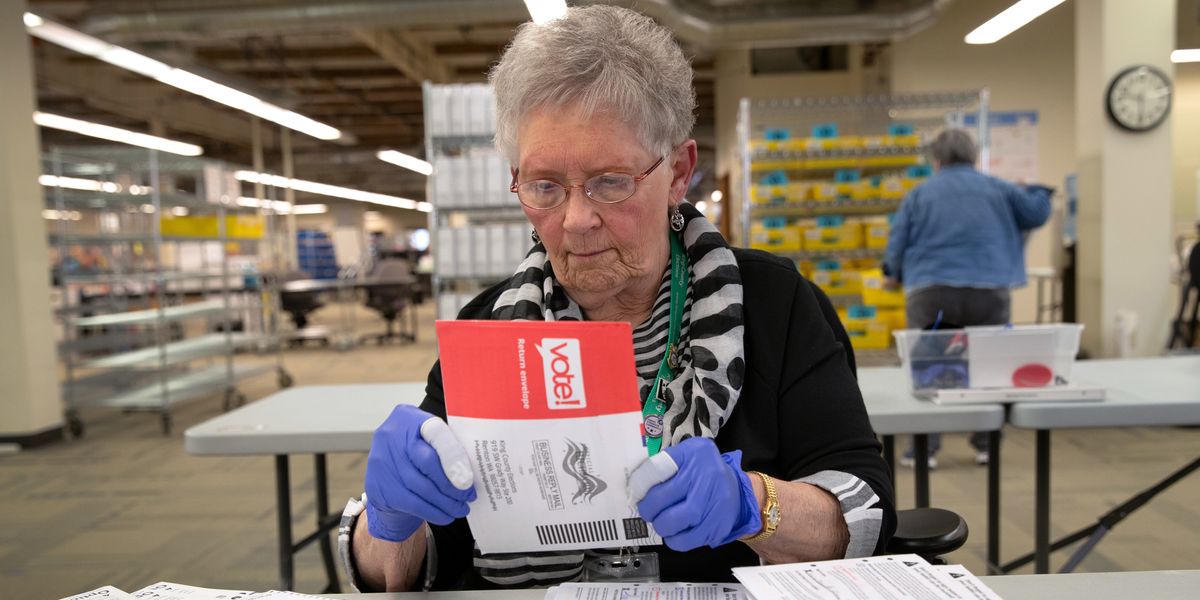 John Moore/Getty Images
More long lines, the smell of disinfectant and the sight of poll workers in rubber gloves are at the intersection of another big day of Democratic presidential voting and the rapidly spreading coronavirus.

As if there wasn't already enough public skepticism about the reliability of American elections, officials in six states were working Tuesday to assure voters they could participate in democracy's central rite and stay healthy at the same time — so long as they exercise common sense and basic hygiene.
The day began with some reassuring statistics. No confirmed coronavirus cases have been reported in Idaho, Mississippi, North Dakota or Michigan, the biggest prize of the day. There's a single Covid-19 patient in Missouri. And the biggest state in the nation where everyone is permitted to vote by mail is Washington, meaning Democrats in the state that also has the biggest known coronavirus exposure so far — 19 deaths and another 100 or so confirmed cases — have no need to get near a voting booth on primary day.
---
Perhaps the biggest potential election-related health threat in Washington is people using saliva to seal their ballots, which have to be postmarked by Tuesday night. Democratic Secretary of State Kim Wyman has ordered gloves for everyone opening voting envelopes and is asking voters to use a damp cloth on their mail-in ballots.
Sign up for The Fulcrum newsletter
Her mantra: "Whether healthy or sick, please don't lick."
Michigan also allowed people to cast presidential primary ballots early, either by mail or at their town hall, starting six weeks ago — and evidence is that a solid share of Democrats took advantage of this new option, tamping down a rush to the polls Tuesday. With 125 delegates at stake in the first primary among the Midwestern battleground states, Sen. Bernie Sanders is banking heavily on a victory as a firewall against the new momentum behind former Vice President Joe Biden.
In a memo to election clerks last week, Michigan officials urged poll workers to distribute hand sanitizers and wipes, plus keep latex gloves at the polling places and wipe down voting equipment, registration tables, pens and doorknobs with disinfectant.
Similar guidance was being given in the other four states, where all the voting is taking place in person — meaning people will have to stand in close proximity and then use equipment that's been touched by hundreds of others.
Crowded and cramped polling places are less a health risk for voters than for poll workers, who are inside the whole day. The federal government estimates that in 2018 three-fifths of the nation's poll workers were older than 61, and elderly people are the most susceptible to a virus. This suggests that recruiting people to serve as precinct-level election officials, which has already become more difficult in recent years, could become a bigger problem if Covid-19 remains a public health crisis into the fall.
"We cannot afford to wait until November to discover we don't have an adequate number of poll workers to manage this most consequential election," said the National Vote at Home Institute, which advocates for having the entire country vote by mail.
In the short term, "We're encouraging voters to make sure they wash their hands as often as possible and continue to practice good hygiene," GOP Secretary of State Michael Watson of Mississippi said. "With no confirmed cases in our state, we obviously still want to remain cautious. We encourage all Mississippians to go vote."
"Go to the polls," urged GOP Secretary of State Jay Ashcroft of Missouri, promising his state knew how to conduct healthy primaries because such balloting always happens in the state during flu season.
"I would, as politely as possible, tell people to follow through on their responsibility to participate and help to continue to make this state and this country the best it can be. And that happens when the people of this state in this country get out and make their voice heard," he said on ABC.