Tuesday's voting delivers big warnings about readiness for fall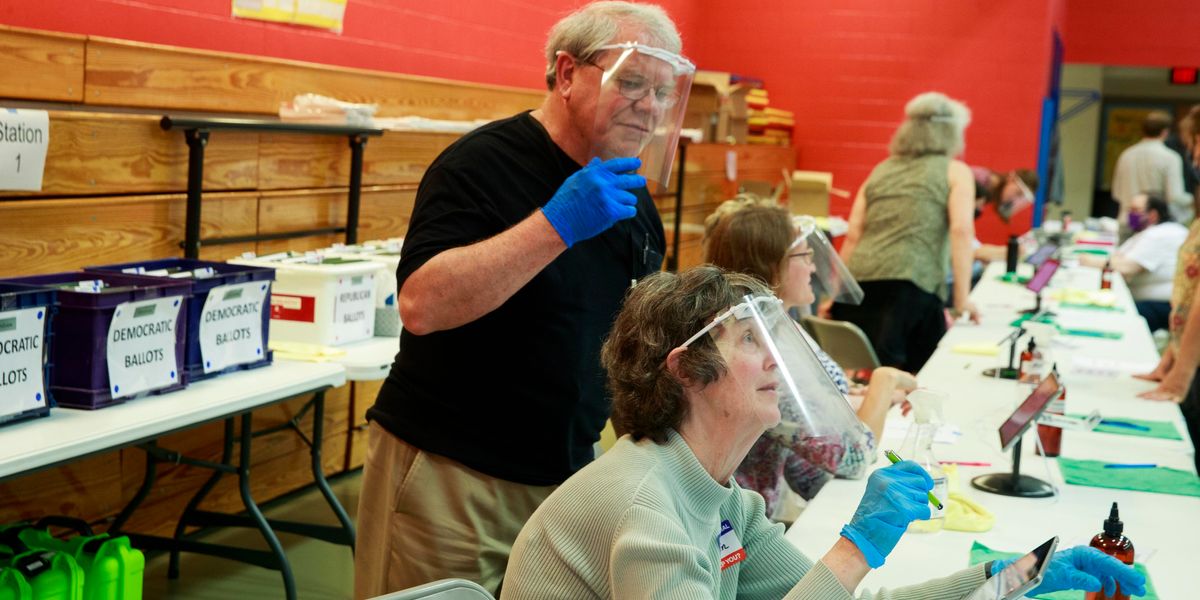 SOPA Images/Getty Images
Major worries expressed by election officials and good-government groups all came true on the biggest day of voting since the coronavirus pandemic shut down much of the country: absentee ballots that were never delivered, long lines for those who voted in person and results that have not been fully tabulated a day later.

At the same time, records were broken Tuesday in several states for turnout in a primary, with citizens seemingly determined to cast their ballots despite the extraordinary circumstance of holding elections during both a deadly pandemic and a time of violent civil unrest.
The principal takeaway is that plenty of work needs to be completed and improvements made in just five months, or else the country may not be able to conduct a safe and reliable presidential election — and potentially one with record turnout.
---
Voters went to the polls in eight states and the District of Columbia to choose nominees for congressional and local offices and to push former Vice President Joe Biden toward the cusp of securing the Democratic nomination to challenge President Trump.
All the states encouraged as many people as possible to vote remotely and mail back their ballots well in advance, and several of them buttressed that request by relaxing rules for requesting, completing and tabulating absentee ballots.
Sign up for The Fulcrum newsletter
The results proved so successful that in some states the share of people voting by mail soared by an order of magnitude, or more, from recent primaries. The increase meant, however, that election officials were so overburdened by the incoming ocean of paper that they made clear they would not be able to tabulate the results in time to announce winners on election night — and maybe not for a few days
Officials at VoteSafe, a new bipartisan initiative working to make elections safe and accessible, said Wednesday that this round of voting showed that for the fall election officials need to make sure absentee ballots are sent out earlier, that plenty of polling stations will still be needed — and that election officials need to be better prepared to count record numbers of absentee ballots.
"At least one result is clear already though," the group said. "Voters want choices in how they vote including secure absentee ballots and safe in-person voting locations. We can deliver that in November, and we must."
Here are snapshots of what happened in this week's elections around the country:
District of Columbia
The city opened just 20 polling places, not the usual 143, and as a result hundred of voters were standing in line for as long as three hours after the polls closed at 8 p.m., an hour after a citywide curfew had begun.
About 90,000 absentee ballots were requested, 15 times the usual number, and there were signs many thousands were not delivered in time. One city council member was encouraging people who had not received their absentee ballots to vote via email — something sure to spark worries by security experts.
Indiana
The state said 546,000 people requested absentee ballots, 10 times the number two years ago, after the government abandoned the usual excuse requirements in light of the coronavirus outbreak.
By midday Wednesday, less than one-third of the precincts in statewide races had been counted.
Iowa
Ironically, the state where the first-in-the-nation presidential caucuses had been such a disaster in February appeared to have the least problems, with complete results available. A turnout record of 487,000 votes for a primary election was set, in part because the state sent absentee ballot applications to every registered voter.
Maryland
Long lines were reported even though, for example, 95 percent of the votes in the Republican presidential primary were cast by mail.
Results from the city of Baltimore were pulled from the state website after a mistake was discovered in the ballot
Montana
Competitive primaries for both parties' nominations for governor drew more than 57 percent turnout, at or near a record for a primary in the state. All 56 counties chose to conduct their primaries almost entirely by mail after Democratic Gov. Steve Bullock gave his permission.
As of Wednesday, 87 percent of the precincts had been counted.
New Mexico
About 250,000 of the 400,000 votes cast were absentee ballots. And the surge (only 23,000 mailed votes were counted in the 2016 primary) was so strong at the last minute that the county elections boss in Albuquerque sent his staff home before midnight, the counting resuming in the morning.
Still, in-person voting was higher than expected. State GOP Chairman Steve Pearce said that some people who had requested absentee ballots voted in person instead because they were worried their absentee ballots would not arrive in time at election offices to be counted.
Pennsylvania
Final results will not be known until next week, state election officials told the Associated Press, in part because state officials made last-minute decisions to allow ballots mailed by the time the polls closed in eight urban and suburban counties to be counted if they arrived as long as a week later.
Demonstrations against police brutality, combined with changed rules because of public health concerns, were the reason. In Philadelphia, for example, 70 percent of the polling places were closed because of unrest downtown — including 18 consolidated at the convention center, which was in an area where cars had been barred.
The delayed results included determining the nominees in four highly competitive congressional districts. "We're accustomed to knowing more results from around the commonwealth on primary night, but since this is the first time we have vote-by-mail on this scale, it's important to remember that an accurate count is far more important than a quick count," state Democratic Party Chairwoman Nancy Patton Mills said.
Rhode Island

Election officials are still at work Wednesday counting ballots, and it may be several more days until they finish.
So many people requested vote-by-mail ballots that they all didn't arrive in time to be mailed back so state officials decided to provide secure boxes to every community where ballots could be dropped.
South Dakota
Turnout was about 25 percent with almost 90 percent of the precincts counted. Nearly five times as many absentee ballots were cast during the primary than in the 2016 primary.
As a result of the push for voting by mail, turnout at in-person voting sites seemed minimal. Halfway through Tuesday, the downtown library in Sioux Falls, the state's largest city, had seen just 14 voters. On a normal election day, 150 have voted there before work.