Voting during the virus: Missing ballots, missing postage, delayed Democrats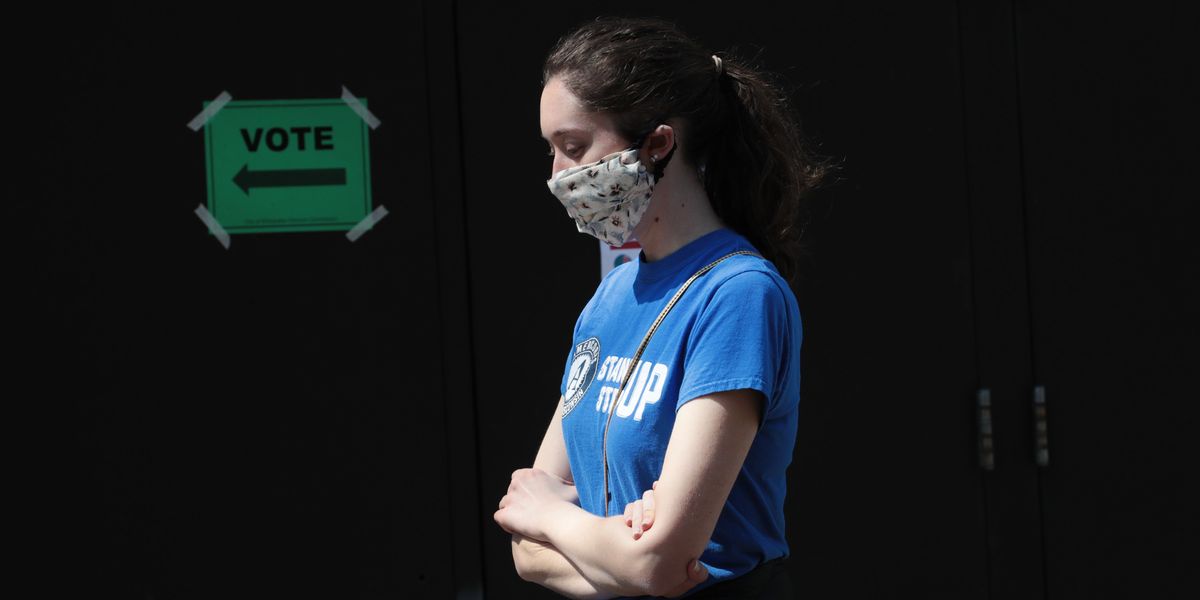 Scott Olson/Getty Images
Coronavirus continues to roil the country's elections — not only in states where elections have taken place, most notoriously in Wisconsin, but also in those where voting hasn't happened yet.

A federal judge has ordered Wisconsin's results kept under wraps until next week, to allow ballots mailed in the final hours to arrive and get counted. So for now the focus after Tuesday's chaotic primary is on why so many of those envelopes didn't get to people's houses in time.
Meanwhile, at least five states are making plans to further delay or modify their primaries in hopes the voting can be free of masks and rubber gloves. And election officials in Georgia faced new complaints about their plans for making voting easier in the state's primary.
These are the latest developments:
---
Wisconsin
In the weeks leading up to the primary, when in-person voting looked like it would be on again and off again too many times to count, nearly 1.3 million absentee ballots were requested, according to the Wisconsin Election Commission.
Voting rights groups said the main complaint at polling places were from legions of people who said they felt compelled to venture out to vote because the ballots they'd asked for never showed up.
Sign up for The Fulcrum newsletter
The Supreme Court ruled Monday night that their return had to bear an Election Day postmark at the latest. The justices reversed a lower court decision that said, because of the delays in fulfilling such a huge and late-peaking flood of requests, voters could fill out their ballots after Tuesday so long as the paper made it to election offices by Monday.
The Milwaukee Election Commission plans to seek a formal Postal Service investigation into what happened to absentee ballots that failed to reach voters, according to executive director Neil Albrecht. He said Wednesday the commission noticed a pattern where absentee ballots mailed out by the city on March 22 or 23 never arrived. He did not have exact numbers.
Meanwhile, Wisconsin Election Commission head Meagan Wolfe also said her agency was going to look into the same issue. She guessed that the problem was one of data entry.
Georgia
The American Civil Liberties Union and the group Black Voters Matter filed a lawsuit Wednesday on behalf of voters demanding that the state pick up the cost of postage to return absentee ballots.
The suit argues that the cost to voters to pay for postage amounts to a poll tax, which is illegal. It also argues that requiring people to leave their homes to buy stamps will expose them to the virus. Georgia's delayed primary is scheduled for May 19.
In addition, officials announced that about 60,000 voters received absentee ballot request forms with the wrong return mail or email address. Election officials said the absentee ballot requests will be delivered to their correct destinations, even if voters send them to the erroneous pre-printed addresses.
Delayed primaries
With their party's presidential nomination no longer being contested, Democratic governors in five states on Wednesday made plans to delay, cancel or alter the rules for their primaries.
In Virginia, Gov. Ralph Northam pushed back the state's congressional primaries by two weeks, to June 23.
In Maine, Gov. Janet Mills signaled congressional and legislative primaries would be delayed five weeks, to July 14.
In New Jersey, Gov. Phil Murphy postponed congressional primaries by five weeks, to July 7, and said he was considering an all-mail primary.
In New York, Gov. Andrew Cuomo announced he was suspending the excuse requirements for obtaining absentee ballots for the June 23 primaries for Congress and the Legislature.
In Connecticut, Gov. Ned Lamont signaled he would take the advice of Secretary of State Denise Merrill, who called for the cancellation of the already-postponed-once June 2 presidential primaries now that both President Trump and former Vice President Joe Biden are running unopposed for their nominations. Primaries for Congress and the General Assembly are not until Aug. 11.