D.C. primary plagued with problems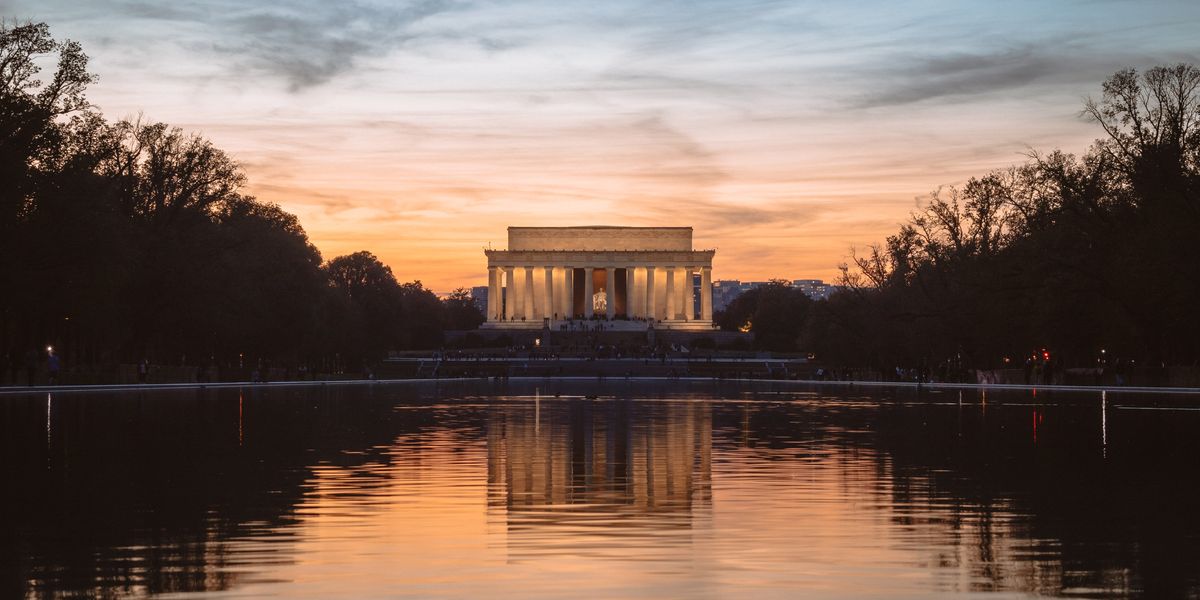 District of Columbia residents waited in long lines with poor social distancing to cast their primary ballots Tuesday in an election that took place amid concerns over the Covid-19 outbreak and Mayor Muriel Bowser's citywide curfew.

The elections in the overwhelmingly Democratic city were for national and local races. Results on Tuesday night indicated progressive Janeese Lewis George ousted moderate incumbent Brandon Todd, a close ally of Bowser, while voters also soundly rejected the scandal-ridden Jack Evans, who was aiming to reclaim the Ward 2 council chair he relinquished this January. In the Democratic presidential primary, Joe Biden cemented his place as the presumptive nominee with nearly 77 percent of the vote.
The D.C. Board of Elections had encouraged all eligible voters to use mail-in ballots, but many voters said they never received ballots or received them too late. When results were released, about 50,000 absentee ballots had been counted. In a post-election press release, the board said it received 91,000 requests for absentee ballots, which is far higher than the 6,000 requests it usually fills. Some voters were allowed to cast ballots in PDF form via email, but many showed up at polling centers eager to make their voices heard.
Sign up for The Fulcrum newsletter
---
"The demand was high, the chaos was significant and still now, there's confusion," said Reana Kovalcik, communications director for at-large Councilmember Elissa Silverman.
In a last-minute effort to get votes counted, Silverman's office forwarded email ballots from about 500 constituents, by its own estimate, to the board last night. Kovalcik described the voting method as "an extreme measure usually reserved for military overseas voters" but said the elections board had approved it as an option for those that did not receive a ballot in time.
However, frustrated voters across the city described waiting several hours in line at their polling places. Typical wait times of one to two hours ballooned to three, four and even five hours in some cases, with queues weaving around buildings and extending a few blocks.
"People were just walking away because they saw how long the line was," said John Walsh, who waited nearly five hours to vote in Columbia Heights.
Walsh eventually cast his ballot at 20 minutes past midnight, with about 70 people still behind him in line.
"There was a real lack of social distancing," added Walsh. "With that many people in one place, it's problematic."
Typically, there are 144 voting precincts throughout the District. Amid the Covid-19 outbreak, the Board of Elections had culled the number of polling places to just 20, with no more than three locations per ward. In some cases, this forced voters to travel further than they usually do.
Aaron Keyak and his family live in Foggy Bottom, near the campus of George Washington University. Keyak's usual polling site is at the Francis-Stevens School, a 10-minute walk from his place. Yesterday, he cast his ballot at One Judiciary Square, which is a half-hour car ride away.
"I have the ability to have my wife watch our child and the ability to leave work and stand for what amounted to over three hours in an attempt to vote," said Keyak.
"I was thinking about all of the voters who left the line and all the voters who are disenfranchised and didn't even show up," he continued. "Voting should not be this difficult."
Adding to the confusion last night, Bowser reimposed a citywide curfew for a third consecutive night in response to protests over the murder of George Floyd, an African-American man in Minnesota. The curfew began at 7 p.m., but polls closed at 8 p.m., raising major concerns that the heavy police presence around the city would deter many residents planning to pay a last-minute visit to their polling place.
On the way to his polling place, Keyak saw Humvees on the street and officers in full body armor.
"I was in San Francisco after 9/11 and I remember walking around downtown San Francisco," he said. "This was a much different feel and it's how I imagine a war zone would feel like."
In an emergency alert sent to the mobile phones of all residents, Mayor Bowser had announced "individuals who are voting or participating in election activities" would be exempt from the curfew, but there was little clarity on how police would enforce the rule. Before the curfew went into effect, Metropolitan Police Department Chief Peter Newsham told reporters that people would be credentialed after 7 p.m. However, voters do not need to carry credentials with them and only need to provide valid proof of residence in the District in order to cast their ballot.
Poll workers assured those voting after curfew that their "I Voted" stickers would serve as ample evidence of why they were not in their homes, but many voters took to social media noting many cops did not seem aware of the policy.
Describing the scene at the vote center in One Judiciary Square, George Washington University student and D.C. elected official James Harnett said: "Two patrol cars [] turned their speakers on people waiting in line: "The Mayor has declared a 7 PM curfew! Go home!" MPD Officer on scene to monitor the election frantically tried to wave them down to get them to stop, but failed. Voters very confused."
Nope. Two patrol cars at One Judiciary Square turned their speakers on people waiting in line: "The Mayor has decla… https://t.co/eWOps0Av2o

— James Harnett (@James Harnett) 1591150022.0
Many people, including city council members, expressed concerns that the rushed and haphazard enforcement of the curfew would effectively disenfranchise people of color from the vote.

"This was our first time voting in D.C.," said Cathryn Paul, a 26-year-old Deanwood resident who went to the polls with her fiance.
"I've been voting in Maryland and always had a pretty great experience," said Paul. "I know we're in the middle of a pandemic, but this was pretty intense."
Deanwood, a two-square-mile neighborhood east of the Anacostia River, is a majority-black community and Paul and her fiance are both African-American. The couple left their house to vote 20 minutes after the curfew was imposed and stood in line with over 400 people, eventually casting their ballots after midnight.
"A lot of organizers have made it really clear: you can't just protest, you have to vote as well," said Paul. "It was pretty unbearable that first hour, but there was this sense of shared injustice for waiting so long that kind of prompted all the people in line [to stay and vote]."
The duo made friends with fellow voters, shared Twitter feeds from the protests happening around the city and held "robust conversations" on the issues that had brought them to the voting booth that day. A nurse in scrubs relayed her concerns to the group about the lack of leadership shown in response to Covid-19.
"There was definitely a serious desire to be present and to vote," said Paul, referring to the community spirit on display. "Because it was the last day and we have no other options, there's too much at stake for us not to be involved."