What to watch for in the Massachusetts primaries
https://twitter.com/davidmeyers?lang=en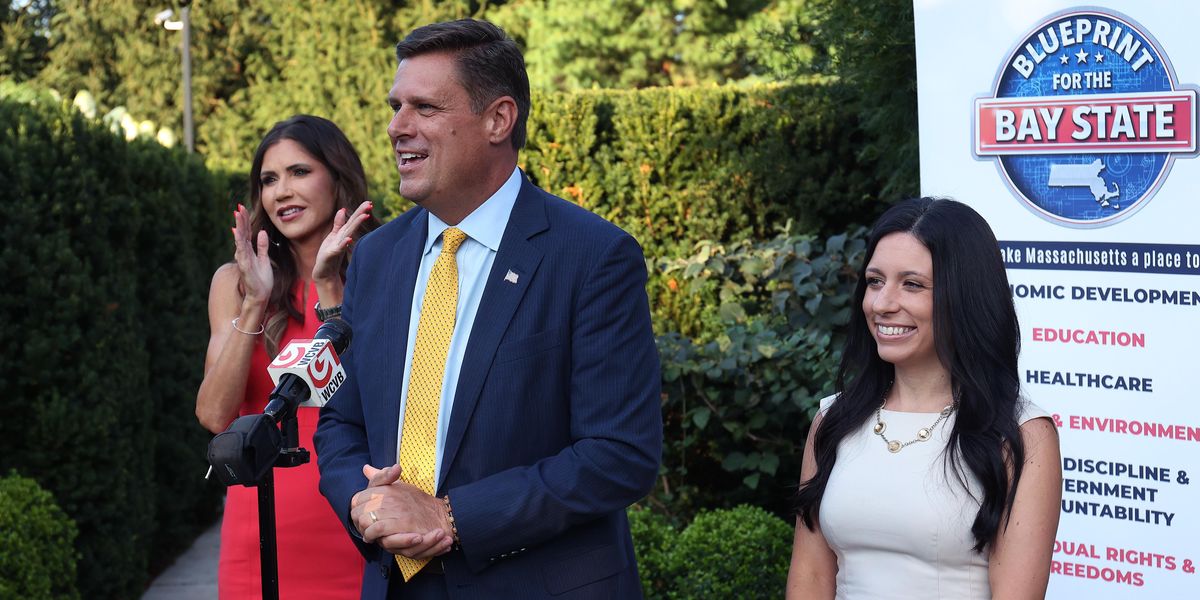 Barry Chin/The Boston Globe via Getty Images
Massachusetts hasn't thrown its electoral votes toward the Republican presidential candidate since 1984 and it hasn't had a Republican senator since the Carter administration. And yet, the state has had just two Democratic governors since the mid-1960s. On Tuesday, GOP voters will decide which candidate will try to keep up that gubernatorial dominance in the November election.

The Bay State's semi-open primary, the only one being conducted Tuesday, will determine candidates for governor, lieutenant governor, attorney general, secretary of state, state auditor, and other federal and local offices. Massachusetts is the only state conducting a primary this week.
State Attorney General Maura Healey is a lock for the Democratic nomination for governor, and she will face either former state Rep. Geoff Diehl or businessman Chris Doughty in November. Diehl has been endorsed by Donald Trump and hopes to ride the former president's backing to the nomination, while Doughty claims he is the only Republican capable of defeating Healey.
---
The Republican candidates have each informally aligned with a former state representative seeking the lieutenant governor nomination, as Diehl and former Leah Cole Allen are campaigning together against Doughty and Kate Campanale.
Three Democrats – Salem Mayor Kim Driscoll, state Rep. Tami Gouveia and state Sen. Eric Lesser – are competing to be Healey's running mate.
Sign up for The Fulcrum newsletter
Other races:
Republican Jay McMahon, an attorney, is running unopposed for the attorney general nomination and will face either former Boston City Council President Andrea Campbell or attorney Shannon Liss-Riordan in November.
Incumbent William Galvin is trying to fend off an intraparty challenge from fellow Democrat Tanisha Sullivan so he can extend his 28-year run as secretary of state. Rayla Campbell, an insurance claims specialist, is the only candidate in the GOP primary. Galvin is the only statewide incumbent on the ballot but the party threw its support to Sullivan, head of the Boston chapter of the NAACP, at a convention earlier this year.
The state auditor contest features a two-person Democratic primary involving former state transportation official Chris Dempsey and state Sen. Diana DiZoglio. The winner will face Republican Anthony Amore, who has a background in security and investigations.
Massachusetts has nine congressional districts. Democrats hold every seat and all of the incumbents are running unopposed in the primaries. There are competitive GOP primaries in two districts.
Massachusetts, with its divided government, has made few permanent changes to its election system since the outbreak of Covid-19 and the unfounded allegations of voter fraud that have been raised by Donald Trump and his allies.

But in June 2022 the state did enact a wide-ranging election law. Its provisions include:
Requiring jurisdictions to allow early voting and extending the window for casting such ballots, including weekends.
Requiring a police presence at all polling locations.
Requiring jurisdictions to offer voting by mail in most elections.
Requiring the state to send early voting applications, with prepaid return postage, to all registered voters.
Allowing someone to apply for a mail ballot on behalf of a family member.
Expanding ballot options for disabled voters.
Expanding electronic voting options for military and overseas civilian voters.
Expanding the options for returning mail ballots.
Extending the deadline for the officials to receive mail ballots.
Requiring voter registration and voting services for eligible incarcerated voters.
Requiring correctional officials to provide voter information to people upon their release from prison.
Extending the voter registration deadline and requiring the online system to be available in multiple languages.
Directing the secretary of state to join ERIC, an interstate system for sharing voter registration information to facilitate maintenance of the voter rolls.