Elections legislation has no place in end-of-year congressional agenda
https://twitter.com/davidmeyers?lang=en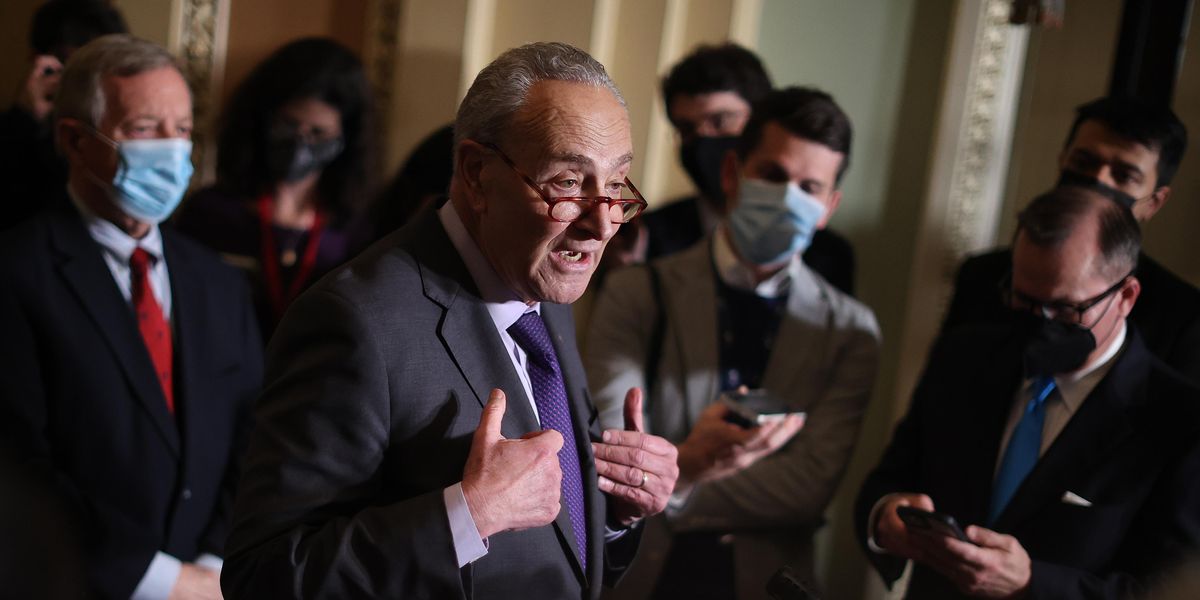 Chip Somodevilla/Getty Images
As Congress continues to plod its way through a series of high-profile, and in some cases critical, bills before departing Washington for the December recess, a pair of election reform bills appear to be left by the wayside.

Last week, Congress averted a government shutdown by approving a short-term spending bill and leaders are negotiating on two more legislative priorities this week: an annual defense authorization bill and a measure to prevent the United States from defaulting on its debts.
Those and other bills leave little, if any, room for Senate consideration of the Freedom to Vote Act and the John Lewis Voting Rights Advancement Act, which so far have been blocked by Republicans.
---
Monday morning reports on the congressional schedule detail efforts to pass the National Defense Authorization Act, which sets policy for the Pentagon each year, and an increase in the debt ceiling, a move that allows the federal government to take on more debt without resorting to extraordinary measures such as default.
Democrats are also hoping to push through the Build Back Better Act, a massive increase in social safety net spending that Republicans oppose. And the Senate GOP may force a vote on a measure to block implementation of President Biden's vaccine mandate for private companies.
Sign up for The Fulcrum newsletter
Congress is scheduled to begin the December recess on Dec. 13, leaving just a few days to complete the agenda. But few on Capitol Hill expect that schedule to hold, and Senate Majority Leader Chuck Schumer has said he wants the major legislation all completed by Christmas.
Even if they were to stay in town longer, there's little talk of election legislation making another appearance on the Senate floor.
A coalition of more than 200 organizations advocating passage of the elections bills issued a letter Thursday calling on Congress to delay the recess so it could take up to the two measures.
"The most important step that Congress can take to protect the array of issues our organizations advocate for is to pass these vitally important voting rights bills in order to ensure that all Americans' voices are heard in our democracy," reads the letter, signed by members of the Declaration for American Democracy coalition and the Leadership Conference on Civil and Human Rights.
The Freedom to Vote Act is a wide-ranging collection of changes to elections, campaign finance and ethics rules. It's the successor to the For the People Act, which was blocked this summer by Senate Republicans after passing the House. Moderate Democratic Sen. Joe Manchin of West Virginia negotiated changes, with hope of bringing on enough Republicans to overcome a potential filibuster, but the GOP remains united in opposition.
Similarly, the John Lewis Voting Rights Advancement Act has been blocked by Senate Republicans after being passed by House Democrats. That bill would restore a provision of the 1965 Voting Rights Act that required states with a history of racial discrimination to get approval from the Justice Department before changing election laws. That provision, known as "preclearance," was struck down by the Supreme Court in 2013.
"This legislation must be a top priority on the remaining agenda for the year, and we urge you to stay in session to do whatever it takes until these bills are passed because inaction is not an option," the advocates wrote in their letter.
Voting rights groups have also called for Senate Democrats to abolish the filibuster or at least modify the rule so election legislation can be passed by a simple majority. But lawmakers have resisted those calls for now.