Klobuchar picks Georgia to do what rivals haven't: Lean in to democracy reform agenda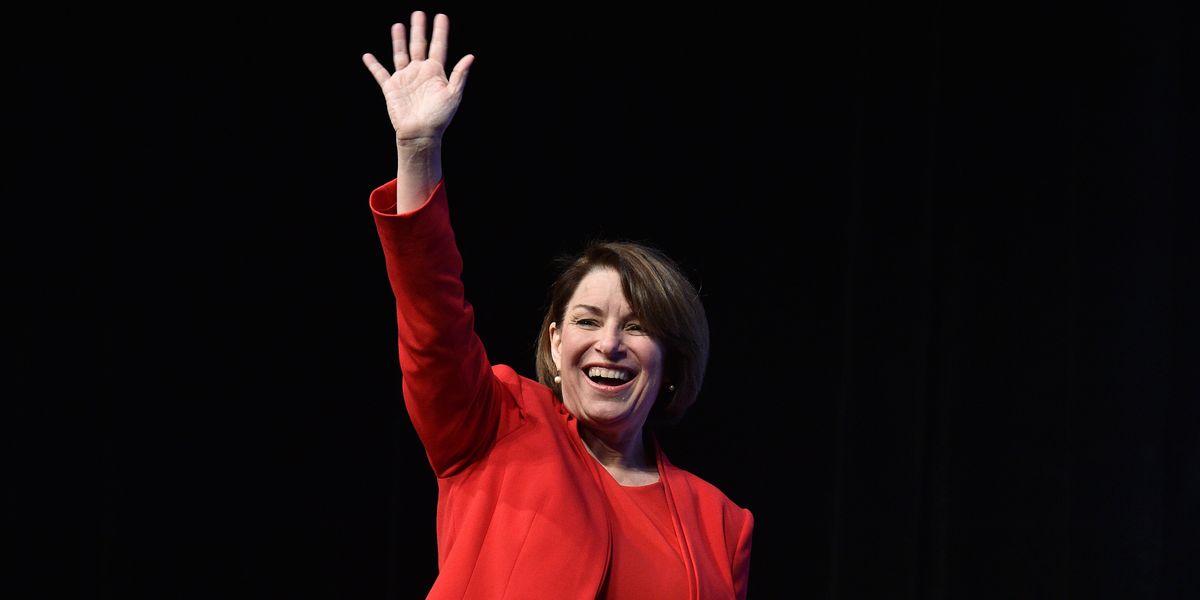 David Becker/Getty Images
A top issue on the democracy reform agenda — protecting elections against both disinformation and cyber hacking — is getting some unusual attention this week in the Democratic presidential campaign.
Amy Klobuchar, arguably at the top of the second tier of candidates given her rising support in Iowa, went to Atlanta on Monday to highlight her efforts in the Senate to enhance election security and to unveil some additional proposals.
The choice of location made sense for two reasons. She and nine other Democrats will meet in the city Wednesday night for their latest in a series of debates where the governing system's problems have so far received short shrift. And Georgia has emerged as the most prominent state where bolstering voting rights and election integrity have become a top priority of the Democratic establishment.
---
The Minnesota senator, who's the top Democrat on the committee with jurisdiction over elections, has done more than most of her presidential rivals to prioritize fixing the voting system's vulnerabilities. This summer she issued a roster of the first 100 things she would do as president, and "prioritize cybersecurity and protect our elections" was No. 7.
In Atlanta, she sought to highlight her work on those issues by convening a roundtable with experts from the ACLU, the state Democratic Party and other groups.
Sign up for The Fulcrum newsletter
After reiterating proposals she's pushed so far, Klobuchar vowed that as president she would work to prohibit states from culling from their voter rolls people who have not cast ballots in recent elections. This has become a flashpoint issue in Georgia, where state officials have begun plans to purge more than 300,000 registrations before the state's presidential primary on March 24.
She also said she'd push legislation outlawing exact-match standards, in which states require voter registration documents to reflect precisely the information on other government identification.
Georgia's law to this effect was among the reasons why thousands of people were turned away from the polls last year, when Democrat Stacey Abrams lost her bid to become the nation's first black female governor by the narrowest of margins. The statute, disputes over absentee and provisional ballots, and unforeseen delays at polling sites have triggered a series of federal lawsuits. Gov. Brian Kemp, who defeated Abrams while serving as the state's top election official, and other Republican officials maintain that everything civil rights groups complain about was done in the name of preventing voter fraud.
With an average of 5 percent support in recent polls, Klobuchar has risen to fifth in Iowa, where the first presidential voting will take place at the Feb. 3 caucuses. She is positioning herself mainly as a centrist who is more experienced than Mayor Pete Buttigieg of South Bend, Ind., and more vibrant than former Vice President Joe Biden.
In Atlanta, she talked about a package of proposals her campaign issued later in the day: It includes automatically registering American teenagers on their 18th birthdays, making Election Day a federal holiday, and overhauling the Federal Election Commission to boost its powers and ease its governing structure.
At the heart of her plan to combat disinformation is passage of the so-called Honest Ads Act, her bill with Republican Lindsey Graham of South Carolina to mandate the disclosure of who pays for political advertising online. It has an equal number of supporters from each party in the House but no vote has been scheduled, and if it passes there it looks doomed to oblivion in the Senate thanks to the election reform policy roadblock erected by Majority Leader Mitch McConnell.
Klobuchar said as president she'd revive that bill, and also would push legislation to bar foreign nationals from buying election ads or from being involved in deciding how American political action committees spend their money.
On election security, she used her time in Atlanta to underscore her work to get as much money in the coming budget as possible for grants to help the states prevent cyber attacks and modernize their voting equipment before next November.
She worked to get 36 others in her caucus to go on record Monday in favor of appropriating $600 million for the states and $16 million for the Election Assistance Commission — ideally in the stopgap funding bill on tap to be assembled this week, but if not then in the budget package that must follow. The Senate bill, which McConnell agreed to back after months of resistance, calls for only fractions of those amounts.
The other five Democratic senators running for president all signed the letter: Michael Bennet of Colorado, Cory Booker of New Jersey, Kamala Harris of California, Bernie Sanders of Vermont and Elizabeth Warren of Massachusetts.