America's youth shows how to defend freedom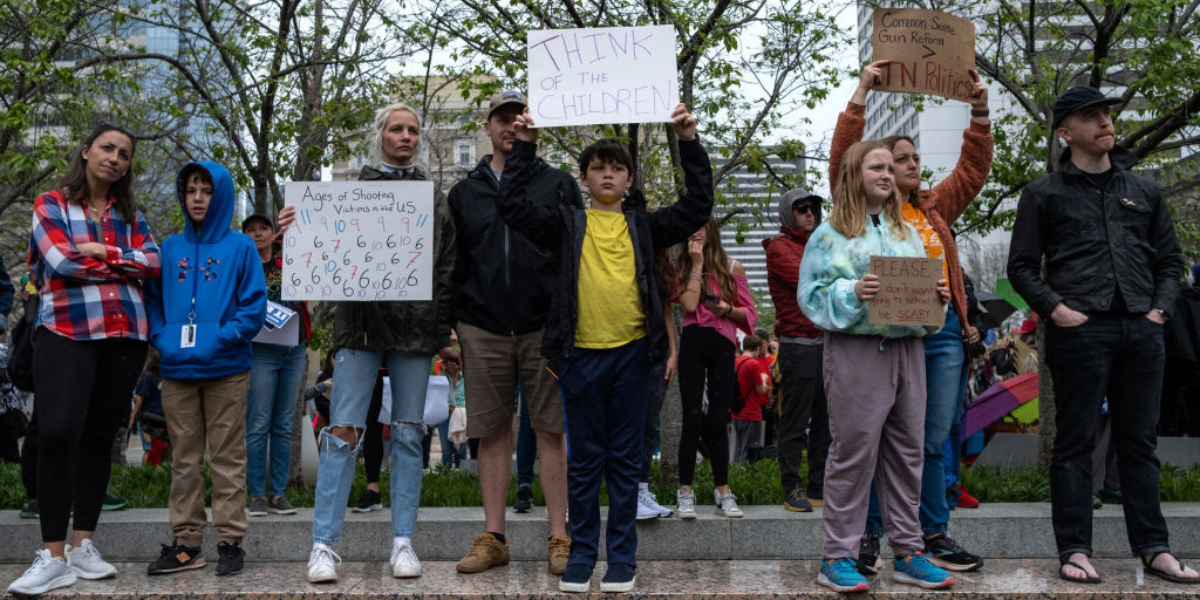 Photo by Seth Herald/Getty Images
Aftergut is a former federal prosecutor and Chief Assistant City Attorney in San Francisco who writes on national affairs. He has argued and won cases in the Supreme Court of the United States and of California.
Neither youth nor the vote is wasted on the young. Events this month from Tennessee to Wisconsin to Pennsylvania have proven that young people will fight for their freedoms and rights, including the right to be safe.
---
As Republican state legislatures respond with youth-vote suppression laws, there are pathways open to citizens seeking to ensure a democratic future for Generation Z. More on that in a moment.
First, let's look at their recent activism. This month, the threat of being shot in school launched student walk-outs and a protest for gun safety inside the statehouse in Tennessee. Those actions followed the shooting deaths of three children and three adults at Nashville's Covenant School on March 27.
The students' protest prompted a virtuous cycle: Three Democratic legislators joined the demonstrators; the Republican House majority reacted by expelling the two legislators who were black; then, with the whole world watching, a week later, the Tennessee Assembly's majority backpedaled in humiliation and accepted the two expelled members' reinstatement.
Sign up for The Fulcrum newsletter
Republican Governor Bill Lee reversed course and signed an executive order aimed at strengthening background checks for gun buyers. Reinstated legislator Justin Jones poetically pronounced that "truth crushed to the ground will rise again."
Then there's Wisconsin. On April 4, the threat to women's reproductive freedom drove young people to the polls in unprecedented numbers to vote for Janet Protasciewicz, the pro-choice candidate. Her election secured a 4-3 majority in favor of abortion rights.
The college student vote "was unlike anything that's ever been seen in a spring election," according to Teddy Landis, an organizer for Project 72 WI, whose mission is to turn out young voters. The Washington Post reported about an illustrative county, Eau Claire, where the highest turnout was in the ward where the upper campus of the University of Wisconsin at Eau Claire resides. Protasciewicz received 87 percent of the vote in that ward.
A day before in Pennsylvania, more than 150 high school students walked out of their classes in College Park, [h]olding signs reading 'Stop Banning Books,' [and] 'Books Aren't Obscene, Censorship Is.' They were protesting a policy the Perkiomen Valley School Board was considering that targets "sexualized content" in library books, a right wing talking point meant to appeal to parents.
Book-banning would seem an uncomfortable fit with the School District's Mission Statement: "We cultivate an inclusive community of learners, empowered to grow intellectually, socially, emotionally."
To borrow from Newton's third law, for every hypocritical adult action, these kids have an equal and principled youth reaction.
As Philadelphia Inquirer columnist Will Bunch wrote, "America's young people — the ones who left their classrooms last week . . . in Nashville to plead for real action against gun violence, the ones fighting book bans in their schools and speaking out for radical action on climate — are the bravest and boldest generation this nation has seen in some time."
Trump strategists like KellyAnne Conway have taken note: "I'm really concerned . . . that the left becomes a turnout machine with young people."
The GOP's current pro-gun, anti-abortion, pro-censorship course will never attract college students, so in Ohio and Idaho, they have adopted laws intended to suppress their vote. Similar legislation is pending in at least 11 other states, including Florida.
The effort is organized. As The Guardian reports, the conservative Heritage Foundation and its political arm "have spent tens of millions of dollars promoting their own model bills that impose strict restrictions on voting."
Citizens mobilizing is the antidote to such antidemocratic measures, and we've seen it from young people demonstrating in Tennessee and Pennsylvania and voting in Wisconsin. Efforts to lay the groundwork for more pro-democracy action on the ground are already underway.
This month, the nonpartisan organizations the Civics Center and Open Democracy "held a training to teach students and school staff how to organize a voter registration drive" in New Hampshire. Rep. Jamie Raskin (D-MD) has founded a national organization called "Democracy Summer" which "teaches high school and college students state-of-the-art tactics in voter registration and political organizing."
Many say that we, the elder generation, have squandered our democratic heritage. While our national norms and traditional beliefs about government are surely under challenge, those working hard to preserve democracy understand that you can't wring your hands and roll up your sleeves at the same time.
For all citizens who care about passing the torch of rights we were handed participation in and support for nonpartisan efforts like those of Project 72WI, the Civics Center, or Open Democracy are surely welcome. We can back Gen-Z in helping to ensure that our freedoms have not been wasted on us and are there for those taking the reins of America's future.