Imperfection and perseverance
https://twitter.com/clementsjeff?lang=en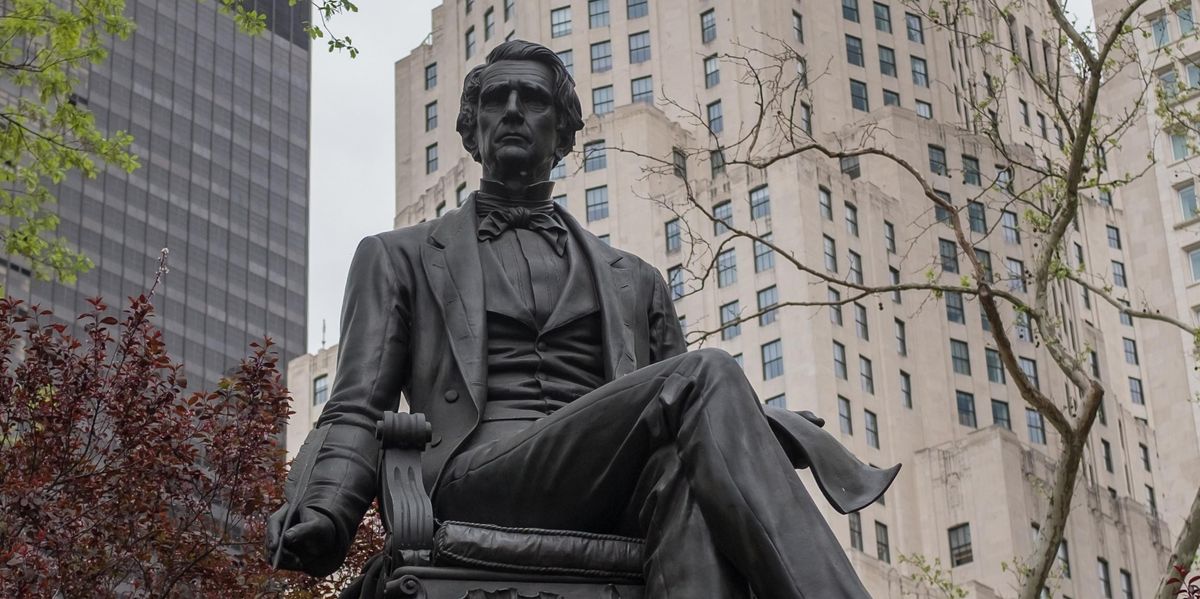 Epics/Getty Images
Clements is the president of American Promise, a nonprofit advocate for amending the Constitution to allow more federal and state regulation of money in politics.
A couple of years ago, I went to Anchorage to give the William Henry Seward Lecture at the University of Alaska. I thought of this visit recently, and of Seward, when I heard that for his alleged views and actions about "manifest destiny" and American expansion, Seward deserves condemnation and that statues honoring him should be dismantled.
Seward is high on any list of great secretaries of state. Side by side with President Abraham Lincoln, he helped win the Civil War by keeping the European powers from recognizing the Confederacy and prevented their intervention in the conflict. He navigated the 13th Amendment across the finish line in Congress to end slavery. The traitorous conspiracy that killed Lincoln also gravely injured Seward that same evening of April 15, 1865.
Recovered, Seward returned to office in 1867 to negotiate the purchase of Alaska from Russia. It was the largest addition of territory to the United States since President Thomas Jefferson's Louisiana Purchase. Today, and even at the time, one might be uneasy (to say the least) about a massive land transaction between two continental powers where neither considered the wishes of the people who had lived in the land for many generations.
Sign up for The Fulcrum newsletter
It is good to know true history. We can learn to do better. But to the extent that America has moved ever closer to the full promise of equal rights and constitutional democracy (and we have), we owe a huge debt to William Henry Seward. His legacy may be mixed but it is the legacy of all Americans, across all the frontiers, not just the last frontier of Alaska, and across time to today.
---
Both these statements are true:
America is founded on the revolutionary principle that all humans are created equal, with inalienable liberties, and has been a haven of freedom for untold millions of people from all over the globe for more than two centuries.
In becoming a nation, America waged war, expanded into new territory, sought to eliminate long standing native tribes and communities, and brutally enslaved millions of human beings under laws in effect at the time.
This mix of what is very good and what is very unjust, and disturbing, is the truth. To say so is not about 1776 or 1619, or one version or another version of America.
In the words of the philosopher Bruce Springsteen, we're born into this life paying for the sins of somebody else's past. So was Seward. But as with Seward, in our lives we have a new chance to decide where we stand and what we do today.
Seward was no angel. He was a crafty and shrewd politician. He knew well the unsavory methods of Albany, N.Y., and Washington, D.C. But his uncommon dedication to the principle of equality and freedom would put most of us to shame.
Seward, like Lincoln, was a very good lawyer. In research for the Seward Lecture (Walter Stahr's 2012 biography was helpful), I was struck by Seward's defense of two African American men accused of murder in the upstate New York during summer of 1846.
The defendants, Henry Wyatt and William Freeman, had recently left prison not far from Seward's home in Auburn. Their crimes were horrific. People across the region were inflamed with outrage and calls for revenge. No lawyer but Seward considered taking the case.
Seward was not some young lawyer trying to make a name for himself through controversy. He had recently served as governor of New York, leaving office nearly broke. He wanted to earn some money in his law practice before his next run for office.
Nevertheless, he agreed to represent two of the most unpopular clients you could imagine, for free. He gave their defense everything he had, earning only the condemnation of his neighbors and community.
At the close of evidence, Seward urged the jury to overcome their racism to give the defendants fair consideration:
"The color of the prisoner's skin and the form of his features are not impressed upon the spiritual, immortal mind which works beneath. He is still your brother and mine, and bears equally with us the proudest inheritance of our race—the image of our Maker. Hold him then to be a man. [M]ake for him all the allowances which … you would expect for yourselves."
The jury convicted the defendants, leaving Seward, as he said, "exhausted in mind and body, covered with public reproach, and stunned with duns and protests."
Later, in the 1850s, when other politicians rushed to align themselves with anti-immigration and anti-Catholic passions of the Know Nothing Party, Seward refused to go along. He said he would rather "cut off his hand" than act against his fellow citizens "on the ground of the difference of their nativity or of their religion." Even when a U.S. senator, Seward privately aided those escaping from slavery and contributed to Frederick Douglass' abolitionist newspaper.
Seward helped launch the Republican Party, committed to ending slavery, became a leader in the Senate, and when he lost what had been a near-certain presidential nomination, gracefully conceded to Lincoln. Seward served at Lincoln's side as secretary of state, becoming indispensable to the cause. As he lay dying in 1872, Seward spoke his last words: "Love one another."
We can feel righteous when we judge those long gone for their wrong actions and words at the time. And at the same time, especially in our validating social bubbles, we can feel righteous when we condemn our contemporaries who we think might be undermining our national story by exposing the sins of our heroes. But to consider our past and present in terms of "woke" versus "anti-woke" does no good.
How do we both honor our past and do better in our present? After all, we have no shortage of our own moral, constitutional and national dilemmas to address, and so many ways we can be judged by future Americans for the harm we have done or good we have left undone.
Seward was, as each of us is, far from perfect. But to a remarkable degree, he guided his conduct by the lodestar of human equality and freedom. America is not perfect, but that constitutional lodestar can still guide us today through the irrepressible conflicts that are the price of the dual nature of America and of mankind. To guide us, we could do much worse than learn from Seward's commitment to political equality and liberty.