Pennsylvania didn't have a pipeline for candidates like Summer Lee — so she helped build one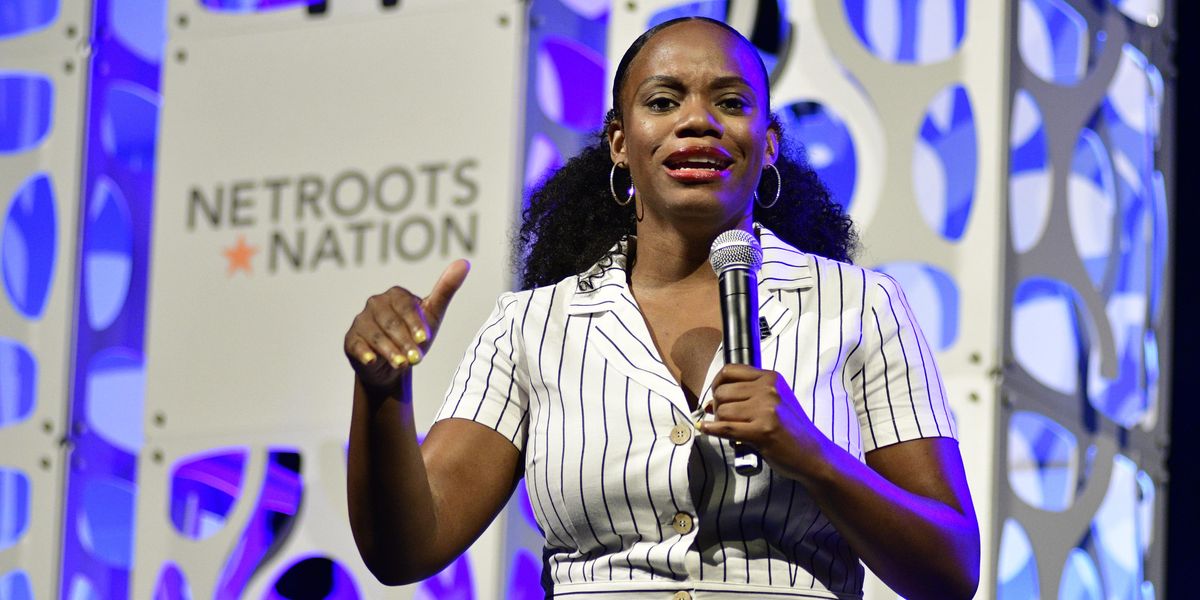 Bastiaan Slabbers/NurPhoto via Getty Images
Originally published by The 19th.
When Summer Lee moved back home to the Pittsburgh area in 2015 after graduating from Howard University Law School, she did not plan to run for office.
Lee was an organizer. She supported Sen. Bernie Sanders during his 2016 presidential primary bid, then Hillary Clinton in the general election. The next year, when the high school Lee graduated from became engulfed in scandal after video surfaced showing school officials using stun guns and physical force on Black students, including some with special needs, she attended her first school board meeting.
"It was Black kids who were facing the worst outcomes, who were facing the worst and least amount of opportunities, who were being abused," Lee recalled in a recent interview with The 19th. Most of the board members were White, and they were "so nonchalant about it," she said.
Lee is the presumed front-runner in the Democratic primary to fill an open U.S. House seat in a recently redrawn Pittsburgh-area House district when Pennsylvanians vote May 17. Her progressive primary campaign faces headwinds from the local party, which backed one of her opponents, a more moderate, White man without political experience. If elected in November, she would be the first Black woman to represent Pennsylvania in Congress.
Sign up for The Fulcrum newsletter
---
Lee's metamorphosis from organizer to candidate began after that 2017 school board meeting. First, she encouraged a friend who was a parent in the district to run a write-in campaign for a board seat. Then she helped other Black candidates do the same. In a matter of weeks, they put four new members onto the board, along with a new superintendent and principal. Still, when the local chapter of the left-leaning Democratic Socialists of America (DSA) noticed Lee's successes and reached out about running herself, she hesitated.
"I wasn't groomed for politics. I wasn't someone who had political connections and had political networks. It was not something that was normal in my community. It wasn't just a casual thought that someone like me, with my background, would have," Lee said.
More from The 19th
"I was an organizer. I was not somebody who was in the foreground, right? I was a background person who really believed in the power of organizing. The thought had never crossed my mind up until that point," she added.
Lee says she underwent a "very quick reconciliation" and decided it was time to move from the background to the foreground. In 2018, she was one of three DSA-backed women in Pennsylvania who took on incumbents and other moderate Democrats in primaries and went on to win state House seats.
Lee, Sara Innamorato and Elizabeth Fiedler were all in their 30s. None had the traditional pedigree of a statehouse candidate: Lee was an organizer; Innamorato came from a working-class family she described as "apolitical" and had put herself through college; Fiedler was a recent public radio reporter who campaigned with her small children in tow. Their campaigns focused on environmental justice, raising wages, Medicare for All and equity in representation, with Lee and Innamorato challenging incumbent cousins from a Pittsburgh family prominent in Democratic politics.
Innamorato wrote in 2017 during the nationwide #MeToo reckoning: "When women are not at the table, they are on the menu. But if we are at the table, they will pull up a chair and invite another woman to sit next to her. This has never been more true than in politics."
Pennsylvania ranked 49th among the 50 states at the time in terms of women's representation in politics. There were no women representing Pennsylvania in the U.S. House or Senate. Only six of the mayors in the state's 35 largest cities were women. Just 19 percent of state legislators were women. There were no women in statewide executive positions.
Pennsylvania is still one of the 19 states that has never elected a woman governor. In 2018, when Lee, Innamorato and Fiedler were elected to the state House, four Democratic women from Pennsylvania were also elected to the U.S. House. It was a record-breaking year for women in congressional races generally, and their wins helped Democrats take back control of the lower chamber.
Lee, Innamorato and Fiedler were vying for public office without a pipeline, or template, for candidates like themselves: young, progressive women running without the support of the Democratic establishment and little from its donor base. So, they built their own network.
In 2016, Innamorato co-founded She Runs Southwestern Pennsylvania, which supported women running for office, before deciding to run herself. She was introduced to Lee and urged her to jump into the state House race. Innamorato heard Fiedler was running a progressive campaign in the Philadelphia area and called her to talk strategy. The three women convened at a statewide progressive policy conference and went on to hold joint fundraisers and coach one another throughout their campaigns. Lee founded Unite! PAC, an "unapologetically progressive" support system for candidates in western Pennsylvania.
Even though they're now either the incumbent in their state House reelection bid (Fiedler) or the only candidate in their primary race with elected experience (Lee), the women sometimes still find themselves without their party's support. The Allegheny County Democratic Committee has backed Lee's primary competitor, Steve Irwin, a corporate lawyer who has never held elected office. The Philadelphia Democratic Party endorsed Fiedler's primary challenger, Michael Giangiordano, a real estate broker and political novice who embraced Donald Trump's presidency on Twitter.
Some state and local parties stay out of contested primaries, or endorse the incumbents. In Pennsylvania, local Democratic party officials vote on whom to endorse in their respective districts. Innamorato said party representatives skew older than the voting population and are less diverse, too.
"It's not a system that is reflective of the actual electorate in an area … it's been an inside baseball game for a long time, and it's slowly changing in parts [of the state] but it hasn't changed as a whole, and I don't think we've had the leadership at the top to encourage that kind of diversification of the party," she said.
Lee said she and her contemporaries "have been able to tap into an expanding electorate, the base that we are going to need if we are going to actually beat back against extremism on the right" but it's "going unrecognized by the party that's just not been able to catch up."
Lee's House campaign is focused on some of the same issues that prompted her to run for the state House: environmental justice and equitable economic growth. She supports a pro-labor-union bill pending in Congress called the PRO Act, Democratic efforts to codify federal abortion access and Medicare for All health care.
Her endorsers include Sanders, along with fellow progressive Sen. Elizabeth Warren from Massachusetts. She is backed by Rep. Pramila Jayapal of Washington, who chairs the Congressional Progressive Caucus, and Rep. Ayanna Pressley of Massachusetts, who has a national profile as a member of "the squad." Lee is supported by left-leaning organizations including Justice Democrats and the Progressive Change Campaign Committee, along with EMILY's List, which backs Democratic women who support abortion rights. Several local chapters of the Service Employees International Union have also endorsed her.
Lee said that the successful school board write-in campaigns, and then her state House bid, empowered her community to believe it was possible to challenge the status quo via electoral politics. Now, she's taking it to the national stage.
"We're a community that was accustomed to the system sending us its representative, instead of the other way around. I would say it was a rebalancing, getting us back on track, where we were like: 'No, this is not the way this is supposed to go, we're supposed to send our representatives,'" she said.